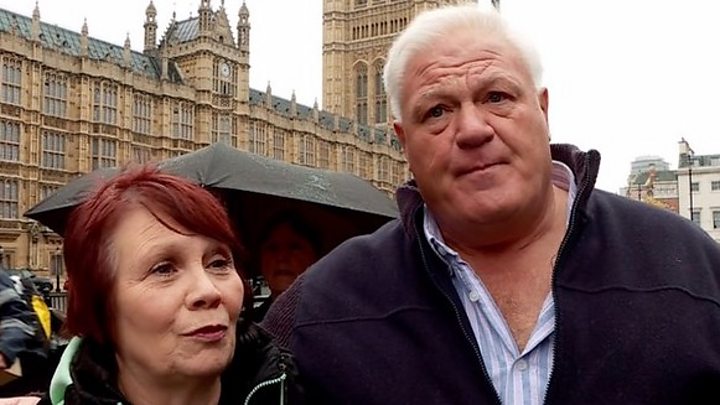 Women left in permanent pain and unable to walk, work or have sex because of vaginal mesh implants deserve an apology, a senior MP has said.
Dr Sarah Wollaston, chairman of the health committee, said some claim they did not consent to having the device fitted and were unaware of the risks.
MPs also called for an inquiry into the implants which are used to treat pelvic organ prolapse and incontinence.
The medicines regulator says most women have a positive experience with them.
Earlier this year, the BBC's Victoria Derbyshire programme revealed that more than 800 women were taking legal action against the NHS and the makers of vaginal mesh implants.
The implants, usually made from synthetic polypropylene, are intended to repair damaged or weakened tissue.
'Clear failings'
While they have been used successfully in many other parts of the body, they appear to react differently when inserted in the abdomen, leading to some women being "cut" – and once problematic, they can be very difficult, sometimes impossible, to remove.
In a Westminster Hall debate on Wednesday, Conservative MP and GP Dr Wollaston said there were "very clear failings" that had been "allowed to continue for so long and at the heart of that it has been the inadequacy of clinical trials, recording and consent".
She said mesh should be retained as an option where alternative procedures may result in worse outcomes or complications.
But she said there had to be a guarantee that "proper" clinical trials would be carried out as the products had been introduced and marketed "aggressively" without "adequate" trials.
"Fundamentally, at the heart of this is, there's an absence of data, and I'm afraid there's been cavalier practice.
"We cannot allow this to continue in the future and I think the women who have been affected deserve an apology, they deserve recognition of the extent of this and the delays in which this has been recognised and has been taken forward."
'Thousands affected'
Calling for a full public inquiry, Labour's Emma Hardy urged the government to suspend operations using the implants while a "full retrospective and mandatory audit of all interventions using mesh" was carried out.
Ms Hardy said "thousands" of women had been adversely affected by mesh implants.
"We know these devices are regulated by the European Union – I hope the minister will make a comment on how the government proposes to take this forward after we leave the European Union, and at the heart of it to ensure the safety of women is prioritised," she added.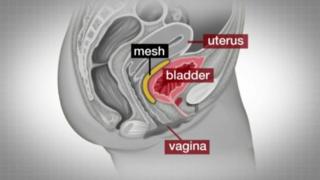 Paul Masterton, Conservative MP for East Renfrewshire, said his party in Scotland – with Labour – had "stood firmly behind " those affected.
"Please suspend this procedure – if you're not convinced enough evidence is there, suspend it while you gather it together," he said.
"Mesh is rapidly becoming one of the great global health scandals and I'd implore all of us in this place to do what we can to protect women from this potentially devastating procedure, and to ensure our nation becomes an example to others in how to achieve justice for all those who have been broken by mesh."
The Labour MP for Alyn and Deeside, Mark Tami, spoke about a constituent's suffering and called it a "national scandal".
The Medicines and Healthcare products Regulatory Agency has previously said it was "committed to help address the serious concerns raised by some patients".
Read more here: http://www.bbc.com/news/uk