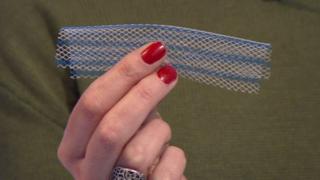 A surgeon under NHS investigation removed a patient's ovaries without prior consent as they were "in the way".
Tony Dixon helped to pioneer the use of mesh in bowel surgery to fix prolapses and relieve constipation.
Lucinda Methuen Campbell, who recently died, said she had not consented to the removal before the operation in 2014.
Mr Dixon said he could not comment on specific allegations due to patient confidentiality.
Mrs Methuen Campbell had lengthy consultations with Mr Dixon before the operation.
He told her her problems were complex involving surgery not just on her bowel but also her womb.
Mrs Methuen Campbell was first told shortly after the operation that her ovaries had been removed.
International reputation
At the time of the surgery, Mrs Methuen Campbell lived near Swansea and later found that she struggled to get treatment in England.
She told the BBC that she was desperate for a solution to the pain she continued to experience and had seen other doctors.
Mrs Methuen Campbell was found dead at home in January. The coroner is currently investigating the cause of death.
Mr Dixon built up an international reputation for using mesh rectopexy to fix bowel problems, often caused by childbirth, but is currently suspended from performing this surgery at two hospitals in Bristol.
The General Medical Council (GMC) has stopped him from performing another form of corrective surgery, known as a Starr procedure (stapled transanal resection of the rectum), until November 2018.
North Bristol NHS Trust is investigating the consultant, who worked at Southmead Hospital and at the private Spire Hospital in Bristol.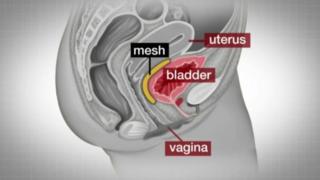 The BBC has been contacted by scores of women after an Inside Out expose last year, supporting revelations that their surgery did not work and they were left in severe pain.
Mrs Methuen Campbell suffered complex problems with her bowels and womb prior to seeing Mr Dixon.
'In the way'
She had the mesh in 2014, when she was 54, to try to avoid a hysterectomy.
She said that the removal was never mentioned before the surgery, and if it had she would have been "vaguely prepared".
"He said he thought he'd done me a favour. And he said: 'I thought you know, a woman of your age wouldn't really need her ovaries.'
"I said 'Why did you remove them?' and he just said 'They were in the way'."
"My life is absolutely ruined but you know, I can't say that it's Mr Dixon's ruined my life."
Mr Dixon has previously said all operations can have problems but his are done in good faith and the majority are successful.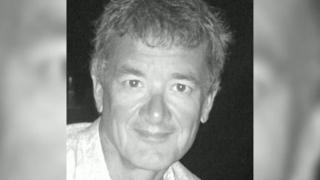 Dr Sohier Elniel, a gynaecologist, said she had seen an increase in demand for mesh removal since the BBC first raised the issue in October.
The body can react against mesh, which can also erode and become infected.
She said: "A lot of patients are aware perhaps all the symptoms they've had for many years may be related to this mesh and complications of mesh so they've come to seek help.
"We had at the beginning two or three a month and now we are getting one mesh complication patient every third or fourth day."
Surgeons say they only started to recognise complications from mesh procedures in the last few years.
The Pelvic Floor Society (PFS) says up to 2.5% of women who have bowel mesh surgery will suffer complications, but it can bring life-changing benefits for the majority.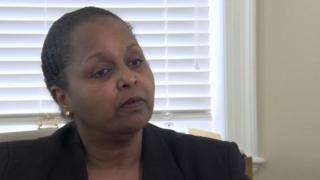 North Bristol NHS Trust said that the welfare and safety of patients was an "absolute priority".
A spokeswoman said: "We would like to re-assure patients affected by this that we are taking this very seriously and our investigations are continuing.
Dr JJ de Gorter, group medical director at the Spire, said it suspended Mr Dixon from surgery in July 2017 and was reviewing the care he had provided.
He said: "This was followed by a full suspension of his practising privileges in early November 2017, which means he is no longer working at the hospital."
Watch the full investigation on Inside Out on BBC One West on Monday, 12 March at 7.30pm and for seven days afterwards on the iPlayer.
Read more here: http://www.bbc.com/news/uk