Substances used to aid muscle-building and weight loss made up more than half of the pharmaceuticals found in the capitals sewers. What does this tell us about modern life?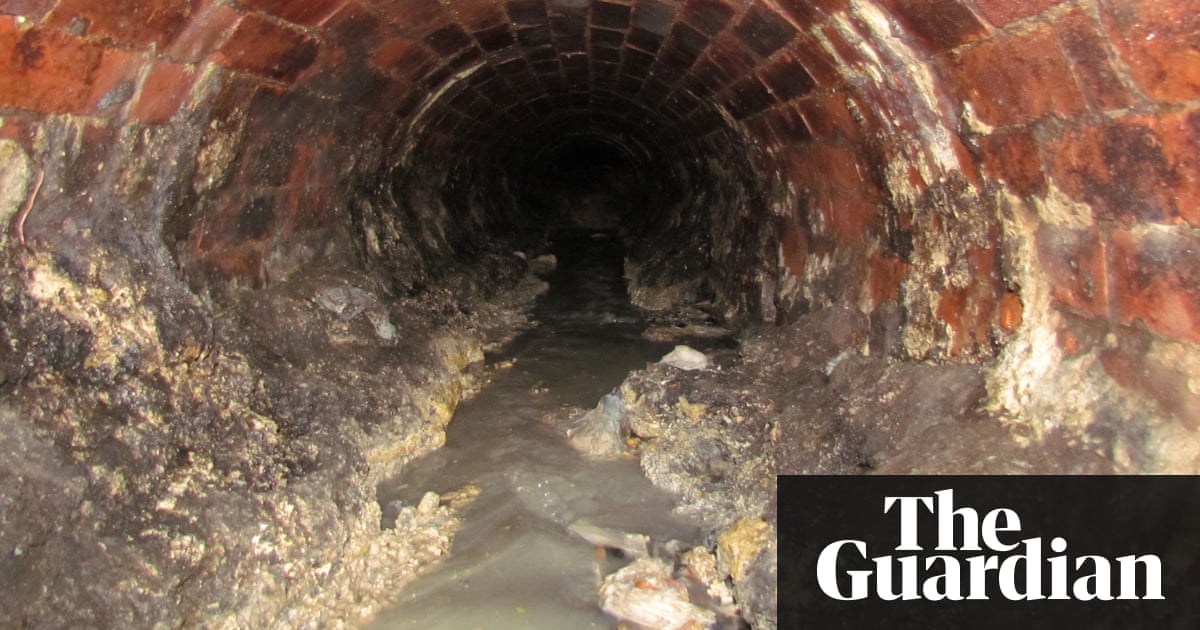 Along with the flushed debris and the thriving bacteria the wet wipes, condoms, and sanitary towels; the listeria and E coli that have congealed within the giant fatbergs in the sewers under central London, are chemicals found in banned gym supplements. In fact, they were discovered in greater quantities than drugs such as cocaine and MDMA.
In tonights Fatberg Autopsy: Secrets of the Sewers, on Channel 4, samples from a giant block were examined to see what it contained. Caused by people pouring cooking oil down the drain which then congeals with items that should not be flushed, such as wet wipes fatbergs are an increasing problem for water companies, particularly in urban areas. But the examination of fatbergs chemical content also provides a picture of the way we live. The scientists who did the analysis discovered numerous predictable substances, such as paracetamol, prescription medications and substances used in skin creams. But more surprising was the amount of hordenine and ostarine described by the programme-makers as often being found in gym supplements, which made up more than half of the pharmaceuticals found.
There has been a huge amount of money poured into this sort of research as were starting to realise the pharmaceuticals we use have knock-on effects once they reach the aquatic environment, says Dr John Wilkinson, a researcher at the University of Yorks environment department, who works on the Intelligence-led Assessment of Pharmaceuticals in the Environment (iPiE) project and was one of the scientists on the programme. The fatberg acts as a grotesque pull on our attention, but he found far higher concentrations of chemicals in the water around the fatberg.
Wilkinson cautions against reading too much into the results, especially where the compounds associated with gym supplements are concerned. When you put a bucket down into the sewer and bring a few mililitres of water back up, whats in those few mililitres is not necessarily representative of whats underneath the whole of London. Because you get a peak for a couple of compounds, I think its a bit dangerous if you use that data to draw conclusions on the whole city. Extensive research would need to be done, he says.
Ostarine, which can be used as an alternative to steroids for muscle gain, is on the World Anti-Doping Agencys prohibited list. Jim McVeigh, the director of Public Health Institute and an expert on the use of steroids and image and performance enhancing drugs (IPEDs), is surprised by the findings. It is something were seeing an increase of and a lot more talk of it on message boards and group chats, [but] it still hasnt really taken hold that much, he says.
Hordenine is being highlighted in reports as a weight-loss product or sports supplement, but it could have come from a more conventional source. A 2012 study of the analysis of urine collected from portable urinals in central London found more hordenine than anything else but researchers, while acknowledging it was used as an appetite suppressant, said it was more likely [to be] present as a breakdown product of beer brewed from barley.
However, its also clear that the use and misuse of gym supplements is a growing problem. The chemicals highlighted by the programme are not steroids, but they may more likely in the case of ostarine be part of a wider trend for training supplements and steroid abuse. It is thought there are up to 1 million people in the UK who take anabolic steroids and other IPEDs, and a report last year by Public Health Wales found that more than half of users say they take them for aesthetic reasons.
Needle exchange units around the UK have also seen a huge increase of steroid users. Around [a] 400-600% increase [over 10 years], says Julien Baker, director of research at the University of the West of Scotlands Institute of Clinical Exercise and Health Sciences. That is still an underestimate because the people who use the [equipment] may take some for their friends. Although gym supplements such as ostarine are not injected, this rise may be indicative of a rise across the board.
When Baker started looking at the issue of steroid use in around 2004, it was mostly concentrated around hardcore weight-training gyms, particularly in working-class places. But similarly, middle classes are taking steroids as well. There has also been a noticeable increase in men over 50 taking testosterone supplementation, which is coinciding with an increase in physical activity in that age group. I think its [about] hanging on to their youth.
Of course, steroid use comes with numerous health risks, including high blood pressure, depression, heart problems and even long-term cognitive damage not to mention the fact that, among anabolic steroid injectors, the prevalence of HIV is as high as it is among heroin users.
As for what the fatberg tells us about ourselves other than that we shouldnt be putting cooking oil down the sink, or wet wipes down the loo it is, says Wilkinson, a reflection of the health and wellbeing of the people who live in London. But what he found the most interesting, he says, wasnt the illicit drugs or the chemicals that may or may not have come from sports supplements, but rather the level of plasticisers compounds found in plastic cups and water bottles. They have been implicated in the literature as oestrogenic compounds, they can mimic the actions of oestrogens, which have implications for aquatic organisms at very low concentrations.
Its not just about what were putting into our bodies, and excreting out, but the wider effect that the contents of our sewers has on everything else.
Read more here: http://www.theguardian.com/us