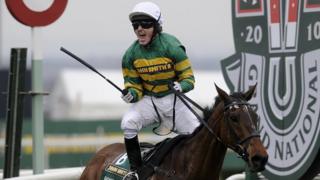 Twenty-time champion jockey AP McCoy believes his career could have been extended had he been given better support to manage his weight healthily.
McCoy, who retired in 2015, told the BBC he had done "everything you probably shouldn't do" while racing.
Liverpool John Moores University (LJMU) experts have created special programmes to help jockeys lose weight safely.
McCoy, who took part towards the end of his career, said he could have been even better had he joined earlier.
Jockeys try to be as light as possible in order to minimise the combined weight of them and their saddles.
The average weight of a jockey is about the same as a 13-year-old boy.
McCoy, knighted in 2016, said he "made weight" for races by having hot baths, running with sweat suits on, and using saunas.
"Unfortunately I went there [LJMU] at the latter part of my career, when I was near retirement, but I went there because I was interested.
"Maybe I could've been so much better if I'd had the access to something like this earlier.
"It could've made me better; it could've made me last longer; it could've made me a much better jockey."

Profile: AP McCoy
Born in Moneyglass, County Antrim on 4 May 1974
Won the Grand National on his 15th attempt with Don't Push It in 2010
His total number of winners (4,358) is more than 1,000 greater than his nearest challenger (Richard Johnson on 3,377)
He won the BBC Sports Personality of the Year award in 2010 and was knighted for services to racing in 2016
While racing he kept his weight at about 10st 3lb – his

natural

weight would have been closer to 12st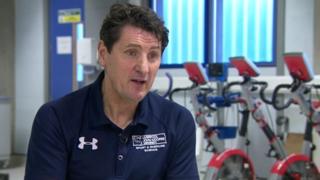 Former jockey George Wilson, of LJMU's Research Institute for Sport and Exercise Sciences, led a study researching the health implications of "extreme weight-making practices" and has designed healthier and safer ways for jockeys to shed the pounds.
Funded by the Racing Foundation – a grant-making organisation founded by British Horseracing Authority, The Horsemen's Group and the Racecourse Association following the government's sale of the Tote – the programme is open to all jockeys and so far more than 300 have been involved.
Dr Wilson said ensuring jockeys are "realistic" about their weight is one of the key aspects of the programme.
"We offer up an individually devised diet and nutrition programme, and an exercise programme based upon the research as opposed to the jockeys adopting these culturally driven methods which would not be the best for your health.
"To lose weight, you don't have to sweat and you don't have to starve."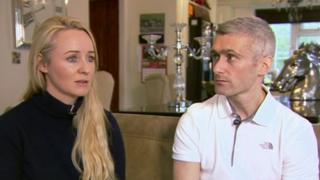 Paul Mulrennan, who has ridden 946 winners throughout his career, said taking part had undoubtedly extended his career and improved his health.
"I don't think I'd be riding now if I hadn't met George."
He said he had witnessed some unhealthy practices and personally took part in others.
"Some of the lads have been flipping – bringing their food back up – and drinking too much," he said.
Mulrennan, who has weighed as little as 8st 9lb (55kg), said he would often put on a sweat suit and go running to lose weight and there would also be other days when he would starve himself.
"If you go out and have six, seven, eight gin and tonics and don't eat you will be lighter in the morning, so you think 'that's great, I'll make the weight the next day' but obviously it's not good for your head."
His wife Adele said she thought the lifestyle would kill him, even without the drinking.
"There were times when I thought 'has he been drinking?' because it affects your brain, but he was just so dehydrated," she said.
"We did have a chat about giving up, but luckily Paul met George just at the right time and changed him round."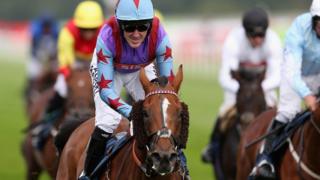 The extreme weight-loss and the methods used do not just affect the jockey's physical health.
"The big problem for a jockey, especially a jump jockey, is that if the brain is starved that's when you can do the most damage when you bang your head if you fall, if you're dehydrated," explained McCoy.
Dr Wilson agreed. "From my own experience, starvation is not great and dehydration is not great and you feel terrible," he said.
McCoy said programmes such as those developed by LJMU could help change mindsets.
"You're trying to educate that this is a better way of life, it's a healthier way of life, it's a safer way of life."
You can see this story in full on BBC Inside Out North West at 19:30 GMT on BBC One on Monday 26 February, or via iPlayer for 30 days afterwards.
Read more here: http://www.bbc.com/news/uk