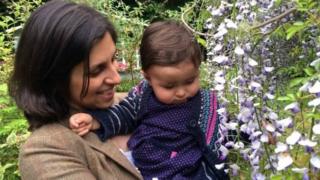 A charity has asked the UN to intervene over a British-Iranian woman detained in Tehran for 22 months.
Human rights organisation Redress has written to the UN, claiming Nazanin Zaghari-Ratcliffe's continued detention amounts to torture.
She was arrested on spying charges in April 2016, accused of plotting to overthrow the Iranian government.
Her husband Richard said his wife has experienced difficulty walking as well as extreme hair and weight loss.
Redress has written to the UN special rapporteur on behalf of the mother's family, stating that evidence "strongly suggests" Mrs Zaghari-Ratcliffe's treatment amounts to torture.
The letter says her treatment has had serious effects on her physical and mental health, in an attempt "to demoralise her and put her in a situation of complete powerlessness."
Mr Ratcliffe, from Hampstead in London, said: "It's very hard for both of us to be hopeful at this point. We were obviously very hopeful at Christmas [for her release] and it didn't happen.
"It's always good to hold on to the 'maybe', but also part of us putting in the submission now is because it feels like we're just being gamed."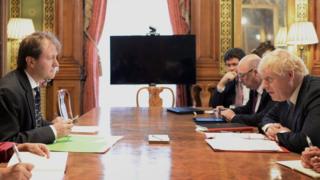 He added the family were "waiting for the governments to deliver" on Mrs Zaghari-Ratcliffe's release.
He told the BBC he believes the charity worker is being used as a bargaining chip in political battles that have nothing to do with her.
The 39-year-old was detained in Iran when visiting her parents with her daughter, Gabriella, who remains in the country.
In December 2017 Foreign Secretary Boris Johnson travelled to Iran to call for the release of Mrs Zaghari-Ratcllife on humanitarian grounds.
Mr Johnson had been criticised for comments he had made to a parliamentary committee in November. He told MPs that Mrs Zaghari-Ratcliffe had been training journalists in the country. He later apologised for the comments.
Mr Ratcliffe said extra telephone privileges granted to Mrs Zaghari-Ratcliffe after the foreign secretary's visit have been cut back after demonstrations against the Iranian regime in London last month.
---
What happened?

3 April 2016: Mrs Zaghari-Ratcliffe is detained at an Iranian airport while travelling home to London with her young daughter.
April-June 2016: According to Mr Ratcliffe, his wife was subject to "intense interrogation" for the first two months of her imprisonment and kept in solitary confinement
September 2016: Mrs Zaghari-Ratcliffe is sentenced to five years in prison in Tehran's Revolutionary Court
January 2017: She loses an initial appeal against her sentence
April 2017: Mrs Zaghari-Ratcliffe loses a final appeal in Iran's supreme court to overturn her sentence
December 2017: An Iranian database lists her as eligible for release
December 2017: Boris Johnson visits Tehran to call for the British-Iranian citizen's release
---
Read more here: http://www.bbc.com/news/uk