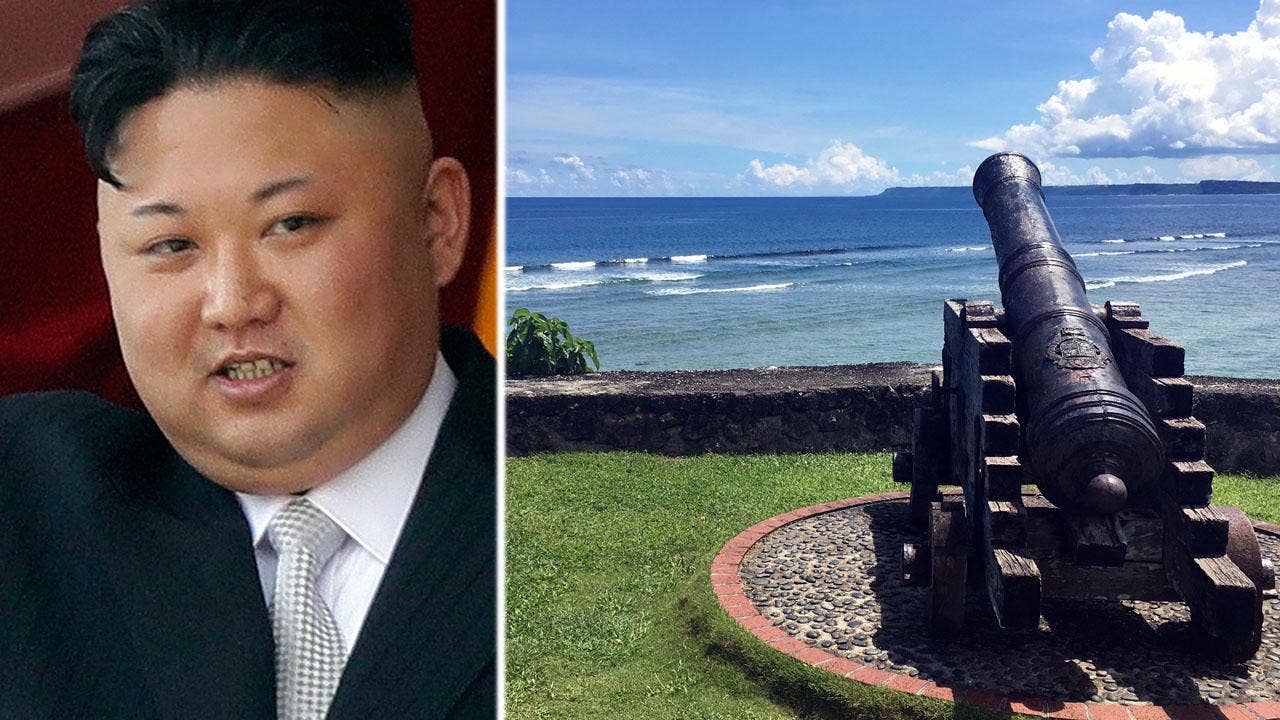 President Donald Trump on Wednesday praised North Korean leader Kim Jong Un for supposedly backing down off his threats to bomb the Pacific U.S. territory of Guam.
Tensions between the U.S. and North Korea have escalated over the past few weeks and until now, Trumps tough rhetoric and warnings only increased.
Kim Jong Un of North Korea made a very wise and well reasoned decision. The alternative would have been both catastrophic and unacceptable! Trump tweeted Wednesday morning, the day after North Koreas state media said Pyongyang delayed a plan to fire missiles toward Guam.
Some 7,000 military personnel live among the other more than 160,000 U.S. citizens on the Pacific island of Guam.
Online and in talks with reporters, Trump has railed against his North Korean counterpart and threatened fire [and] fury especially if North Korea attacks the U.S.
Heres a look at what Trump has said about North Korea over time:
The U.S. is locked and loaded
Trump took to social media on August 11 to proclaim that the U.S. military is locked and loaded in case North Korea act[s] unwisely.
Fire [and] fury isnt tough enough
With the threat of nuclear violence growing, Trump warned North Korea on August 8 that he would unleash fire, fury and frankly power, the likes of which this world has never seen before.
PENTAGON SAYS READY TO 'FIGHT TONIGHT' AS TRUMP SHOWS BOMBER PICS
But when tensions continued to rise and North Korea threatened to attack Guam, Trump said maybe that comment wasnt tough enough.
"Lets see what [Kim Jong Un] does with Guam. He does something in Guam, it will be an event the likes of which nobody has seen before what will happen in North Korea," Trump said on August. 10.
Secretary of State Rex Tillerson said Trump is "sending a strong message to North Korea in language that Kim Jong Un can understand, because he doesnt seem to understand diplomatic language."
Kim Jong Un is not getting away with it
Trump also said this week that Kim Jong Un has disrespected our country greatly.
He has said things that are horrific. And with me, hes not getting away with it, Trump said. He got away with it for a long time, between him and his family. Hes not getting away with it. Its a whole new ball game.
Strategic patience is over
After meeting with the South Korean president in Washington, D.C., in June, Trump said that the era of strategic patience with the North Korean regime has failed.
BOMB SHELTER BUSINESS BOOMING, THANKS TO NORTH KOREA AND TRUMP
Frankly, that patience is over, he said.
As Trump made these comments, the U.S. was rocked with the death of Otto Warmbier, the 22-year-old American college student who suffered extensive brain damage while being held captive for more than a year.
There are worse things than assassinating Kim Jong Un
In an interview with CBS News during the presidential campaign, Trump said he could get China to make [Kim Jong Un] disappear in one form or another very quickly.
When asked if he was talking about assassinating the North Korean dictator, Trump shrugged.
Well, you know, Ive heard of worse things, frankly. I mean, this guys a bad dude and dont underestimate him, Trump said. Any young guy that can take over from his father with all those generals and everybody else that probably wants the position, this is not somebody to be underestimated.
What the hell is wrong with speaking?
Trump told supporters at a campaign rally in Atlanta that should Kim Jong Un want to come to the U.S., he would be accept[ed].
MATTIS: WAR WITH NORTH KOREA WOULD BE 'CATASTROPHIC'
I wouldnt go there, that I can tell you. If he came here, Id accept him, but I wouldnt give him a state dinner like we do for China and all these other people that rip us off when we give them these big state dinners, Trump said in June 2016.
What the hell is wrong with speaking? Trump said, referencing the criticism hes received for being so willing to talk with North Korea. Its called opening a dialogue.
Maniac
During a GOP presidential debate in September 2015, Trump railed on the maniac in North Korea while answering a question about Planned Parenthood and womens health issues.
Nobody ever mentions North Korea, where you have this maniac sitting there, and he actually has nuclear weapons and somebody better start thinking about North Korea and perhaps a couple of other places. But certainly North Korea, Trump said.
You have somebody right now in North Korea who has got nuclear weapons and who is saying almost every other week, Im ready to use them, and we dont even mention it, he continued.
China needs to solve the problem
Even before he was president, Trump urged China to step in and help alleviate problems with North Korea.
North Korea is reliant on China. China could solve this problem easily if they wanted to but they have no respect for our leaders, Trump tweeted in March 2013.
WHERE IS GUAM AND WHY WOULD NORTH KOREA ATTACK IT?
In April 2013, Trump continued that line of thinking, adding that North Korea cant survive, or even eat, without the help of China. He then accused China of taunting the U.S.
Wack job
In April 2013, Trump urged then-President Barack Obama to be very careful with the 28-year-old wack job in North Korea.
At some point we may have to get very tough, he tweeted.
Negotiate like crazy
Trump warned that the U.S. needed to do something to stop North Korea in 1999 during an interview with the late Tim Russert on Meet the Press.
"Do you want to do it in five years when they have warheads all over the place, every one of them pointing to New York City, to Washington and every one of us, is that when you want to do it, or do you want to do something now? Trump said. You'd better do it now. And if they think you're serious they'll negotiate and it'll never come to that.
He said then that if he ever became president, the first step he would take would be to negotiate like crazy to make sure that the country would get the best deal possible. Trump also predicted then that in three or four years, North Korea would have weapons aimed all over the world, including at the U.S.
Read more here: http://www.foxnews.com/