Love them or (pretend to) hate them, the
Victoria's Secret Angels
work their asses off all year-round to strut their bodies down the runway on national TV every November. I mean, in an ideal world,
all bodies would be considered beautiful
we'd all look like Victoria's Secret models, but then again, we'd also be spending our time shopping for de-bloat
supplements
and snacking on four and a half unsalted cashews. Sounds like a blast. These models do A LOT to look the way they do, and we've been dying to know what workouts are their favs. We investigated 5 VS models and stalked their workouts of choice. Here's what we discovered.
1. Adriana Lima
This girl isn't drinking SkinnyTeas after a night of tequila shots. Needless to say, Adriana Lima works hard to get that bod. Apparently this psycho is in the gym. Like, you know how you can barely make it to a 30 minute workout twice a week? Well, Adriana works out with her trainer twice a, once in the morning and then again at around 5pm. She does a lot of shadow boxing and jumping rope, so this girl is basically spends half her day leaping into the air. Sounds exhausting. She also does a lot of core work her workouts, like standing ab moves and planks. She isn't fucking around. But then again, she's also a 5'10" Brazilian model, so keep in mind her genes play a huge role too. At least, that's what I tell myself so I can sleep at night.

2. Alessandra Ambrosio
Let's start out by saying this woman is a mother. You heard that right. If you ever thought your body would be ruined after having kids, Alessandra Ambrosio is living proof that the post-baby body can be hotter than ever. Like, HOW? Alessandra claims her body is even better after having kids, and she owes it to Pilates. Pilates activates the muscles all around your core while increasing your stamina and your strength, so as a result it creates a long, lean figure. Fun fact: Alessandra is currently 36 and actually never worked out until she started modeling for VS. Does that mean there's hope for the rest of us?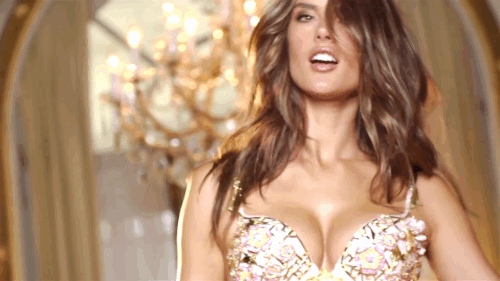 3. Gigi Hadid
It's no shock to us that Gigi works hard in the gym. She's basically always in an Adidas outfit and she doesn't have that "I just popped 30 diet pills" look like Bella does. Gigi Hadid has been spotted boxing at Gotham Gym in NYC, but that's not all she does to stay in shape. She grew up playing volleyball, so she's always been super athletic and active, but since getting into modeling, Gigi does a lot of cardio and bodyweight training. She swears by her "three-to-one boxing ratio" routine, where she does three minutes of boxing in the ring and then one minute of core work. She also has a trainer that costs like, $800 a session, so that helps.

4. Romee Strijd
You might think all these models have personal training sessions with elite celeb trainers, but some of them would rather just do a class. Romee is a class junkie, and we feel her. She hates spending time alone in the gym, and prefers to be in a group setting to get her ass kicked. She does megaformer workouts at SLT, boxing retreats, and high-intensity workouts at a high-tech NYC gym called Aerospace. When she's traveling, she does 15-minute jump rope workouts with ab exercises in her hotel room. She definitely skips the room service, though.

5. Martha Hunt
Martha Hunt claims she "eats everything" and has "1000 cheat foods." I mean, that sounds a little very hard to believe, but I guess her genes and workouts combat whatever the hell she claims to pig out on. Martha does a combination of boxing and sculpting exercises at an NYC boutique fitness studio called ModelFit. Other models like Karlie Kloss and Candice Swanepoel have also been spotted there, so let's just say it gets the job done. On the cheat food note, if anyone has any proof of this claim, please DM me with pics. Until then, we'll just start boxing.
Read more here: http://www.betches.com/