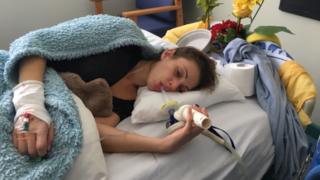 "It feels like hot knives stabbing through me, like fireworks going off inside me, like something twisting and stretching and taking over me."
This is Jaimee Rae McCormack's description of the pain of endometriosis.
The condition, where cells like the ones in the lining of the womb are found elsewhere in the body, can cause chronic pain, painful sex and lead to depression and infertility.
Here the 27-year-old from Cardiff tells of the impact it has on her life and her 13-year fight for a diagnosis.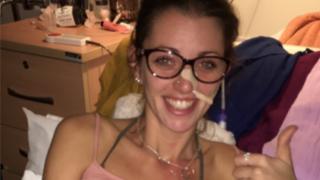 "I've suffered with endometriosis since I was 12 but it wasn't until I was 25 that I was finally diagnosed.
"The condition has had a huge impact on my life. I haven't been able to have a career because there are days I'm in too much pain to leave the house and I have hospital appointments sometimes four times a week.
"If it wasn't for my supportive family I would be lost and in huge financial trouble.
"It means sex is painful and and I have physiotherapy to help in that department.
"I won't know how it has affected my fertility until I start trying for a baby.
"I have certainly felt depressed at times which has really got me down as I love to smile."
When Jaimee first became unwell she was frequently at her GP's surgery but felt she was getting nowhere: "Tests were coming back clear and I was being told there was nothing wrong with me."
She was eventually prescribed a series of different contraceptive pills and then fitted with a coil which "helped massively".
But it was short lived: "By the time I got to 18 things were really bad," she said.
"It really affects my bowel movements so I have diarrhoea all the time.
"Because of that I was constantly being told it was irritable bowel syndrome ."
By the age of 21, Jaimee had graduated with a degree in contemporary textiles and was working in Sweden as an au pair.
But she was very unwell: "One time I had terrible sickness and diarrhoea for 12 hours, to the point where I couldn't breathe," she said.
"I flew home to Wales and saw my GP who told me I was homesick. I was told to finish my contract in Sweden and come home – which is what I did.
"After returning home my quest to get to the bottom of my illness really began."
She underwent allergy testing, and was tested for coeliac disease: "Everything kept coming back clear all the time and everybody thought I was wasting their time."
She paid privately for an endoscopy and a colonoscopy and this led to the discovery of two chronic duodenal ulcers.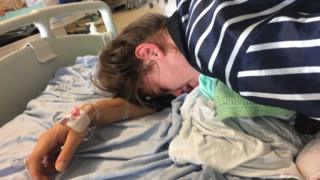 "We thought we'd found what had been going on with me all these years," she said – but it turned out to be a red herring.
By the age of 23 her health had hit an all-time low: "I was sick for so long and so weak as I blacked out and had to be rushed into hospital," she recalled.
This time she was told she had food poisoning.
Before long she was back in hospital, this time for a month of tests. She left without a diagnosis.
But she was determined to get to the bottom of her illness. She started having acupuncture and it was her acupuncturist who first suggested it could be endometriosis.
"I started looking into it," she said.
"It took two years of pestering GPs and requesting referrals before I was finally given the diagnosis in December 2015.
"It made a huge difference to know it wasn't all in my head."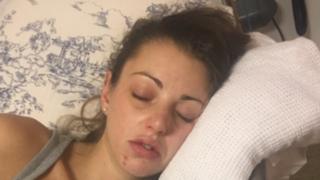 Since her diagnosis Jaimee has had three operations and the endometriosis has been removed from her liver, appendix, colon, rectum, fallopian tubes, uterus and bowel.
"The pain lower down has got so much better," she said.
"The cramps used to be so strong, almost like I was in labour. I've looked into it and for centuries it was called "suffocation of the womb" and sufferers were executed because people thought they were witches.
"I can understand that, sometimes it is almost like I am possessed."
She is now waiting to hear if she will be given a PET scan to see if she has endometriosis around her lungs and heart.
For the past four years, Jaimee says medics have frequently encouraged her to have a baby – the condition can cause infertility and some women report pregnancy helps with symptoms.
Endometriosis symptoms:
Lower tummy or back (pelvic) pain – usually worse during your period
Period pain that stops you doing your normal activities
Pain during or after sex
Pain when going to the toilet during your period
Feeling sick, constipation, diarrhoea, or blood in your pee during your period
Difficulty getting pregnant
The condition mainly affects girls and women of childbearing age and less common in women who have been through the

menopause
But this is not something she is considering: "I've lost count how many times doctors have suggested I have a baby – probably over 20 times.
"It would be cruel to bring a child into the world when I'm sick so often.
"For some women having a baby helps but for others it doesn't.
"They've managed to get rid of the endometriosis from all of my uterus, so I'm hoping I have my fertility, but I won't know until I start trying for a baby.
"It's just not the right time now. It will be in the next couple of years and I hope I haven't missed my chance."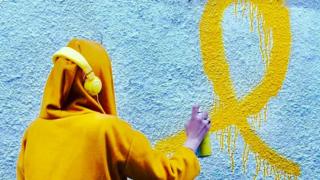 Jaimee has found an unusual way to stay positive: By writing information and painting images images on a wall of her house and sharing the images on social media to raise awareness of the condition.
"I've drawn flowers with 10 petals, one black to represent the one in 10 women who have endometriosis."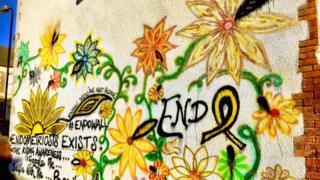 Her work has had a mixed response: "One person said I was being disrespectful. Someone else called the police.
"But then I got a photographer in to photograph the work, and since then it has been really positive."
Jaimee's condition has left her feeling depressed and low at times but the painting has helped: "Since starting the wall, on my down days all the messages with other women struggling keeps me going and inspires me to keep shouting out and raising awareness for this awful condition."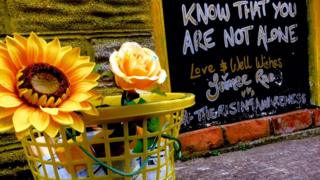 Read more here: http://www.bbc.com/news/uk