Add lingerie to the list of dreaded things to shop for, along with jeans and bathing suits. It doesn't even matter if you're an Insta
fitness
model. Shopping for lingerie just all around fucking sucks. It's long, tedious, and honestly, too expensive for pieces of
clothing
(can I even really call them clothing?) that someone will just rip off in a matter of minutes. With Valentine's Day coming on hard and strong, our eyes are not only blinded by the heart-shaped shit everywhere, but we're reminded that this is the *second* time of year when girls can
dress like a total slut
and no other girls can say anything about it. What? I had to say it. If you're planning on showing off your goodies this year, you def want to feel like nothing less than a
sex
goddess while wearing it. No two bodies are the same, fucking duh, so here is the
best lingerie you should buy based on your body type
.
If You Have Small Bust And Wide Bottom, You'll Want A… Babydoll
The coverage helps even out your proportions so both your bust and waist are emphasized in all the right ways. The illusion is all in the lace, so just trust me on this. Play around with the bust area if you'd like more cleavage, or opt for one with no padding at all to keep your body looking lean and voluptuous all the way through.
If You Have Large Bust And Small Bottom, You'll Want A… Lace Teddy
Whether you want to enhance your boobs or kinda just keep them low-key, you'll def want to run to Victoria's Secret for one of their iconic teddies, aka bodysuits. A teddy keeps your upper half looking on-point, while giving you that hourglass shape by narrowing your waist and giving the illusion of a larger bottom.
If You Have Large Bust And Large Bottom, You'll Want A… Corset
Looking curvy isn't an issue for you, you lucky betch. However, sometimes, making your curves look just right in all the right places *is* the pain in the ass. A corset will be the solution to all of your problems when it comes to feeling and looking v sexual this V-Day. It will perk up your bust, define your butt, and keep your torso looking slender, all at the same time.
If You Have An Hourglass Shape, You'll Want A… Chemise
Honestly, you can wear anything your little heart desires without having a major panic attack, so I kind of hate you. You already know you look phenom in a basic black bodycon, so you'll want a chemise that has the same idea… just more sexy and revealing. It'll hug your curves exactly how you'll want it to, and draw his attention to both your boobs and butt in the best way possible.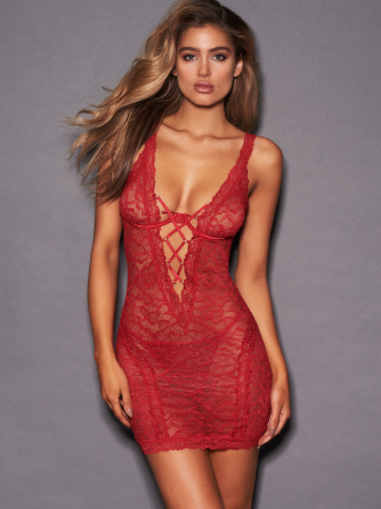 If You Have A Small Bust And A Small Bottom, You'll Want A… Push-Up Bra & Cheeky Panties
There's nothing a good ol' push-up can't fix when it comes to turning A-cups into DD lookalikes. To offer as much cleavage as possible *and* make your ass resemble Kim's, you'll want an enhancing set that will make you forget all about the itty bitty itty committee of which you are chairwoman.
Read more here: http://www.betches.com/