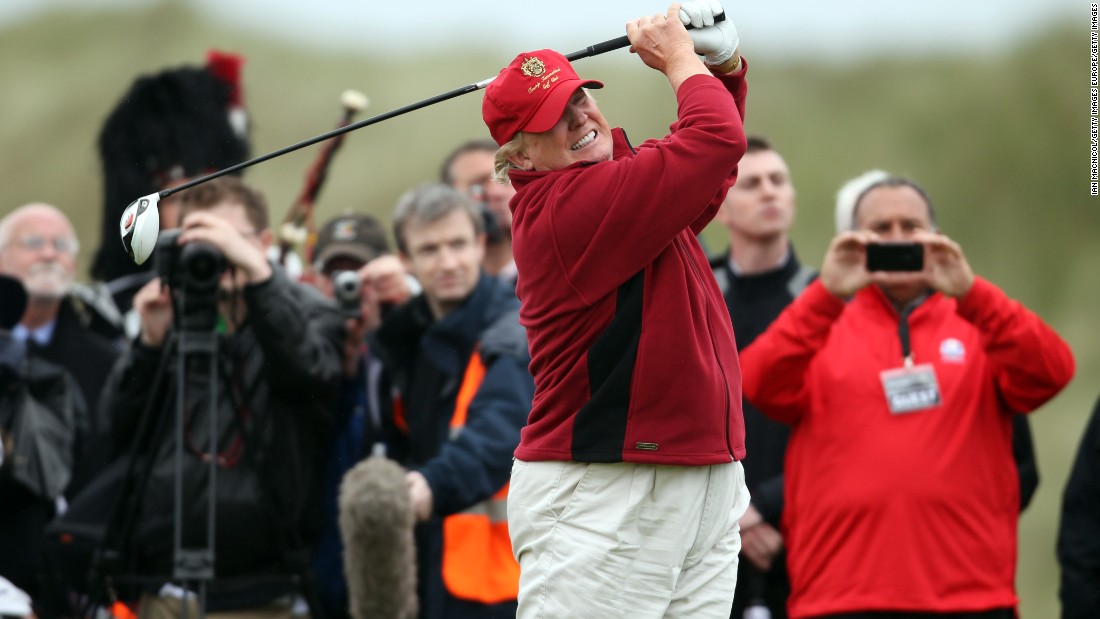 (CNN)President Donald Trump's doctor, Dr. Ronny Jackson, characterized the president's health as "excellent," but like the majority of Americans, Trump is overweight and he doesn't get enough exercise.
The President weighs 239 pounds. That means he's gained 3 pounds over the last year, according to his last official records. At 6 feet, 3 inches tall, Trump had a body mass index, or BMI, that puts him in the "overweight" range, according to the National Institutes of Health's online
BMI calculator.
Being overweight is simply defined as a person whose weight is higher than what is considered a normal weight adjusted for height. The President is one pound shy of being considered obese, according to these calculations.
BMI, however, is considered by some experts too limited
a measure
, since this calculation doesn't distinguish between fat and muscle. It's the fat,
rather than the weight
, that hurts your health. A better way to measure obesity is an X-ray, which can distinguish between fat and other innards. Or some hospitals use a bioelectrical impedance analysis, which runs an electrical current through body tissue to determine fat composition. Even measuring waist circumference is thought to be a better measure of fat than BMI. None of those tests was performed. A doctor could even eyeball it and if the patient's waist is bigger than the hips, the risk of
premature death
is considered much higher for that person than someone whose waist circumference is smaller
.
Jackson said he will work with Trump to design an exercise routine and eating program that will help him get a better handle on his weight. The President said he would like to lose some, according to Jackson.
Being overweight, or in this case borderline obese, does increase Trump's risk for diabetes, heart disease and high cholesterol. Tests have shown he has high cholesterol and there's evidence of heart disease, but Jackson said tests show his heart is functioning well.
"I think a reasonable goal over the next year or so would be to lose 10 to 15 pounds," Jackson said. "We talked about
diet
and exercise a lot. He is more enthusiastic about the diet part than the exercise part, but we're going to do both."
Trump is also not alone in his lack of interest in exercise. Of adults over the age of 18, 51.7% met the
US Physical Activity Guidelines
for aerobic activity, and 21.7% of adults meet the aerobic and muscle strengthening activity guidelines,
according to the CDC.
Adults are supposed to do two hours and 30 minutes a week of moderate intensity aerobic activityor one hour and 15 minutes a week of vigorous intensity aerobic activity for "substantial health benefits," according to the guidelines. Trump has been seen out on the
golf
course, and the guidelines do say that
"some activity is better than none,"
but if his doctor has any say in the matter, Trump will be exercising more.
"If we get diet and exercise right, then
weight loss
will come," Jackson said.
Read more here: http://edition.cnn.com/