Adult film actor says man told her in 2011: Thats a beautiful little girl. Itd be a shame if something happened to her mom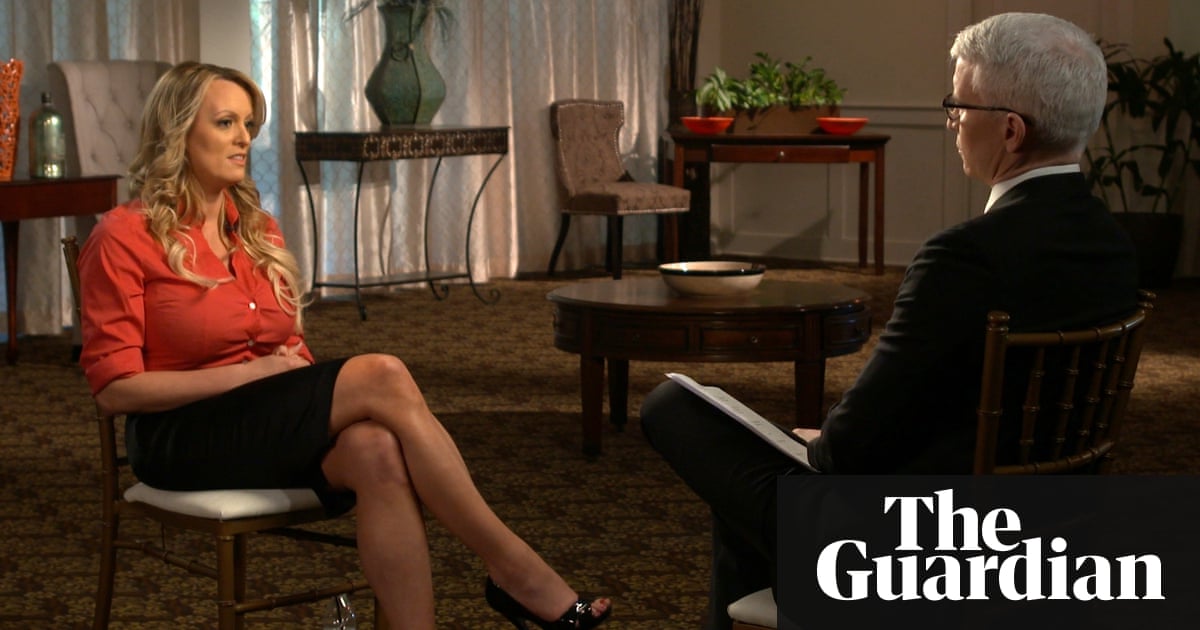 Stormy Daniels, the adult film star who alleges she had sex with Donald Trump in 2006, claimed on Sunday night that she was threatened with physical violence after she first attempted to go public with the story by a man who told her: Leave Trump alone.
Speaking to Anderson Cooper in a highly-anticipated broadcast on CBSs news magazine, 60 Minutes, Daniels, whose real name is Stephanie Clifford, gave a vivid account of an encounter she said took place in a Las Vegas parking lot in 2011.
At the time, she had recently arranged for the story of her sexual encounter with Trump to be told by In Touch magazine for $15,000, though the publication was stalling because Trumps personal lawyer Michael Cohen had threatened to sue, she said.
Daniels was on her way to a fitness class with her infant daughter when she said she was accosted.
A guy walked up on me and said to me, Leave Trump alone. Forget the story.
It was at that point that the alleged threat of physical violence was made, according to her account.
Daniels told CBS that the man, who she could not identify, leaned around and looked at my daughter and said, Thats a beautiful little girl. Itd be a shame if something happened to her mom. And then he was gone.
The allegation that an individual threatened Daniels with actual violence while attempting to frighten her off going public about her sexual history with Trump takes the dispute between the president and the porn star to an entirely new level.
Up until now the tussle between them has focused on her claims of a sexual relationship although Daniels told CBS they had sex only once and Trumps denials, as well as an ongoing legalistic spat over whether a non-disclosure agreement signed by Daniels just 11 days before the 2016 presidential election to silence her was binding or not.
The adult film actor used the platform of the 60 Minutes interview to suggest that there was an echo of the bullying implicit in the alleged incident in 2011 in more recent moves by the Trump team relating to her renewed attempt to tell her story.
With days to go before the November 2016 election she signed the non-disclosure agreement in return for $130,000 in hush money arranged, and he claims paid for, by Cohen.
Daniels told CBS that she agreed to the gagging contract because I was concerned for my family and their safety. Then in January 2018, after the Wall Street Journal had revealed the existence of the non-disclosure agreement, she signed another document that denied that any affair had taken place a statement that she now says was a lie.
Asked by Cooper why she signed a false statement, Daniels replied: Because they made it sound like I had no choice.
I mean, no one was putting a gun to your head? asked Cooper.
Not physical violence, no, said Daniels.
Cooper asked her if she thought there would be legal repercussions if she did not sign.
Correct, said Daniels. As a matter of fact, the exact sentence used was: They can make your life hell in many different ways.
Asked who they were, Daniels said: Im not exactly sure who they were. I believe it to be Michael Cohen.
In similar vein, Daniels lawyer Michael Avenatti complained in the course of the 60 Minutes film that the veiled threat that was allegedly made against his client in 2011 was effectively repeated in the filing of a lawsuit earlier this month by Trumps legal team claiming $20m in damages against her with a further $1m penalty for any further violation of the non-disclosure agreement.
Avenatti said the suit was a form of intimidation. You threaten someone with a $20m lawsuit, its a thuggish tactic. Its no different than what happened in the parking lot in Las Vegas.
The CBS broadcast was due to go out about an hour after Trump had arrived back at the White House having spent the weekend at his Palm Beach resort, Mar-a-Lago.
As he disembarked from Air Force One at Andrews Air Force base he gave a thumbs up but would not reply to reporters questions about whether or not he would watch the interview.
It was known, however, that Melania Trump was not with him as the show was aired. The White House announced that she was would be spending the week in Florida with their son Barron, as is their tradition for spring break.
In the interview, Daniels, who comes from Baton Rouge, Louisiana, said that she had had just one sexual encounter with Trump. They had met at a celebrity golf tournament in Lake Tahoe in July 2006 and he invited her back to dinner in his hotel suite.
After that Trump attempted to renew the sexual acquaintance, she said, by dangling in front of her the prospect of an appearance on Celebrity Apprentice, the reality TV show that he was then hosting. But nothing came of that, and she said they met only one more time without having sex.
They have not seen each other since that second meeting in Beverly Hills in July 2007, she said.
Daniels claim of an affair in 2006 bears striking similarities to the televised account given last week by a Playboy model. Karen McDougal told CNN that she had had an intense relationship with Trump for almost a year in 2006 and 2007, and that he had once taken her into his home in Trump Tower, Manhattan.
Both McDougal and Daniels allege that their encounters occurred within months of the birth of Barron, Trumps son with his wife Melania.
A large number of women have also accused Trump of sexual assault. He denies the claims.
Daniels refused to answer a question from Cooper about whether she had handed over all digital images, email messages and text messages relating to Trump as part of the 2016 gagging contract. She said she had been advised by her lawyer not to discuss those things.
The sense that she might be withholding further material was reinforced last week by Avenatti who has said that to give everything away in one go to CBS would be foolish.
On Thursday he posted a tweet that featured a picture of a digital disc in a safe deposit box with the words If a picture is worth a thousand words, how many words is this worth?
Read more here: http://www.theguardian.com/us