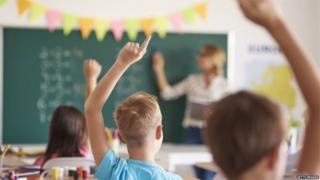 A slimming company has apologised after pupils at a County Antrim school were given a weight-loss club leaflet.
Pupils from Tonagh Primary in Lisburn were given flyers in their homework folders advertising Slimming World.
A mother, who asked not to be named, contacted the Ulster Star newspaper saying she was unhappy with the message it was sending her daughters.
Tonagh Primary's principal said it was "not our intention to cause any offence to parents or children of this school".
However, the mother who complained said: "Kids, and especially younger girls, see how women are judged by their size every day.
"Primary school children who are learning to read shouldn't be given promotional advertising suggesting happy lives are for slim people."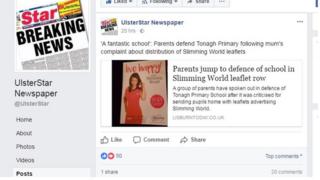 A spokesperson for Slimming World has apologised, and told the BBC the company would not advise consultants to distribute flyers in this way.
"Slimming World consultants work hard to make people within their local community aware of the support they provide for those who want to lose weight, and these leaflets were intended for parents, not the children of Tonagh Primary School," she said.
'Least offence'
"We don't advise that our consultants promote their groups in this way and following this feedback we'll be offering further guidance on the best ways to share information about their groups that cause least offence."
Parents and local people rushed to defend the school on the Ulster Star's Facebook page.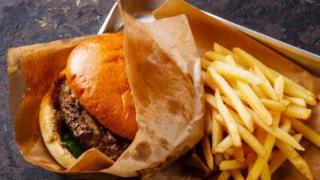 Jenine McNab said: "If anything this person has been made into a laughing stock, we've getting the leaflets for years, so why the big issue now?"
Layla Robertson said she was proud to have sent all three of her children to Tonagh.
"Slimming World promotes healthy eating. Is that not a positive thing? The school promotes healthy eating with the healthy breaks that are available daily, is that next on the hit list?" she wrote.
Hannah Asha-Jane Shearer, on the other hand, said she had some sympathy for the woman who complained.
'Body image'
"I study women's issues and body image. I just think the best way for society, is to stop putting pressure on people to do such things, or to join things," she commented.
In a statement, Tonagh PS principal, Alison Stevenson, said: "The school periodically receives requests to distribute information to parents. These requests are typically from organisations that provide services to the local community.
"Tonagh Primary School distributes information where it may be of interest to the school community and/or parents.
"It is certainly not our intention to cause any offence to parents or children of this school."
Among the services offered on its website, Slimming World advertises Free2Go – a "healthy eating plan" for 11-15 year-olds.
It says the emphasis is on healthy eating rather than weight loss, and that children must be accompanied at meetings by a parent.
Read more here: http://www.bbc.com/news/uk