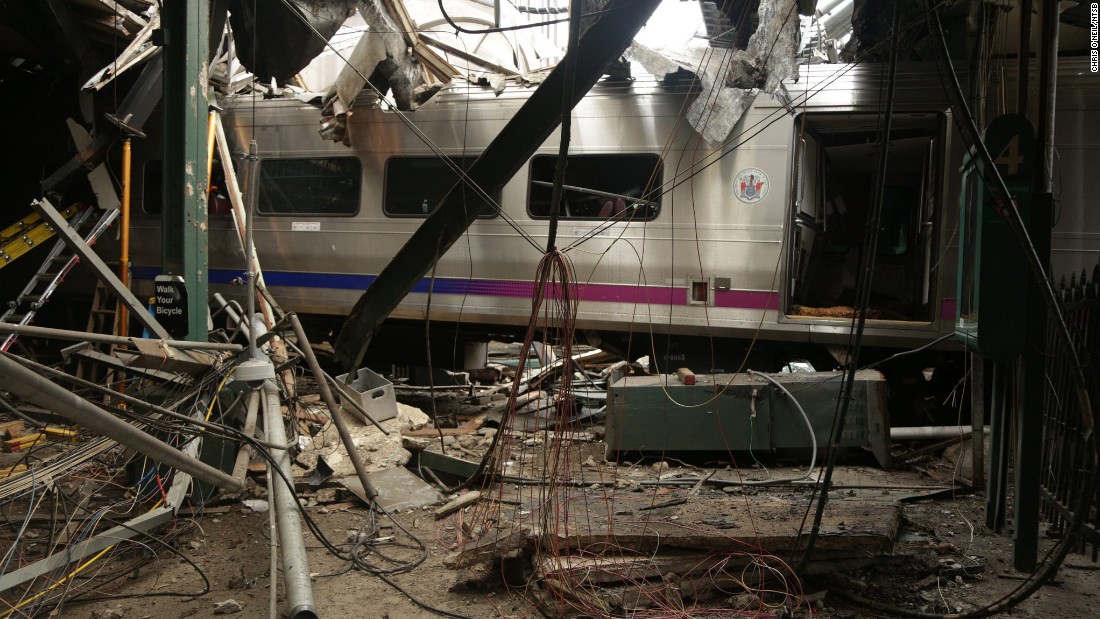 (CNN)Sleep apnea led to two commuter railroad accidents within 13 weeks of one another, the National Transportation Safety Board said Tuesday. The NTSB said the sleep disorder caused engineer fatigue and that in both accidents, engineers failed to stop their trains before reaching the end of a terminating track.
In the other accident, in January 2017, a
Long Island Rail Road commuter train
came to the end of the line at the Atlantic Terminal Station in Brooklyn, but crashed into a small room just beyond the end of the track. The accident left 108 people injured and damage was estimated at $5.3 million.
NTSB experts found that both accidents involved engineers who failed to control their trains, both trains overran the end of the track, and both engineers had issues with a sleep disorder known as obstructive sleep apnea.
NTSB member Dr. Nicholas Webster said
obstructive sleep apnea
is a chronic disease in which sleeping patients stop breathing for some time while their airways are obstructed. Oxygen levels decrease while carbon dioxide levels increase in a person during this time.
"When the buildup of carbon dioxide gets too high, the brain detects it and the person arouses or awakes to breath," Webster said. "The end result is chronically fragmented sleep, subsequent daytime sleepiness and fatigue, which leads to an increased accident risk."
New Jersey Transit requires periodic physical exams, which are expected to include documentation for sleep apnea risk factors for operating crews: engineers, conductors and
brake
operators.
Thomas Gallagher, the engineer in the 2016 accident, had annual physical exams, but the only fully completed sleep apnea screening form was from 2013, the NTSB said. Subsequent sleep apnea screening forms were incomplete or not located, Webster said.
Gallagher was diagnosed post-accident with sleep apnea
.
New Jersey Transit said it is focused on safety and forward progress. "We participated in and cooperated fully with the NTSB's investigation and are pleased that the NTSB acknowledged our aggressive sleep apnea screening protocol that mandates all safety-sensitive employees who screen positive be immediately pulled from duty and will only be reinstated in their craft if they get the appropriate medical certification," a transit spokeswoman said via an email, which also said New Jersey Transit reserves further comment until it has a chance to thoroughly review the NTSB findings.
At the time of the 2017 Long Island Rail Road accident, sleep apnea screenings were planned, but not implemented, the NTSB said, and as a result the engineer had not been screened. As was the case with the New Jersey Transit engineer, shortly after the accident, the Long Island Rail Road engineer, Michael S. Bakalo, was diagnosed with severe sleep apnea and was prescribed treatment.
The Mass Transit Authority, which manages the Long Island Rail Road, said it has "an established and aggressive sleep apnea screening and treatment program for all train and bus operators and locomotive engineers in line with the NTSB's recommendations," and has screened thousands of its employees. "As of November 30, 2017, 9,729 employees have been screened, 2,079 employees have been referred for sleep studies and 1,185 have been diagnosed with sleep apnea and are now in the company's treatment compliance monitoring programs."
The broader issues of reducing fatigue-related accidents and maintaining physical
fitness
are priorities for the NTSB, the organization's chairman, Robert Sumwalt, said Tuesday.
"The traveling public deserves alert operators, and that's not too much to ask," he said.
In August, President Donald Trump decided to allow individual railroads to decide whether to conduct sleep apnea testing, scrapping a proposal from Barack Obama's administration that required it.
Read more here: http://edition.cnn.com/