Rather than settling for a typical summit finale, ASO opted for the stages fourth technical descent and a finish in Chambry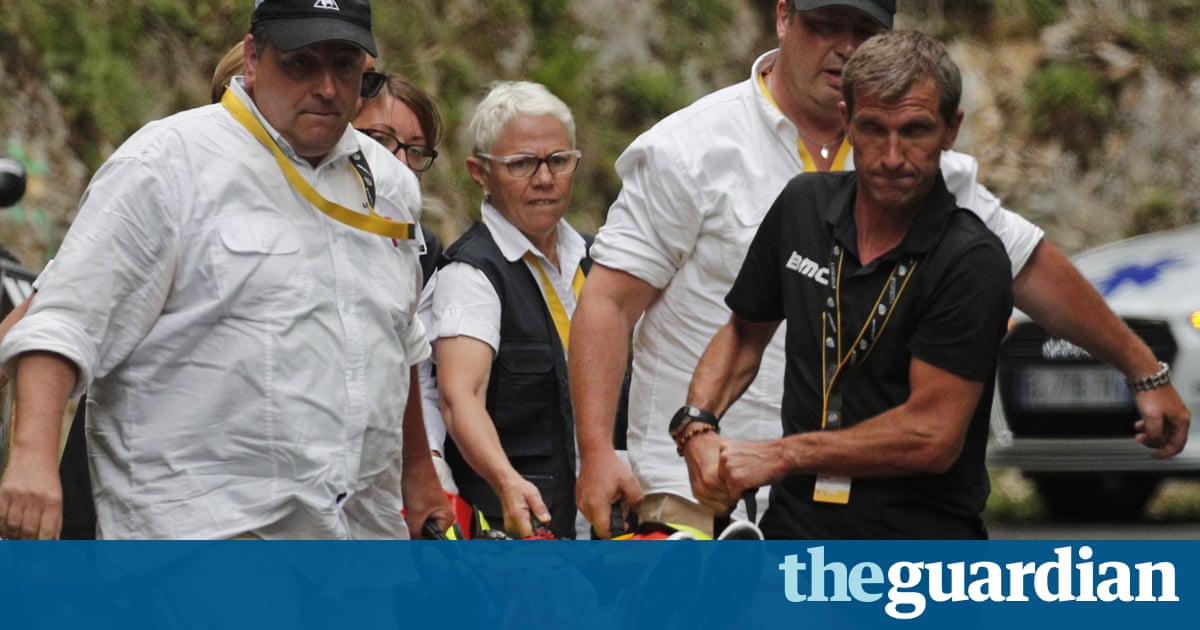 On Sunday morning European time, Gemma Porte tweeted: Day of travel for me so only informative [Tour de France] messages/updates wanted. Nothing to spark the wifey nerves please! She may have tempted fate. Several hours later, her husband Richie Porte ended his campaign for the 2017 Tour de France yellow jersey with a sickening crash on stage nines final descent.
After an enthralling climb up Mont du Chat near the Swiss border, during which Porte threatened to ride away from primary rival Chris Froome on several occasions, the Australian began a long downhill section. Travelling at over 70 kilometres an hour on damp roads, Porte lost control approaching a bend and momentarily travelled off the bitumen. He flailing body careened back across the road and into a rock face, where Porte collided with the bike of Irishman Daniel Martin. The later diagnosis of shoulder and pelvis fractures are miraculous. This crash could have caused far worse.
The BMC Racing Team leaders premature exit from the 104th edition of Le Tour repeats the misfortune to befall Porte on two previous occasions in France. Riding for Team Sky in 2014, the withdrawal of then-colleague Froome gave Porte his first opportunity to challenge for the illustrious yellow jersey. But he was struck down by pneumonia, ultimately finishing an inglorious 23rd.
Two years later, during his first season with BMC, Porte suffered a puncture on an early stage of the Tour. He never recovered from the two minutes lost, and while Porte ultimately managed an admirable fifth overall, his best-ever performance at the race offered little consolation. That was disappointing it still hurts, he told Guardian Australia six months later.
2017 was set to be Portes year. The climber had been in ominous early season form, winning the Tour Down Under and finishing second at the Critrium du Dauphin. BMC had declared their intention to go all in at the Tour de France, and while Froome had a 39 second lead prior to Sundays stage, the long road to Paris presented plenty of opportunities for Porte. Now, a fourth yellow jersey for Froome seems a foregone conclusion.
With Portes recovery expected to require at least a month off the bike, his season is all but over. The Tasmanian has insufficient time to regain race fitness before the final Grand Tour of the season, the Vuelta a Espaa, while neither the Giro di Lombardia nor world road championships in Norway will entice Porte. Just like last year, when his campaign was ended in August by a crash at the Olympic Games, a long off-season awaits.
Questions must be asked of race organisers Amaury Sports Organisation (ASO) for including a treacherous final descent after one of the toughest climbing stages in recent Tour history. Rather than settling for a typical summit finale, ASO opted for the stages fourth technical descent and a finish in Chambry. Porte was one of 11 riders to fall during the day, with Froomes lieutenant Geraint Thomas also suffering a race-ending shoulder injury. Martin, who completed the stage despite crashing into Porte, offered guarded criticism of ASO afterwards. I guess the organisers got what they wanted, said the Quick-Step Floors rider. Cycling is an inherently dangerous sport, but this was just gratuitous.
If there is any silver lining in Sundays events, it is that eventual Tour de France success for Porte would taste that much sweeter. The 32-year-old has overcome adversity before: his progression from Launceston lifeguard to the World Tour is nothing short of astonishing. While Porte has previously stressed that nobody enjoys easy path into professional cycling, his road to the top has been more challenging than most.
Porte is not the only Australia to suffer misfortune on cyclings grandest stage. Cadel Evans twice finished second at the Tour de France, and fractured his elbow at the 2010 edition on the same stage as he briefly took the yellow jersey. Stuart OGrady wore the coveted green sprinters jersey into Paris in 2001, only to lose it on the final day.
For Evans at least, tragedy at the Tour de France had a happy ending. As he begins the road to recovery, Porte can only hope for the same. If the 2018 yellow jersey has the Australians name on it, his crash on Mont du Chat will be just another twist in his narrative-defying career.
Read more here: http://www.theguardian.com/us