Proposal in Senate bill that would give many insurers the ability to scrap preventive benefits puts womens health coverage in precarious position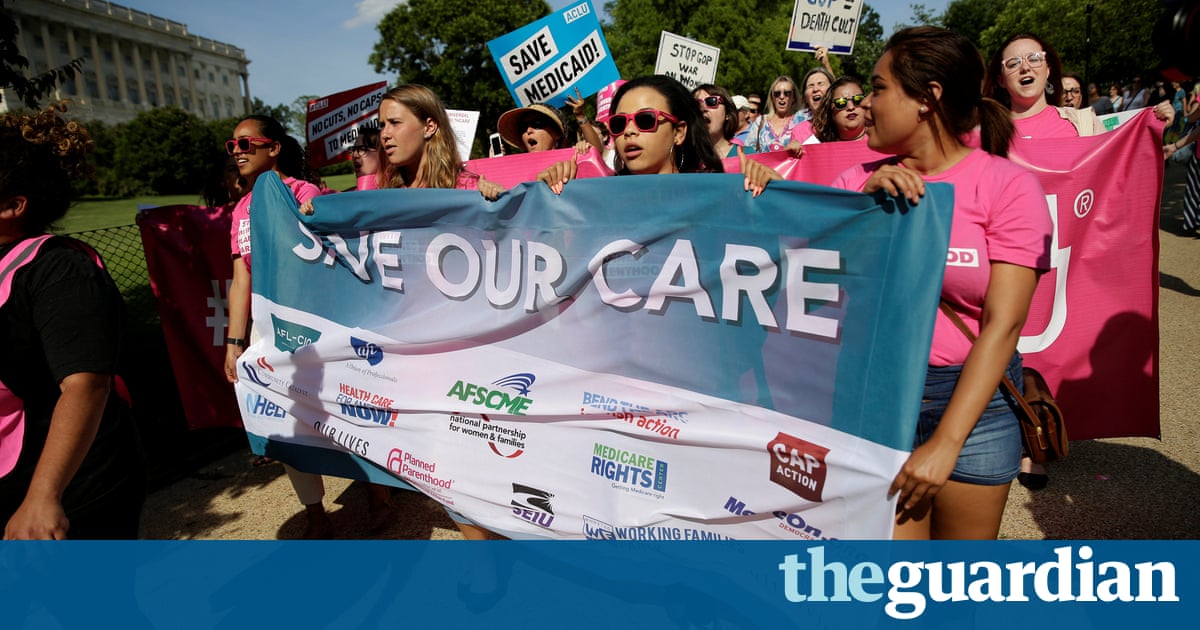 The latest version of the US Senates bill to repeal major portions of the Affordable Care Act would eliminate the so-called birth control mandate, handing a long-sought victory to conservative activists who have spent years assailing the regulation.
The mandate is one of the most controversial benefits of the Obama administrations enforcement of the ACA.
As Senate Republican leaders insisted they would forge ahead with a vote by the end of next week on their latest version of legislation to replace the ACA, reproductive health provider Planned Parenthood warned about the threatened change.
Dawn Laguens, the executive-vice president of Planned Parenthood Federation of America, said: This latest version of Trumpcare is even scarier for women. It would undermine access to basic preventive care, including womens preventive care with no co-pays.
Insurance companies would once again be allowed to refuse to cover basic preventive health care, as well as charge women co-pays for birth control, immunizations, and cancer screenings.
Conservative religious employers in particular have objected loudly to offering insurance plans which covered devices or pills whose use they saw as immoral. The mandate was twice challenged before the supreme court, with one challenge ending in a broad exemption for any closely held corporations that raised religious objections.
Still, the mandate currently requires nearly all health insurance plans to cover contraception without a co-pay. The mandate was not part of the text of the ACA but part of its enforcement: under the law, insurance plans were required to cover all preventive services, which the Obama administration determined to include a range of contraception drugs and devices.
But a change in the Senate bill released on Thursday, adopted at the suggestion of Texas senator Ted Cruz, would give many insurers the ability to scrap preventive benefits. The change, first reported on by Vox, would affect all forms of preventive care for men and women, such as cancer screenings and STI testing.
Cruzs amendment, dubbed the Consumer Freedom Option, allows insurers to offer plans that do not meet the regulatory requirements of the ACA.
The contraception mandate took effect in August 2012. Although it is not clear how many women gained contraception coverage as a result, estimates suggest the mandate saved millions of women with insurance more than $1.4bn in out-of-pocket spending on contraception. Early research has also associated the contraception mandate with a historic drop in the US abortion rate that occurred in 2014.
A recent nonpartisan poll found that a majority of women would struggle to afford birth control if they had a co-pay.
Laguens said: Thanks to the birth control benefit in the ACA, more than 55 million women currently have access to birth control without co-payments. Without insurance coverage, birth control pills can cost up to $600 a year. Trumpcare will put contraception, which has been instrumental in furthering womens educations, careers, and economic standing, out of reach for many women.
President Trump has already moved to weaken the mandate with an executive order he signed earlier this year directing the health department to exempt employers with a religious mission. The agency has drafted, but not finalized, a rule that would establish an exemption.
Cruzs proposal is just one way the bill moving through the Senate would place womens health coverage in a precarious position. The bill would also grant individual states the right to allow insurance plans to be sold without maternity coverage. That could force large numbers of women to pay thousands of dollars extra for essential coverage during their pregnancies.
Senate leaders revised their proposal to repeal the ACA after it was clear their original legislation would not garner enough votes. Conservative senators criticized the bill for preserving too many aspects of the ACA, while moderate senators representing poorer states were turned off by deep cuts to Medicaid, the government insurance plan for low-income Americans.
Slim majority
Republicans hold 52 seats in the Senate, meaning they can afford to lose only two votes in order to advance their healthcare bill, a scenario in which Mike Pence, as vice-president, would cast the tie-breaking vote.
At least two Republican senators, Susan Collins of Maine and Rand Paul of Kentucky, swiftly announced their opposition to the revised plan as it was unveiled on Thursday. Collins said that little, if anything, had been done to address her concerns over gutting Medicaid coverage, while Paul argued the legislation maintained much of the regulatory structure of the Affordable Care Act and was thus far from a repeal.
But several key Republican holdouts were reserving judgment until a score from the nonpartisan Congressional Budget Office, which is expected on Monday. The CBO projected that the previous bill would leave 22 million more Americans without insurance over a decade. Barring a significant change in forecast, the obstacles facing Republican leaders as they scramble to corral votes will only intensify.
Trump sought to amplify the pressure in a series of tweets late Thursday, urging Republicans to act on their seven-year vow to dismantle Obamas healthcare law. Republicans Senators are working hard to get their failed Obamacare replacement approved. I will be at my desk, pen in hand! Trump wrote.
So important Rep Senators, under leadership of McConnell, get healthcare plan approved. After seven years of OCare disaster, must happen!
Trump commended Pence for working with Republicans on Capitol Hill to reach a deal. But lawmakers in Washington have been struck by the lack of engagement from the White House.
Senator Bill Cassidy, a senator from Louisiana, said Pences message to Republicans in the Senate this week effectively boiled down to the need to simply pass a bill. Trump sent a similar signal on Twitter, stating that the onus was on Republicans to get the job done.
After all of these years of suffering thru Obamacare, Republican Senators must come through as they have promised! he wrote.
Read more here: http://www.theguardian.com/us