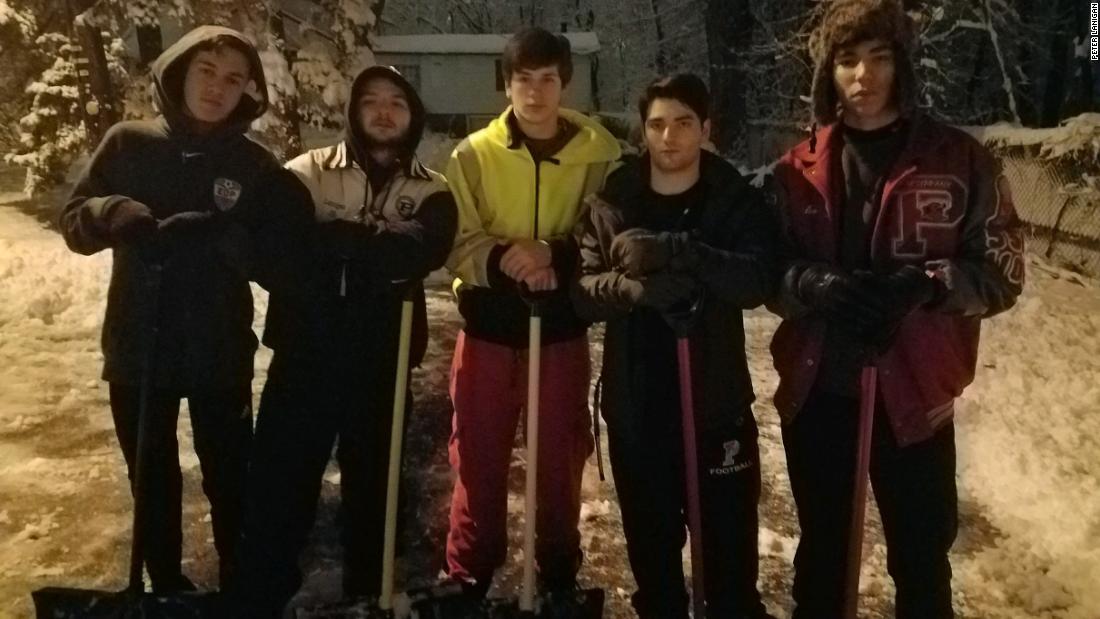 (CNN)Here's a money-saving tip: If you want to have fun and do some good in the world, lend someone a hand. Most of the time, it's completely free.If you think about it, kindness is kind of its own renewable energy source, and this week was full of people putting their endless stores of kindness on turbo-max mode. We dare you to read on and not feel newly energized yourself.
Want more inspiring, positive news?
Sign up for The Good Stuff
, a newsletter for the good in life. It will brighten your inbox every Saturday morning.
Our favorites this week
Get going with some of our most popular good news stories of the week
A much-needed lost and found
Snow angels
Teens! So lazy. So disrespectful. So uncaring. Look at these disrespectful, uncaring New Jersey
teens lazily shoveling a neighbor's driveway in the dark, early hours of the morning so she could make it to her dialysis treatment
. Brian and Patrick Lanigan usually try to look out for their neighbor, who depends on the treatments to keep her healthy. But when Brian, an EMT, learned he was going to be working during an imminent snowstorm, he asked Patrick to take over shoveling duties if need be. Patrick did one better and recruited some volunteers from his high school, who had a sleepover at his house and woke up early — as in, EARLY early, to shovel. Luckily, the young men had a two-hour delay before school, so they got in a nap after their good deed.
Exercising the body and soul
It's no secret that
exercise
can be good for your mental and emotional health (tell yourself that next time you're on the
treadmill
and you feel your soul start to leave your body). Such wellness is the mission of Mark Fleming, a personal trainer
who recently opened a gym especially for people with autism
. Fleming is on the spectrum too, and noticed that
fitness
centers can be challenging environments for people like him. His gym, Puzzle Piece Fitness, caters to the specific needs of clients with autism. "I think it is important to help others on the spectrum to achieve the life that they desire. And exercise is a great way to do that," he said.
Raise a glass to …
Tanner Wilson and Brandon Qualls from Norman, Arkansas, who are
your friendship goals for the week
. Brandon gets around using a wheelchair, but the push version he had made getting around school difficult. Tanner saved for two whole years, socking away money from his part-time job at a mechanic shop, to buy Brandon a fancy motorized wheelchair. It was an amazing gesture, sure, but maybe it's because Brandon is also an amazing friend. "I just felt like I needed to do it," Tanner said. "Brandon, he's just always been there for me."
A bright idea
Every Tuesday night, Belinda George snuggles up in her unicorn onesie and cracks open a good book. While that sounds like the most perfect "me time" routine ever, George isn't doing it for herself. She's a principal at an elementary school in Beaumont, Texas, and once a week s
he reads bedtime stories to her students over Facebook Live
. See, George saw that her students weren't doing well on state-mandated reading tests, so she decided to bring literacy to her students herself, using the magic of the internet — and unicorns, of course.
You gotta see this
It's Women's History month, and the historical women you see here are the US National Women's team, sporting jerseys
bearing the names of the players' favorite female heroes
. They wore the jerseys during their SheBelieves Cup match against England this week. Some of the famous women they honored: Sojourner Truth, Sally Ride, Carrie Underwood, Maya Angelou, Beyonce, Lorde and of course, Cardi B.
Hear, hear!
"But I believe, without any doubt at all, that our greatest good fortune was, that even in the most extreme difficulties, we might lose our patience but never our sense of humor."
Tell us something good
Clarkston, Georgia
Need proof that coffee is a truly unifying force?
Look no further than Refugee Coffee
. All of the employees — as well as many of the customers in their small, diverse town — are refugees, and share stories of coping and thriving over what seems like a pretty decent cup of joe. "We don't treat them like a customer coming to buy a cup of coffee," Ahmad Alzoukani, a refugee from Syria, said. "We just think 'oh this is my brother, this is my sister, this is my friend.'… So we became like a family."
Impact your world
We want to tell you about some other special people helping out after the deadly Alabama tornadoes. The Poarch Band of Creek Indians, a Native American tribe that has been in Alabama for generations, announced this week that
its members will cover the costs of the funerals for all 23 of the storm's victims
. The total amount? About $184,000. "It is at times of greatest need that we often see our communities coming together to help one another. This is one of those times," Stephanie Bryan, the tribe's CEO, said.
If you're moved to spend some of that kindness energy you've been storing up to help those effected by the storm,
click here to see how
.
Shameless animal video
There's always time for cute animal videos. That time is now.
Tapirs are extremely weird animals. But if you're like me, the weirder the animal, the more hopelessly adorable you find them. C'mon, don't you just wanna boop this (prehensile) little snoot?!
Read more here: http://edition.cnn.com/