Sometimes it feels like we already know everything about Supreme Court Justice Ruth Bader Ginsburg, given her transformation into the pop culture icon known as "the Notorious RBG." The documentary "RBG," premiering Friday, is one of two movies about her being released this year. (Another television project was announced this week, a miniseries that will chronicle her and Justice Sandra Day O'Connor, the first two women on the high court.)
Further proving her cultural ubiquity, "RBG," directed by Betsy West and Julie Cohen, features footage from her many speaking engagements in recent years, employing recurrent punchlines and anecdotes. The justice has extensively discussed her storied career fighting gender discrimination, her late husband, Marty, championing her work, her "odd couple" friendship with conservative Justice Antonin Scalia — and, on the lighter side, her famous fitness regimen.
In that way, much of the documentary, a celebratory and endearing portrait of the feminist pioneer, covers familiar territory. But it manages to sidestep "the easy narrative" of Ginsburg as a "badass" by illustrating the "paradox" of how she "still feels more comfortable in the world of words and text than in the world of fame and notoriety," as Slate's Dahlia Lithwick wrote earlier this week.
Part of that paradox emerges in the through-line connecting Ginsburg's entire legal career, that true and lasting change is slow, often happening in stops and starts, two steps forward, one step back.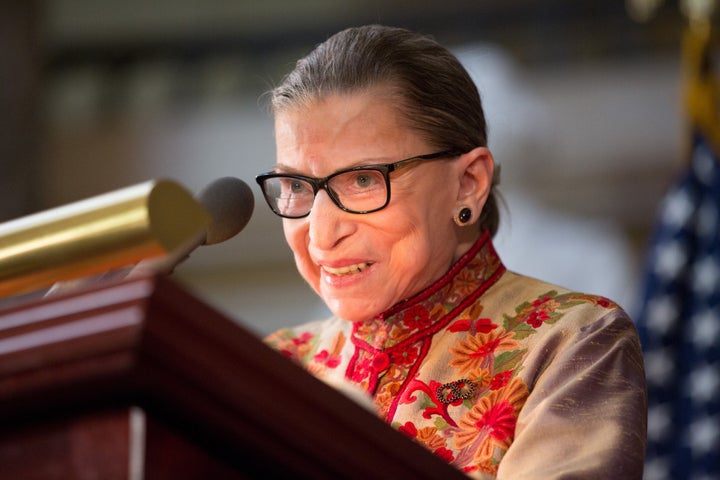 In addition to her approach to the law, this also comes through in Ginsburg's personality. Despite her ebullient public persona, her family, friends and colleagues often describe her in the film's interviews as "reserved," "quiet" and "timid." Yet, as NPR's Nina Totenberg recounts, Ginsburg could be "a performer" and rise to the occasion when it mattered, like during her Supreme Court confirmation process.
For the most part, as depicted in the documentary, Ginsburg let her reputation precede her, through hard work and having every possible legal strategy at the ready, in order to outmaneuver her opponents. It's inspirational when so often women in the public eye get derided for being overprepared.
"RBG" deepens viewers' legal knowledge by documenting her years at the American Civil Liberties Union's Women's Rights Project, introducing the audience to some of the plaintiffs she represented.
During these cases, instead of getting frustrated by male judges who ridiculed her and could not seem to grasp the scope of gender discrimination, Ginsburg patiently educated them on legal history, seeing these moments of animosity "always as an opportunity to teach," as she says in the film.
"One of the things I tried to plant in their minds was, think about how you would want the world to be for your daughters and granddaughters," she recalls.
According to the film, she was focused on changing the system from within, smartly recognizing that the best strategy was to build a bulletproof legal doctrine through each gender discrimination case that she took on.
"I said, it's too soon," she said during her Supreme Court confirmation hearings in 1993, recounting one of her earlier cases. "My expectation, to be candid, was that I would repeat that argument maybe half a dozen times. I didn't expect it to happen in one fell swoop. I think generally in our society, real change, enduring change, happens one step at a time."
The approach may have appeared "conservative," as Kathleen Peratis, a former director of the ACLU Women's Rights Project, says in the film. But eventually it paid off.
Similarly, Ginsburg had criticized the landmark Roe v. Wade decision establishing a woman's right to an abortion because she feared, rightly, that a sweeping ruling would galvanize activism against abortion. Instead, she argued for individual state laws, which some legislatures were already on their way to passing.
While watching Ginsburg's career unfold in the documentary, it is hard not to think of the current moment, with the Me Too and Time's Up movements already generating forms of backlash. While change has happened, it is still slow.
And yet, when asked about the current moment, Ginsburg seems clear-eyed.
In some ways, the law still favors perpetrators, and the work of her generation certainly remains unfinished. But Ginsburg's confidence that permanent change is possible comes from the perspective of someone who has seen it all and has done what women often do — put our heads down and do the work.
'RBG' is in theaters Friday and will air on CNN later this year.
Read more here: http://www.huffingtonpost.com/