Iowas Republican legislature voted to strip group of public funding, meaning women on Medicaid in four cities will have one less option for family planning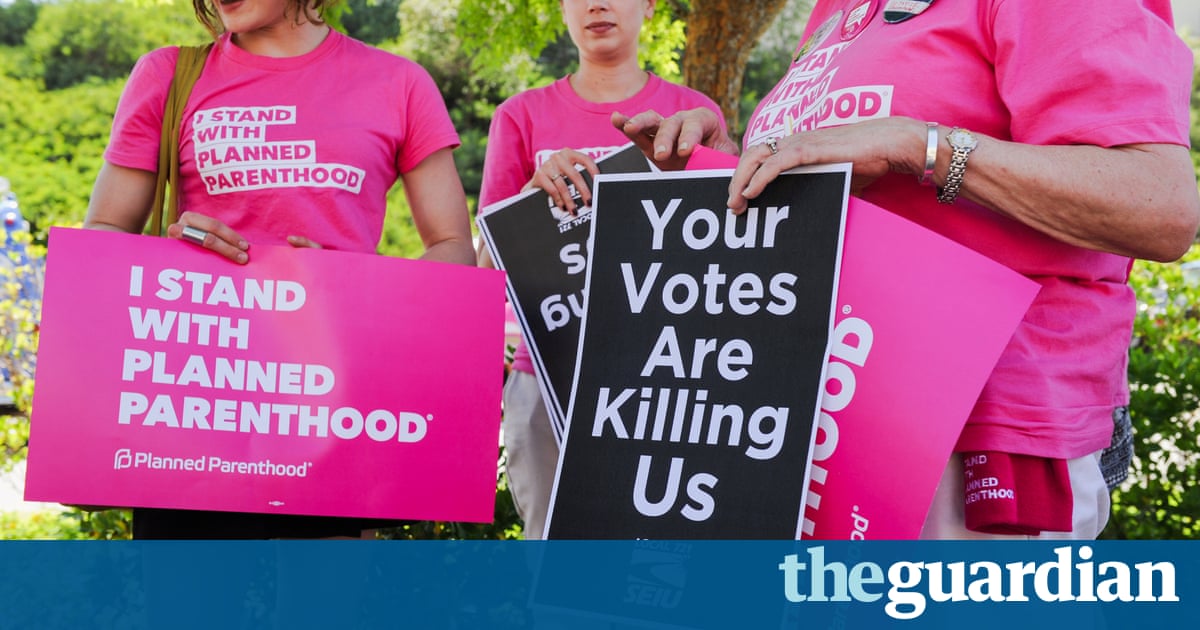 An aggressive campaign by Iowa lawmakers to strip Planned Parenthood of much of its public funding will force it to close four clinics serving 15,000 patients, the womens health group said on Thursday.
Planned Parenthood said the closures were a harbinger of what might happen across the country if Congress passes legislation to defund its clinics.
Individual states have made piecemeal efforts to block Planned Parenthood from receiving public funds meant to help states provide low-income women with STI tests, contraception, and cancer screenings.
But Iowas campaign to defund Planned Parenthood represents a stepped-up version of those other efforts, one that more closely resembles a provision in the Republican legislation to repeal and replace the Affordable Care Act.
For Iowa, the closures mean that women on Medicaid in four cities Burlington, Keokuk, Sioux City, and Bettendorf will have one less option for family planning services, such as contraception, covered by their insurance.
In three of the four counties where those clinics are located, Planned Parenthood provides services to at least 80% and as many as 96% of people who count on the public safety net for family planning needs, according to a recent analysis by the Guttmacher Institute, a thinktank that supports abortion rights but is a trusted reference on both sides of the issue.
Planned Parenthood currently operates 12 centers in Iowa. Not all of those clinics provided abortions, the main source of critics opposition.
Iowa lawmakers voted in April to strip Planned Parenthood of $400,000 in annual payments, which the group received as reimbursement for providing STI tests, contraception, and cancer screenings at no cost to patients on Medicaid. The funds cannot be used to pay for abortions.
The payments to Planned Parenthood came from a $3m Medicaid fund that the federal government provided to Iowa so the state can subsidize family planning services.
But, now because Iowa has violated Medicaid rules by blocking Planned Parenthood, the state will lose the entire $3m.
Planned Parenthoods opponents felt it was worth it.
We believe that public funds should not subsidize the abortion business when there are many other healthcare providers available, the Catholic Conference of Iowa said in a statement when the measure passed. Abortion is a direct assault on human life and dignity, and abortion clinics do not provide a wide continuum of medical care.
But public health experts say there is not much evidence to support the assertion that other clinics can fill in for Planned Parenthood.
Many healthcare workers in Iowa whose clinics would be expected to step in warned that they didnt have the capacity.
Weve had whole agencies shut down and weve had satellite clinics close down. And trying to replace them in the network is very difficult, especially in rural states, Jodi Tomlonovic, the executive director of the Family Planning Council of Iowa, told the Intercept in February.
Saying, Oh, well, we can make you give up these providers, and those clients can just be absorbed by other providers thats not always true. A lot of our federally qualified health centers are filled to capacity and overflowing.
Yet the rest of the country might follow in Iowas footsteps if Congress passes the American Health Care Act, the Republicans vehicle for repealing the Affordable Care Act.
The version of AHCA that passed the House of Representatives on 8 May would disqualify Planned Parenthood from collecting any reimbursements from Medicaid. Planned Parenthood receives roughly $400m every year for providing up to one and a half million patients with family planning care.
And the bill is not Planned Parenthood opponents only defunding strategy.
Before Iowa, Texas became the first state to walk away from many millions in Medicaid funding for the purpose of defunding Planned Parenthood. Texas this week asked for the Trump administration to restore that federal funding, as first reported by the Guardian. If Trumps health department agreed to do so, it would signal to other states that it is possible to block Planned Parenthood from receiving public funds without taking a significant financial hit.
In all these cases, proponents of cutting Planned Parenthood out of the public safety net for low-income women have claimed that other health care providers can easily take up the slack.
But public health experts are skeptical.
The notion they can suddenly ramp up their capacity to absorb all of the services Planned Parenthood can offer, the notion that overnight they can serve two million more people who need reproductive health services is absurd. It displays, to my mind, an astounding ignorance of how the health system works, Sara Rosenbaum, a professor of health policy at George Washington University, told the Guardian.
Read more here: http://www.theguardian.com/us