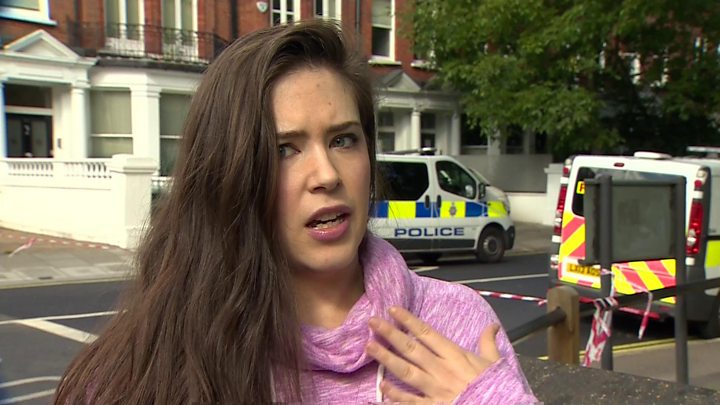 Commuters have told of the panic at a London Underground station following an explosion on a District Line train.
Emma Stevie, 27, was on the train when the explosion happened at Parsons Green, in south-west London, and was then caught in a "stampede" and crush on the station steps.
"I heard lots of screams and people saying 'run, run'," she said.
"We got out and then there was a human stampede, down the stairs.
"There were people lying underneath getting crushed, a big human pile-on.
"I wedged myself in next to a railing. I put myself in the foetal position. I kept thinking, 'I'll be ok, I'll be ok'.
"There was a pregnant woman underneath me, and I was trying really hard not to crush her."
Ms Stevie said she saw a young boy with head and other injuries.
Live: Parsons Green Tube explosion
'IED' blast on Tube is terror incident
Reality Check: What powers do police have to deal with terrorism?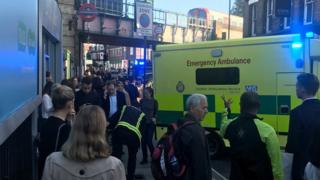 "It was horrible, I can't think how many people were underneath me in the crush.
"The fire brigade was telling us to get back on the platform, but no-one was.
"There was a full Tube's worth of people on the steps – hundreds of people.
"I saw a lady with water being poured over the face and hands who I think had been burnt in the explosion.
"The injuries from the stampede seemed the worst."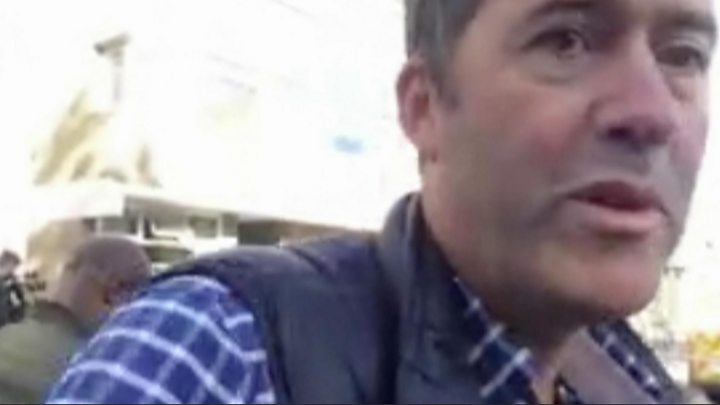 Media technology consultant Richard Aylmer-Hall, who was sitting on the "packed" District Line train where the explosion happened, said he saw several people injured having apparently been trampled as they tried to escape.
The 53-year-old said: "Suddenly there was panic, lots of people shouting, screaming.
"There was a woman on the platform who said she had seen a bag, a flash and a bang, so obviously something had gone off."
'Flames all around'
Sylvain Pennec, a software developer from Southfields, south-west London, said he had been about 10 metres (30ft) from the explosion and fire filled carriage.
"I heard a boom, and when I looked, there were flames all around," he said.
Mr Pennec described the panic as commuters struggled to escape the carriage, "collapsing and pushing" each other.
He stayed behind to take a closer look at what he believed was the source of the explosion.
"It looked like a bucket of mayonnaise," he said.
"I'm not sure if it was a chemical reaction or something else, but it looked home-made."
Chris Wildish, who was in the next door carriage, said he spotted a burning bag through the door.
He said: "I was relatively close to it. It looked like a builder's bucket… in a what looked like an Aldi bag or a Lidl bag or something like that.
"It had flames still coming out of it when I saw it, quite low level flames and a lot of wires hanging out of it."
Ryan Barnett, 25, who was a few carriages down from the explosion, said that as the doors opened at Parsons Green "hundreds of people" suddenly ran past him on the platform.
"[They were] screaming a mixture of 'stampede', 'attack', 'explosion', 'get off the train', 'everyone run'," he said.
He ran to the stairs, keeping his head down "because there might be gunfire", but was shouted at to stop by stewards and other passengers.
He said: "So I ended up squashed on the staircase, people were falling over, people were fainting, crying, there were little kids clinging on to the back of me.
"It is absolute chaos, it was quite scary because at one stage we thought we might be trapped there."
Girl doing spellings
Luke O'Connor, who was also on the train, said: "There (were) lots of school kids on there, mothers doing the school run.
"I was sitting next to a girl who was just doing her spellings, people just getting ready for the day.
"You never expect it to happen."
He told the BBC that there had been a "loud explosion" from another carriage, followed by a smell "sort of sulphuric acid".
Mr O'Connor praised Tube staff, who he said were "superb" in getting people off safely and as quickly as possible.
He said some people appeared to have burns.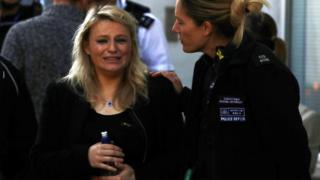 Commuter Eduardo Moreira, from Wimbledon, said he thought most of the injuries had been caused by people "panicking and running away".
He said: "Even in my carriage, one guy just yelled to stop. They were passing over this lady. She was being trampled on.
"There was high panic. The problem was people didn't know what was happening.
"I could smell the burning. I walked down the platform and saw the bucket on fire.
"It looked like a paint bucket. It had a sweater on it. It was just starting to light up."
'Covered in blood'
Fitness instructor Olaniyi Shokunbi, 24, was listening to music on the train when he saw people scrambling off it and onto the platform.
He said he thought there had been an acid attack after feeling some liquid on him.
He got out of the train and saw people "lying on the floor covered in blood".
"There was a little boy, I really felt sorry for him – he couldn't have been more than 11.
"He had scratches on his head, he was looking for his little brother.
"There was a woman on the floor. She couldn't breathe. People were screaming and crying."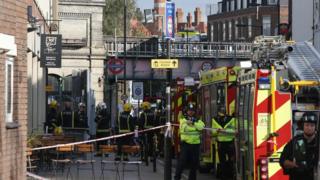 Commuter Luca, who did not want his surname published, said he was the "only one" shouting at people to calm down.
"I didn't see anyone from TFL. People were stuck at the staircase and I noticed that some individuals were under the crowd, I started to shout to stop pushing and tell everyone not to run or push as people's life were at risk.
He said TFL staff arrived after few minutes and started to pull people out from under the crowds.
He added: "They all seemed confused…. No direction was given, the train conductor even closed the train's doors and people were trapped in the carriages, what if it was an NBC (nuclear biological chemical) attack?
'Clothes burnt off'
Rachel Green, 18, works in a coffee shop next to Parsons Green station. She and her colleagues helped people coming out of the station after the explosion.
She said: "At first there were 20, and then there were over 100 – women coming out without shoes, battered and bruised, and they'd left their handbags behind.
"There was talk of a fire – two people came in to the shop with their clothes burnt off, who said they saw a fire coming towards them.
"There were mothers with babies, it was the school rush time. I'm really shocked – this is a quiet family friendly area".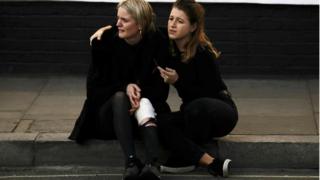 Nicole Linnell, 29, was on a different train when she saw people running down the tracks.
"About 30 or 40 people. They were running down the tracks outside our train.
"It was absolutely terrifying. Running on the tracks is the last thing you want to do so we were like 'What's going on?'
"After about an hour we were evacuated off the train on to the tracks. About 10 to 15 people at a time."
Police have appealed to members of the public to send them photos or videos relating to the incident. You can upload any content here.
Read more here: http://www.bbc.com/news/uk