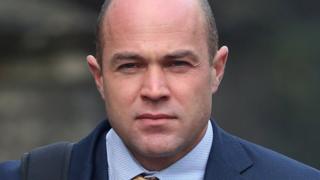 An Army sergeant accused of trying to kill his wife by tampering with her parachute told a court she may have been targeted by a stranger.
Emile Cilliers, 37, said the idea a "random killer" had sabotaged the device was a "possibility" as he "didn't have anything to do with it".
He told jurors: "I'm not trying to point the finger at anybody, I just want to get to the bottom of this."
Mr Cilliers denies attempting to murder Victoria Cilliers on 5 April 2015.
Ms Cilliers suffered multiple injuries when her hired parachute malfunctioned and the reserve failed as she plummeted 4,000ft to the ground at Netheravon Airfield, Wiltshire.
Michael Bowes QC, prosecuting, told Winchester Crown Court the notion of a "complete stranger" trying to sabotage a parachute with the "sudden urge to kill someone" without knowing their victim was "ridiculous".
When Mr Cilliers replied it was a "possibility", to which Mr Bowes responded: "It's a possibility a number of asteroids will strike the earth, isn't it?"
The defendant denies tampering with his wife's hire kit in a toilet cubicle at the Army Parachute Association at the airfield camp, allegedly twisting the lines on the main chute and removing parts from the reserve.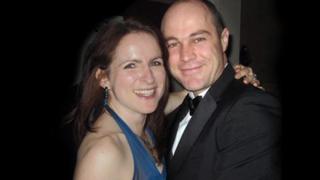 Elizabeth Marsh QC, defending, asked the Army fitness instructor about how he came to take the parachute to the toilet with him.
"Why didn't you put it on a rack?" she said, to which he said he had not paid much attention to the kit as it was "not something that really bothered me".
The court was told Mr Cilliers accompanied his wife to hospital while she was in a full body brace after the fall, and visited her the next day.
'Princess Charlotte'
The jury earlier heard he had searched the internet for the term "wet nurses" – women who breastfeed babies when their mothers are unable.
His wife had given birth two months before the fall, the trial heard previously.
Asked why he had done so, he could not recall. "Maybe it was something to do with Princess Charlotte," the jury was told.
"It was just a subject of interest. We would often see something on TV and research it."
In response to his defence's questions, he said the jury should not read anything suspicious into the search.
The father of six also denies a second attempted murder charge relating to a gas leak at the family home in Amesbury, Wiltshire, and a third charge of damaging a gas valve, recklessly endangering life.
He told the court he had investigated the source of the leak with a tool.
When asked by Ms Marsh how his blood came to be on a pipe next to the leak, he said: "I might have cut my hand, I don't remember.
"I can't say exactly how it got there. It could have been from cooking, I could have brushed against it. These are all possibilities."
He denied tampering with the gas valve and rejected the notion he would want to harm his wife or their children.
The trial continues.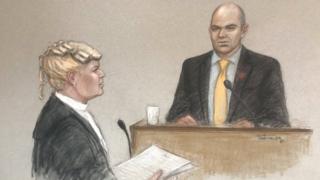 Read more here: http://www.bbc.com/news/uk