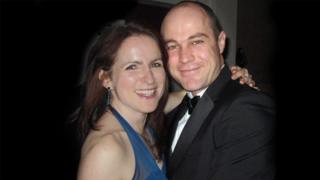 An Army sergeant accused of tampering with his wife's parachute contacted his lover as his spouse underwent surgery after a 4,000ft fall, a court was told.
Jurors were read messages sent between Emile Cilliers and Stefanie Goller in the hours after Victoria Cilliers' fall at a Wiltshire airfield in 2015.
In one, Winchester Crown Court heard, the defendant asked Ms Goller to clean for him in the nude.
Mr Cilliers, 37, denies attempting to murder his former Army officer wife.
'Naked cooking'
In another message, the Army fitness instructor told Ms Goller he would repay her services with "hugs and kisses", the court was told.
She replied: "Haha, I like naked cooking ; )"
The court was read WhatsApp messages the lovers exchanged after Mrs Cilliers, 40, was hurt in a jump with the Army Parachute Association at Netheravon, Wiltshire, on Easter Sunday, 2015.
After telling Ms Goller that his wife was undergoing surgery, Mr Cilliers, of the Aldershot-based Royal Army Physical Training Corps, wrote: "One day we might have a family of our own."
In a later exchange, Ms Goller told him: "I love you in uniform ;)", to which he replied: "You going onto salute me?" and Ms Goller responds "I guess sometimes I will have to obey you ;)"
He then asked her: "Will you call me your Mr Grey?"
During the messages sent over several months, the pair appear to plan a future together as well as a summer holiday in Honduras.
The court has heard Mr Cilliers was also continuing a sexual relationship with his ex-wife Carly Cilliers and half-an-hour after making arrangements to meet her on March 29 2015, the defendant was exchanging sex messages with Ms Goller.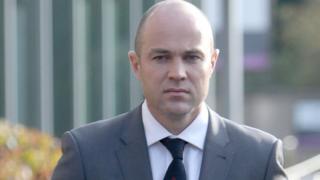 The court was read messages from Victoria Cilliers describing her "joking" fears that the defendant had tried to kill her by tampering with the gas fitting at their home.
Prosecutors allege Mr Cilliers twisted the lines of his wife's main parachute and removed two slinks – which attach lines to the harness from a reserve chute – the day before her jump.
He is also accused of a third charge of damaging a gas valve at their home a few days earlier, in the second allegation that he attempted to kill his wife.
Jurors were previously told the defendant had debts of £22,000 and believed he would receive a £120,000 life insurance payout on his wife's death.
The prosecution also claim Mr Cilliers lied to Ms Goller that he was leaving his wife because she was having an affair and he was not the father of one of their children.
Mr Cilliers denies all three charges and the trial continues.
Read more here: http://www.bbc.com/news/uk