Hello. Here's your morning briefing: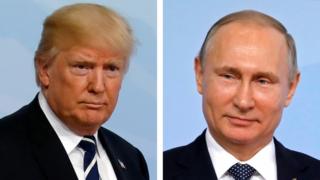 Trump and Putin met a second time
Donald Trump and Vladimir Putin had a second, previously undisclosed, meeting at the recent G20 summit in Germany, with only the two leaders and Mr Putin's interpreter present. It happened during a private meal attended by heads of state, it's been revealed. The White House has not said what the US and Russian presidents discussed, with Mr Trump dismissing suggestions they had a "secret dinner" as "fake news".
The two leaders' relationship is under intense scrutiny. US intelligence believes that Russia helped Mr Trump in last year's presidential election. Russia denies this and Mr Trump has rejected any claims of collusion.
BBC to reveal stars' salaries
Some of the BBC's biggest stars are expected to have their salaries revealed later, as the corporation's annual report includes, for the first time, the details of everyone earning more than 150,000 a year. It's thought presenters such as Graham Norton, Gary Lineker, Claudia Winkleman, Chris Evans, Fiona Bruce and Andrew Marr could be on the list. The report is published at 11:00 BST.

Get news from the BBC in your inbox, each weekday morning

Woman's shooting in US: Australian PM demands answers
Australia's prime minister has called on US authorities to explain how a woman, originally from Sydney, was shot to death by a policeman after calling to report a possible crime. Justine Damond, 40, died in the city of Minneapolis, reportedly while dressed in her pyjamas. "It is a shocking killing," said Prime Minister Malcolm Turnbull, "and yes, we are demanding answers on behalf of her family."
Eating cod 'OK now'
North Sea cod has been considered under threat for more than a decade, but fish-and-chip shop customers can now enjoy it with a "clear conscience", a conservation group has announced. The fishing industry has agreed to help regenerate the population, employing new nets and closing spawning areas. The Marine Stewardship Council said cod was now sustainable and could be sold with its "blue tick" label.
Analysis: Why did (almost) everyone call the election wrong (again)?
Ian Katz, Editor, BBC Newsnight
One source of comfort to pollsters and journalists mulling over why they didn't see last month's result coming is the fact that most politicians didn't either. A source told me the Labour Party's internal predictions, minutes before the exit poll was released, were for a Tory majority of around 60 seats.
What the papers say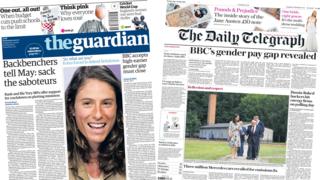 Prime Minister Theresa May is being urged by backbench Conservative MPs to sack disloyal ministers, the Guardian reports. Meanwhile, the BBC's revelation later of the names of on-air performers earning more than 150,000 a year has caused "panic", the Daily Mail claims, with the Daily Telegraph saying the details will show a "gender gap" on pay.
Daily digest
Grenfell fire Burning cladding "would have released 14 times more heat than government safety test allows"
Surcharges to go Businesses to be banned from charging credit and debit card users extra
Wealth gap 'narrows' Inequality has declined since financial crisis, says IFS
Zion's dream Boy with double hand transplant gets to play baseball
If you watch one thing today

'I can't die. I'm thinking of suicide'
If you listen to one thing today

If you read one thing today

Crisis-hit Venezuelans leave for Brazil
Today's lookahead
12:00 Theresa May and Jeremy Corbyn face off in the last Prime Minister's Questions before Parliament's summer recess.
18:30 Kensington and Chelsea Council holds a full meeting for the first time since the Grenfell Tower fire.
On this day
1997 The IRA announces its second ceasefire in three years, following a request from Sinn Fein to do so.
From elsewhere
Why 65-year-olds aren't old (Economist)
Hidden story of 2,000 African-Caribbean PoWs in a medieval castle (Guardian)
The water thank that became a music venue (New Yorker)
Bill Bailey walks 100 miles along Britain's oldest road (Daily Telegraph)
Read more here: http://www.bbc.com/news/uk