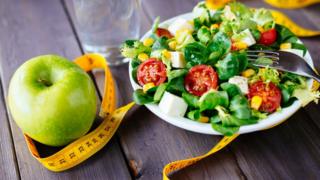 People with the very highest risk of developing type 2 diabetes are being prioritised for places on NHS lifestyle change programmes.
Updated guidance from the National Institute for Health and Care Excellence (NICE) said this would cover 1.7m people in England.
The programmes help people to change their diet and do more exercise.
The guidance reaffirms that all adults over 40 should go and see their GP for a diabetes risk assessment.
Adults with conditions such as obesity, stroke or high blood pressure and high-risk ethnic minority groups are also encouraged to go for an assessment.
Weight loss

help

Last year, NHS England and Public Health England developed an NHS Diabetes Prevention Programme in response to the guidance.

This means that in many parts of the country those at high risk are referred for personalised help to lose weight, eat more healthily and start a physical exercise programme.

The new guidance means that where resources are limited, those with the highest glucose levels should be prioritised for places on the lifestyle programmes.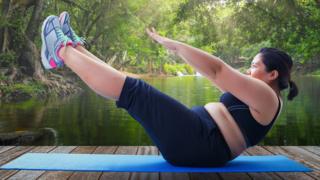 NICE said the programmes should also be designed to help as many people as possible, including those with mental illness or dementia.
There are currently five million people in England at high risk of developing type 2 diabetes, NHS England says.
It says one in 10 will develop the condition by 2034, potentially leading to kidney failure, heart attack, stroke and sight loss, unless prevention is made a priority.
Access to care
Prof Mark Baker, director of the centre for guidelines at NICE, said: "We know that helping someone to make simple changes to their diet and exercise levels can significantly reduce their risk of developing type 2 diabetes.
"This approach is a cost-effective way of managing an illness that currently costs the NHS around £8.8bn a year.
"We need to make sure that the people most at risk have access to the care they need."
He said the updated guidance would help NHS England and Public Health England to prioritise when necessary.
But GPs said they were already under pressure and would advise caution over blanket checks for all over 40s.
Prof Helen Stokes-Lampard, chair of the Royal College of GPs, said: It has the potential to subject healthy people to unnecessary tests, and this both deflects resources away from delivering patient care to those who really need it and could cause unintended harms.
"Any new national screening programme would need formal evaluation by the relevant bodies."
She said there also needed to be more investment for general practice, and more GPs.
Dan Howarth, head of care at Diabetes UK, said the charity welcomed the updated guidelines.
"We know that globally, diabetes prevention programmes do work, and we know that with the right advice and support, people at increased risk of developing type 2 diabetes can take simple but significant steps to prevent the condition developing."
There are currently 2.8m people with type 2 diabetes in England and about 200,000 new diagnoses every year.
Read more here: http://www.bbc.com/news/uk