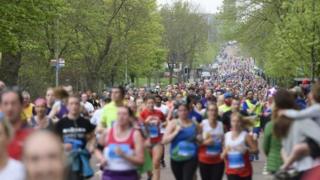 A man in his 50s has died after he collapsed during the Belfast marathon on Monday.
It happened at 9.55 BST in the early stages of the event at the Sydenham bypass, five miles into the race.
The event's organisers said two ambulances were quickly at the scene to take the man to the Royal Victoria Hospital.
It's understood it was the man's first marathon, although he was a regular runner.
Two senior members of the marathon organising team went to the hospital to offer support and condolences to the man's family.
They have requested privacy.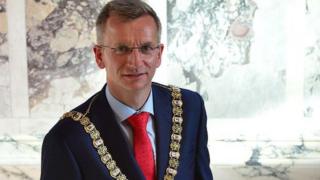 A post-mortem examination is due to be carried out later, a police spokesperson said.
The man was among 17,000 runners taking part in the 37th annual Belfast City Marathon.
Kenyan runner Eric Koech won the race.
Former Belfast Lord Mayor Alderman Brian Kingston told the BBC that the runner's death was "terrible news, very sad news indeed".
He, himself, is a marathon runner.
"It's a day all about fitness, achievement, about people wanting to push themselves that bit extra, to achieve a great physical feat," he said.
"That a man has died is the worst possible news."
He said a fatality was "a rare event" and had not happened at the Belfast marathon for nearly 30 years.
"This very much overshadows everything that has happened on the day and everyone will want to convey condolences to the family," he said.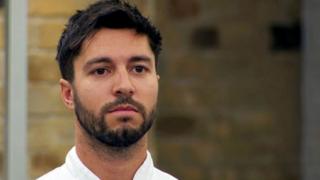 In April, MasterChef finalist Matt Campbell, 29, collapsed at the London marathon and died in hospital.
He had reached the 22.5 mile mark and had been running in memory of his late father.
Hundreds of runners later "finished the race" in his honour. His aim had been to raise £2,500 for the Brathay Trust, but more than £350,000 has been donated since he died.
Read more here: http://www.bbc.com/news/uk