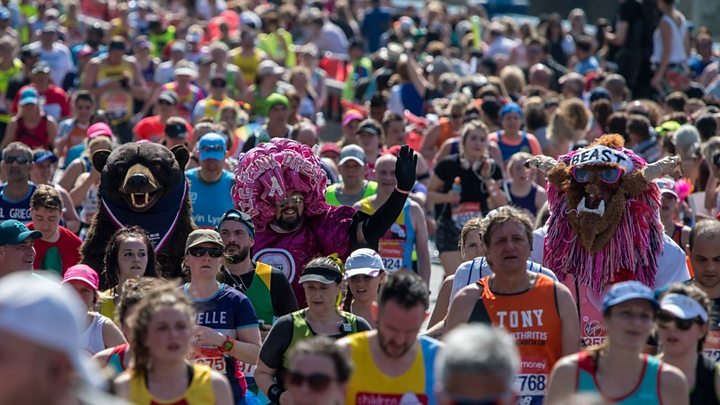 This year's London Marathon was officially the hottest on record.
More than 40,000 runners took part amid temperatures of 24.1C (75.3F) which were recorded in St James's Park, the Met Office said.
Runners were warned it could be even hotter on the course because of the heat absorbed by the roads and from other competitors.
The 26.2-mile race was started at 10:00 BST by the Queen who pressed a button from the grounds of Windsor Castle.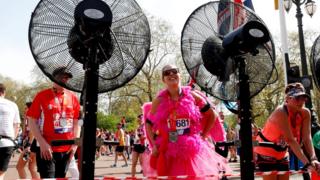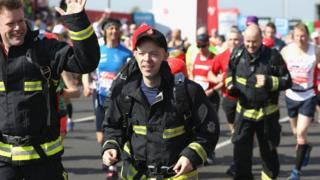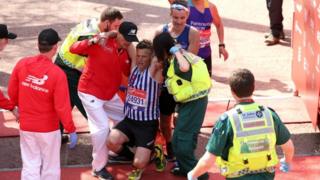 A high of 22.7C (72.8C) was recorded at St James's Park in 1996 and 22.6C (72.6F) in 2007 – when one runner died after collapsing during the race and 73 had to go to hospital.
London Marathon event director Hugh Brasher said organisers distributed four-and-a-half litres of water per person – more than any other mass participation event in the world.
However, he admitted water did run out at miles eight, nine and 10.
Mr Brasher added that the event, which has seen more than 38,000 finishers, was "planned thoroughly" and organisers would see what lessons could be learnt for next year.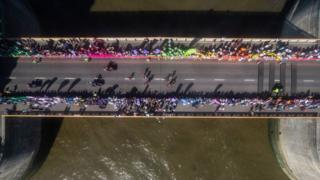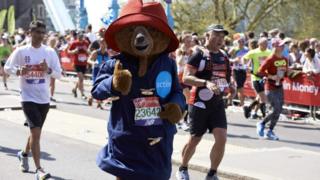 Before the start of the race, organisers warned the high temperatures could be especially difficult for fancy dress runners.
Almost 100 competitors attempted to enter the Guinness World Records dressed in outfits such as a suit of armour, a Paddington Bear costume and ski boots.
Rob Pope set a new world record time for a competitor dressed as a film star, crossing the line dressed as Forrest Gump in just over 2 hours 36 minutes.
Mr Pope, who is running 15,000 miles across America following the route run by Tom Hanks' character, said he had "never seen crowds like that".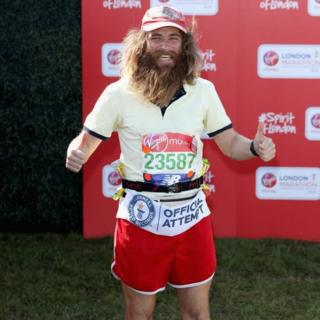 A record 386,050 people applied for this year's race – almost a third more than 2017 and the highest number for any marathon in the world.
Runners Matthew Rees and David Wyeth, who hit the headlines last year after Mr Rees helped his fellow competitor over the finish line, completed the race again in near identical times.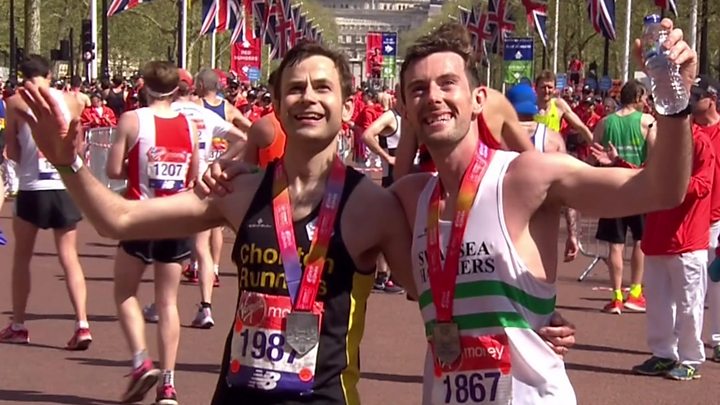 The pair started the race together after becoming friends when Mr Wyeth nearly did not finish the race in 2017 after his legs collapsed beneath him.
Speaking to the BBC, Mr Wyeth said "the first person to give me a hug when I finished was my main man".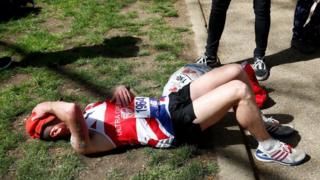 One runner, Sue Strachan who has vascular dementia, said she received "amazing" support from people along the course.
"I have had a couple of wobbles but people from Alzheimer's Research gave me a kiss and said hello and I thought that I have to do this, even if I have to walk at the end. I need to finish."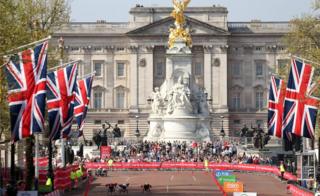 This year's runners also included firefighters who tackled the Grenfell Tower blaze and police officer Charlie Guenigault, who was stabbed in the London Bridge terror attack.
Mr Guenigault, 26, ran to raise money for King's College Hospital, where he had three hours of emergency surgery after being knifed five times on 3 June last year.
"I don't think I'm fully recovered. As much as how difficult the race was, at the end of the day I'm just glad to say I can do it," he said.
The first fire crew to arrive at the Grenfell Tower inferno ran the race as a team, raising more than £41,000 for children affected by the disaster.
Firefighter Mike Dowden said: "The people we were running for were on the last mile and that was really emotional."
Members of the Stephen Lawrence Charitable Trust also took part, as the marathon marks 25 years since the teenager – who was a keen runner – was murdered.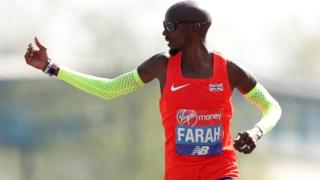 Olympic champion Eliud Kipchoge came first in the men's elite race to win his third London Marathon title, with Britain's Sir Mo Farah finishing third and setting a new British record.
Vivian Cheruiyot of Kenya won the women's elite race – recording a personal best time of 2:18:31.
Kathrine Switzer, who made history in 1967 by competing in the then men-only Boston Marathon, also completed the course.
The 71-year-old, who 50 years ago had to fight off race officials to compete, said: "There are thousands of women out there whose lives have been so enhanced and empowered from running."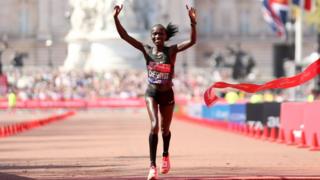 Britain's David Weir won his eighth London Marathon with a time of 01:31:15 as he took first place in the men's wheelchair race.
Australia's Madison de Rozario won her first-ever London Marathon to take victory in the women's wheelchair race.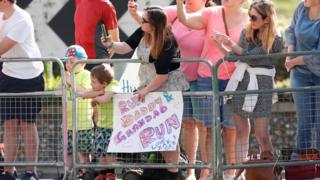 You may also like: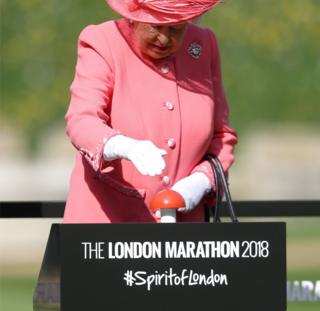 Hundreds of police officers were on duty to help the spectators and runners.
London Ambulance Service advised runners to stay hydrated in the heat.
More water, ice and shower stations were added along the route to help runners cool down and a row of fans was installed near the finish line.
The coldest London Marathon was in 2016 when temperatures at St James's Park did not go above 10.2C (50.4C).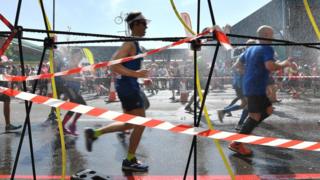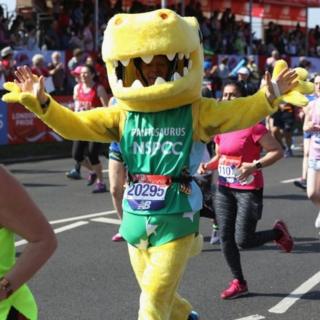 Read more here: http://www.bbc.com/news/uk