Comics including Stephen Colbert and Jimmy Kimmel took aim at Trump for his feuds with Bob Corker and Rex Tillerson, who he challenged to an IQ test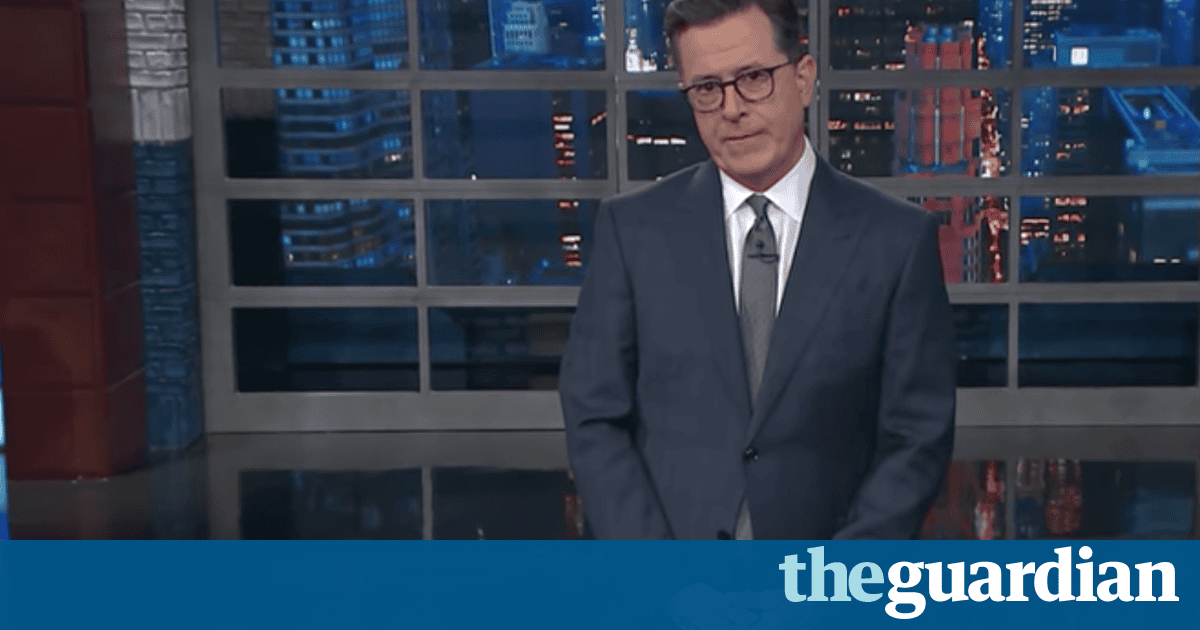 Late-night hosts on Tuesday addressed Donald Trumps feud with his secretary of state Rex Tillerson, which began weeks ago after Trump undermined Tillersons diplomatic effort to deter the North Korean nuclear threat.
It has been a rough start to the school year for Donald Trump, Stephen Colbert began. His report card is definitely going to say has problems working and playing well with others. What can we do? The Oval office doesnt have any corners. You cant put him in a time out.
It is open warfare between Donald Trump and the Republicans. It all started in an attempt to avoid open warfare with North Korea. You see, secretary of state and disappointed-father-tribute-head Rex Tillerson was in the middle of tense negotiations about North Korea and their nuclear program when Donald Trump tweeted that Tillerson was wasting his time trying to negotiate with Little Rocket Man.
Colbert quipped: Everybody knows there is no better way to defuse a tense nuclear standoff than with insult humor. Who can forget during the Cuban missile crisis when Kennedy tweeted: Cueball @Khrushchev and Lil Beardy dont have the balls. I double-dog dare you to push the button.
Colbert then detailed Trumps interview with Forbes magazine, in which he claimed not to be undermining Tillerson but rather strengthening authority.
To thank him for all that strengthening of authority, Tillerson called him a fucking moron, allegedly, Colbert explained. But this morning he had an answer for that too.
Trump told Forbes: If he did that, I guess well have to compare IQ tests. And I can tell you whos going to win.
Me too! We have the results right here, Colbert joked. Tillerson scored a 120. Its above average, not genius, but still pretty good. And we have Donald Trumps results right here. Its a drawing of a big truck that says MAGA.
Jimmy Kimmel also weighed in on the Trump-Tillerson scuffle.
President Trump continues to feud publicly with his own secretary of state, Kimmel began. Last week we learned that Rex Tillerson referred to Trump as a fucking moron behind his back. Trump tweeted that the story was false, but Tillerson didnt deny it, and clearly this is still eating at the president because this morning, in a new interview with Forbes magazine, they asked him about it.
Kimmel then detailed Trumps proposal that he and his secretary of state compare IQ tests.
At this point Im not sure Donald Trump could finish the maze on the back of a Dennys kids menu, Kimmel quipped. I would pay $100 to watch Rex Tillerson and Donald Trump take IQ tests against each other. And I guarantee you the next day Kellyanne Conway would be on TV explaining that IQ tests are like golf, the lower the number the better the score.
Kimmel then added that Tillerson is not Trumps only Republican foe, as the president and Senator Bob Corker have been exchanging heated remarks for almost a week now. On Tuesday, Trump tweeted in response to Corkers interview with the New York Times: The Failing New York Times set Liddle Bob Corker up by recording his conversation. Was made to sound a fool, and thats what I am dealing with!
If you dont know how to spell little, Kimmel replied, dont start an IQ battle with anybody.
Finally, Seth Meyers of NBC briefly recapped some of the days news, including the continued allegations about Harvey Weinstein and sexual harassment and Trumps public feud with Corker.
The New Yorker today released audio of fired Hollywood movie producer Harvey Weinstein begging a model to come into his hotel room and watch him shower, Meyers began. And by the looks of him, Im guessing that shower never happened. I mean, the rest of us need one.
White House press secretary Sarah Huckabee Sanders today said that President Trumps comments that he had a higher IQ than Rex Tillerson was a joke and told reporters they should get a sense of humor, he continued.
They should get a sense of humor? Youre the one who always looks like she just found a joint in her sons Bible. A CNN anchor said yesterday that Senator Bob Corkers recent criticisms of President Trump was his way of planting seeds to call into question Trumps fitness for office.
Youre just now planting seeds? I think its harvest time.
Read more here: http://www.theguardian.com/us