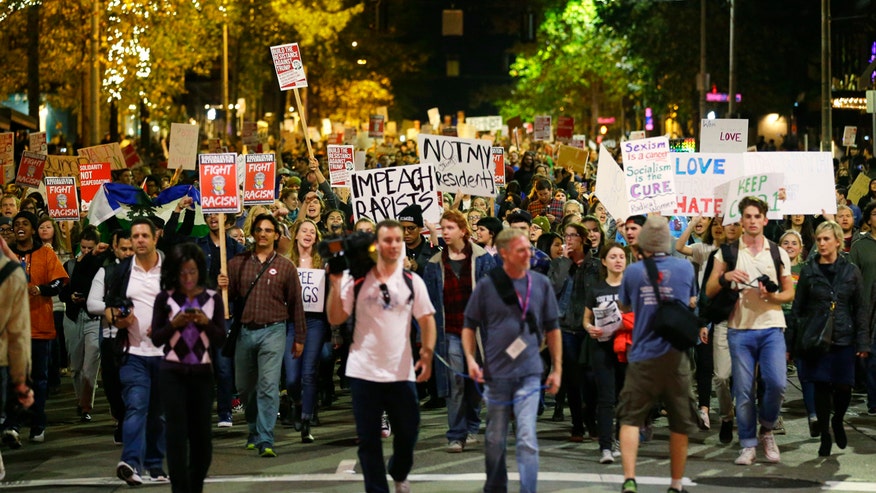 The Craigslist ads read: STOP TRUMP up to $1500/week. Hiring immediately! Call Today Start tomorrow! $15-$18 hourly rate + bonus + overtime up to 77 hours per week!
They were placed by a Planned Parenthood affiliate in major cities like Boston, Denver, Columbus, Philadelphia and Pittsburgh right before the election to defeat the candidacy of Donald Trump. However, most of them are still active on Craigslist, fueling questions about whether the group is now among those feeding the post-election anti-Trump protests across the country.
Many of the ads have Planned Parenthood Action, a PAC, emblazoned across the top and all of them list phone numbers belonging to the Community Outreach Group, a for-profit organization formed by Planned Parenthood as a vendor of large-scale advocacy. Protesting is among the tasks listed on its website.
MoveOn.org and others already have been linked to the demonstrations. Protesters have been out on the streets since Wednesday and have been mostly peaceful. However, in some instances like in the city of Portland police used flash bombs last week to quell an angry mob that lit fires and smashed cars and store windows with bats. One protester was shot by a civilian.
Planned Parenthood and Community Outreach Group have not returned phone calls seeking comment. Planned Parenthood, which received $553.7 million in tax dollars last year, had pledged to spend $30 million to defeat Trump, according to Rolling Stone. The money allegedly came from its super PAC, which jointly worked on the ground war, the magazine said.
Former U.S. Sen. Scott Brown, R-Mass., told FoxNews.com that he wasnt surprised to hear a possible protest connection to the non-profit womens health organization.
See the Fox News 2016 battleground prediction map and make your own election projections. See Predictions Map →
I wouldnt be shocked that this group is going the extra mile to undermine the legitimate transfer of power, he said. It comes into question whether they are using taxpayer money appropriately or even legally. This goes above and beyond their duty and ability to provide services for women.
Other liberal groups have also apparently used the online classified ad site as a means to fuel protests.
MoveOn.org identified themselves in a New York ad, offering $18 an hour and specifying: We only want protesters under the age of 30 We prefer minorities.
One job popped up over the weekend with an ad on both Craigslist and Reddit offering to pay $35 to protest at Trumps Los Angeles golf course for 10 hours. Protesters were urged to dress to impress and bring signs.
On Friday night, a Los Angeles protest swelled to 11,000 people and encompassed numerous blocks in Hollywood, shutting down the main thoroughfare of Wilshire Boulevard. The event was tweeted by the Puente Arizona, an offshoot of George Soros Open Society Foundations. An ad had been posted a day before, encouraging dissidents to block traffic, with some going as far as standing on a freeway. Protests have continued every day since. Ultimately, Los Angeles police arrested 187 adults and eight minors.
Another group, Washington Community Action Network, posted a Seattle ad five days ago on Craigslist offering $15 an hour. Participants at a recent protest told Fox News that they were recruited by the ad.
As for the end-goal, detractors say on MoveOn.orgs Facebook page that they are seeking to undo the Electoral College system.
Additional Craigslist postings claim the chaos will result in Trumps impeachment as protesters urge each other to get involved in additional demonstrations.
But for every ad bashing the president-elect, other commenters have come to his defense.
My son was recruited this morning in Huntsville, Alabama, one man wrote in response to a posting. He and a coworker [were] opening up when they were approached and offered 18.00 an hour to protest. The coworker, a former Marine, let them know, in short order, that they both voted for Trump
From Orlando, in a state that Hillary Clinton was counting on winning:
You really are pathetic! We didn't win so let's steal the Presidency You make us sick. And by all means if you don't like that our country elected Donald Trump to be our next President then move to another country. We would greatly appreciated it. President Trump will be in the White House for both terms we the people will make sure of that.
Read more here: http://www.foxnews.com/