Anheuser-Busch InBev NV is sticking to what it does best.
The world's biggest brewer, also a deal-making machine, raised its estimates of the savings from its takeover of rival SABMiller from $2.8 billion to $3.2 billion by October 2020.
It's a good thing for investors that it was able to find this bit of extra beer money. It's probably less pleasant for employees of SABMiller, who will now be subject to the group's voracious cost-cutting.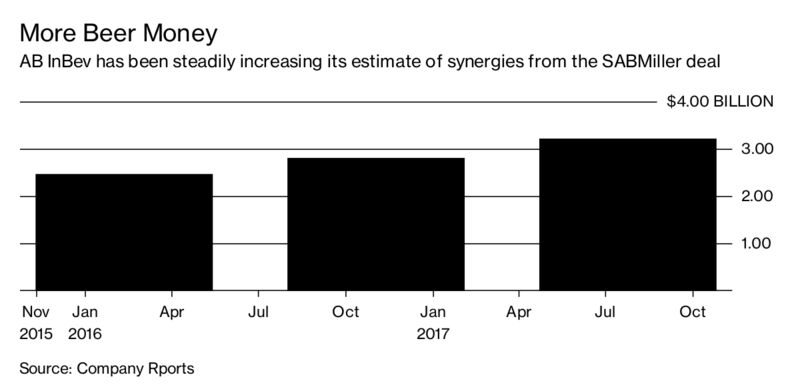 Still, the higher synergies are necessary, because the rest of the business is under pressure. 
Beer shipments fell 1.2 percent in the third quarter. The U.S. was particularly weak, with market share shrinking by 0.8 percentage point in the third quarter. 
True, there was some impact from the U.S. hurricanes, but as with the broader consumer sector, AB InBev is struggling to generate sales growth as consumer habits change. 
In the case of brewing, that is taking the form of millennials turning away from mainstream beer brands — and now, it seems, national craft beers too — to spirits and local craft breweries. Some young people keen on fitness don't even drink at all.
So, faced with declining volumes, AB InBev is turning to its tried-and-tested formula.
Yet even here it said that the additional $400 million of savings — adding 2-3 percent to earnings per share according to analysts — would cost it an extra $100 million, taking the total one-off costs to $1 billion over the first three years of the new company's existence.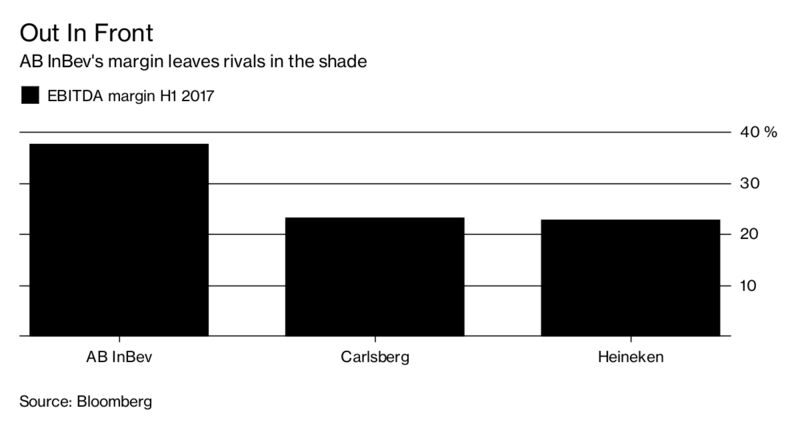 Shares in AB InBev have fallen about 15 percent since it clinched SABMiller in its $100 billion "Megabrew" deal a year ago.
They are still on a significant premium to Heineken NV and Carlsberg A/S, elevated by a margin that is comfortably ahead of rivals.
AB InBev says it expects the performance to bounce back in the final quarter of the year. It needs to.
The company may be best in class at controlling costs and fattening margins, but as Gadfly has argued, no-one ever cut their way to growth. To stimulate demand, consumer goods groups need to offer products that chime with consumers' new appetites.
That means buying — something that AB InBev is particularly good at — or creating from scatch, which is difficult and time consuming.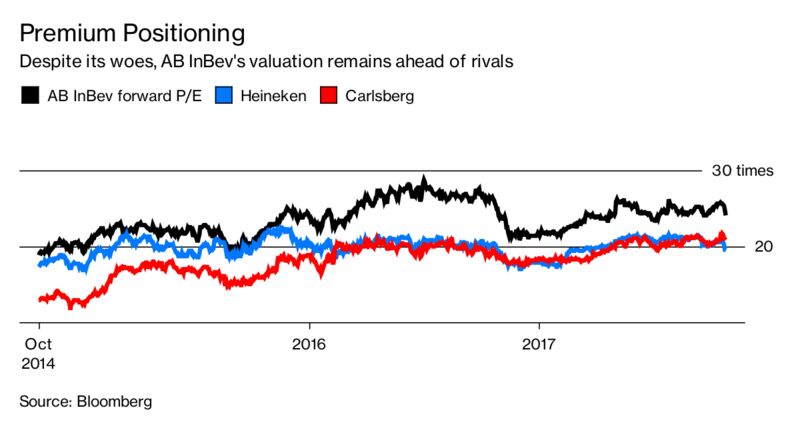 AB InBev shares fell about 3 percent, as higher synergies failed to offset investors' concerns about volume growth.
In order to reassure them, AB InBev needs to demonstrate that it is as good at expanding the top line as it is squeezing expenses.
And that's a lesson not just for acquisitive Brazilians, but for the roster of consumer goods groups, including Nestle, Unilever and Danone, who have announced big cost-cutting programs amid sluggish sales. If the masters of cost-cutting can't make it work for investors, what hope does anyone else have?
Read more here: http://www.bloomberg.com/