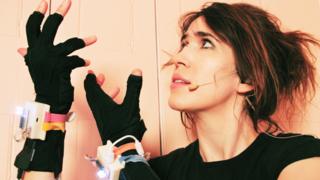 Technology may have brought the music industry to its knees 20 years ago, but these days pop stars and record labels are using computing power to find new audiences and take fresh creative decisions.
The benefits and pitfalls of this new technology are being debated at The Great Escape music festival in Brighton, in a day-long conference.
Here are some of the things we learned.
Your favourite pop stars can come to your house
Virtual reality could allow fans to experience Glastonbury from the comfort of their sofa, simply by plugging in a headset.
In fact, Melody VR – a London-based tech start-up – launched earlier this month, offering concerts by stars like The Who, Royal Blood and Rag'N'Bone Man through VR sets like Oculus Go and Samsung's Gear VR.
Some feel it could turn music into a passive experience, like watching TV, but musician Imogen Heap thinks there are huge social implications too.
"I'm imagining my daughter being in space… and me not being able to see her for years – but I can go down the cinema or to a music concert and see her and be with her," she says.
"A lot of these technologies are going to help us be more human, more creative," she added.
Your watch could choose music to fit your mood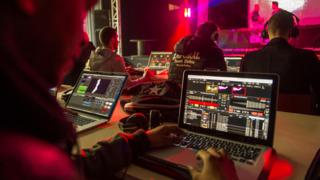 Streaming services offer hundreds of mood-based playlists – for chilling out, exercising or even a break-up.
But what if the streaming service could "read" your mood by monitoring the data on your watch or fitness tracker? If you're stressed, it will trigger a relaxing playlist, for example.
"I'd also like a 'drunk friend mode' for Alexa,'" says Stuart Dredge, editor at Music Ally, "that would go, 'Mate, you have to listen to this band! You'd love them.'"
Streaming services will get even more intuitive
At the moment, the algorithms that power Spotify and Apple are complicated – but they still end up churning out thousands of streams for Ed Sheeran and Taylor Swift.
The problem, said Manan Vohra from digital music provider 7Digital, is that "we still rely on the idea of global popularity".
"Something that's considered heavy metal in the UK might not be that heavy in Denmark," he explains; while a relaxation playlist that consists of 100 tracks might not be relaxing for every user.
In the future, Artificial Intelligence will learn more about the nuances of different users, and cultures, to provide ever more personalised playlists.
Go behind the scenes of your favourite song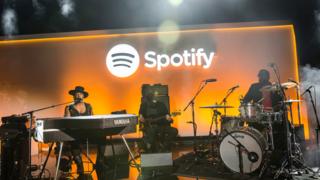 Augmented reality – which projects computer-generated content onto a user's view of the real world – could give us greater access to music's inner workings.
Fine artists are already using it to expand and illustrate the different layers in a painting, said Stef Pascual of Crown Talent, which represents artists like Ella Henderson and Becky Hill.
"Imagine you could tap into a song, and hear all the demos and everything," she said.
Stars will book tours based on where they're popular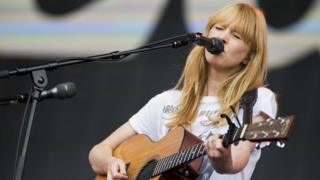 This is already happening. Folk singer Lucy Rose recently booked a tour of South America after studying her Spotify statistics and realising her music was particularly popular there.
It's a model that's being followed by Danish company WARM, which allows bands to find out which radio stations are playing their music; so they can directly target those cities.
Other musicians can then use that data to find out which cities are interested in certain genres of music, taking a lot of the guess-work out of breaking a band.
"Nowadays, music gets distributed quicker than anyone can understand," says CEO Jesper Skibsby. "It is very, very easy for people to discover new music anywhere in the world."
Ticket websites will let you know other bands you might like
Ticketmaster's Andrew Parsons said the site was using predictive intelligence software to keep fans informed about upcoming gigs.
"We send out 10 million unique emails every Thursday," he revealed, with the idea of removing the element of chance in finding out about gigs before they sell out.
"There's so much touring out there – and I'd like to be able to find out new things."
The ultimate aim is that the front page of the Ticketmaster store will be unique to each user.
Imogen Heap said personalisation could be harnessed even further to help the fan "discover more about the artist they're going to see" by providing photographs, new releases, videos and biographies.
The data could also help "support the circle of people around that artist" too – so if there's a guitarist you particularly like, you could follow them from band to band as their career changes.
Will computers compose chart hits?
Computers can be creative, argued Margaret Boden of Sussex University, who's been studying Artificial Intelligence since the 1950s.
She cited the example of a deep learning system that was trained to play the ancient Chinese game Go.
In 2016, the AI program defeated world champion Ke Jie, by coming up with two new moves "that seemed absolutely crazy", says Boden. But those moves have subsequently been adopted by professional players.
"If that doesn't count as creativity, I don't know what does."
Software "can certainly imitate Mozart and Beethoven", said Marcus O'Dair from Sussex University. And they can do it so convincingly that, "at least initially", experts are convinced they're hearing the real thing.
A more likely scenario is that pop stars will use AI technology to spur creativity.
"They'll say, 'OK, I don't know where I'm going with this song – but I want something in the style of this, or in the style of my own compositions,'" says Pascual, "and they'll use that to get inspired."
---
Follow us on Facebook, on Twitter @BBCNewsEnts, or on Instagram at bbcnewsents. If you have a story suggestion email entertainment.news@bbc.co.uk.

Read more here: http://www.bbc.com/news/uk