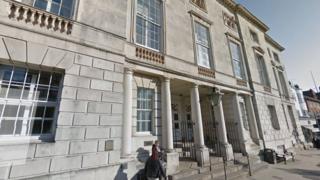 A hairdresser accused of deliberately infecting his lovers with HIV has been described as a jealous "control freak", a court heard.
Darryll Rowe, 26, denies infecting four Brighton-based men with the virus, and attempting to give it to a further six.
A further charge of deliberately infecting a fifth man has been added following further evidence earlier. Mr Rowe also denies this charge.
Doctors said the complainant has a strain of HIV similar to Mr Rowe's.
Giving evidence the alleged victim, an air steward, said he met Mr Rowe on the dating app Grindr, and invited Mr Rowe to his home.
'Trapped'
After initially take precautions, the complainant said Mr Rowe was adamant he was free of STIs and "was really insistent that he wanted to have unprotected sex".
"I stupidly took his word for it," he added.
Mr Rowe stayed with the man and they had unprotected sex repeatedly over the next two days.
However, Mr Rowe became controlling and jealous, storming out of the flat after the complainant spent too long chatting to his flat mate, the court heard.
Mr Row later sent abusive messages and the complainant blocked him from social platforms, the jury was told.
Medical advice
The air steward and another complainant both said they only got tested for HIV after being alerted to posts from police urging any gay men who had slept with a young Scottish man in the Brighton area to seek medical advice.
Earlier, the court heard one other complainant told police officers he felt Mr Rowe forced him into rough sex and deliberately injured him internally to have a better chance of transmitting the virus.
He suffered HIV symptoms, including severe weight loss, aches and shivers and said Mr Rowe was initially "really nice", giving him baths and massages.
However, he said he soon felt "trapped" and that Mr Rowe was a "bit of a control freak".
When the man returned to his family, Mr Rowe became abusive, the court heard.
He texted to say: "You haven't text me all day… We should think about ending this… No one will ever love you."
The trial continues.
Read more here: http://www.bbc.com/news/uk