Khalid Qasim, who has been held at the prison for 15 years without trial, says change in policy could result in him starving to death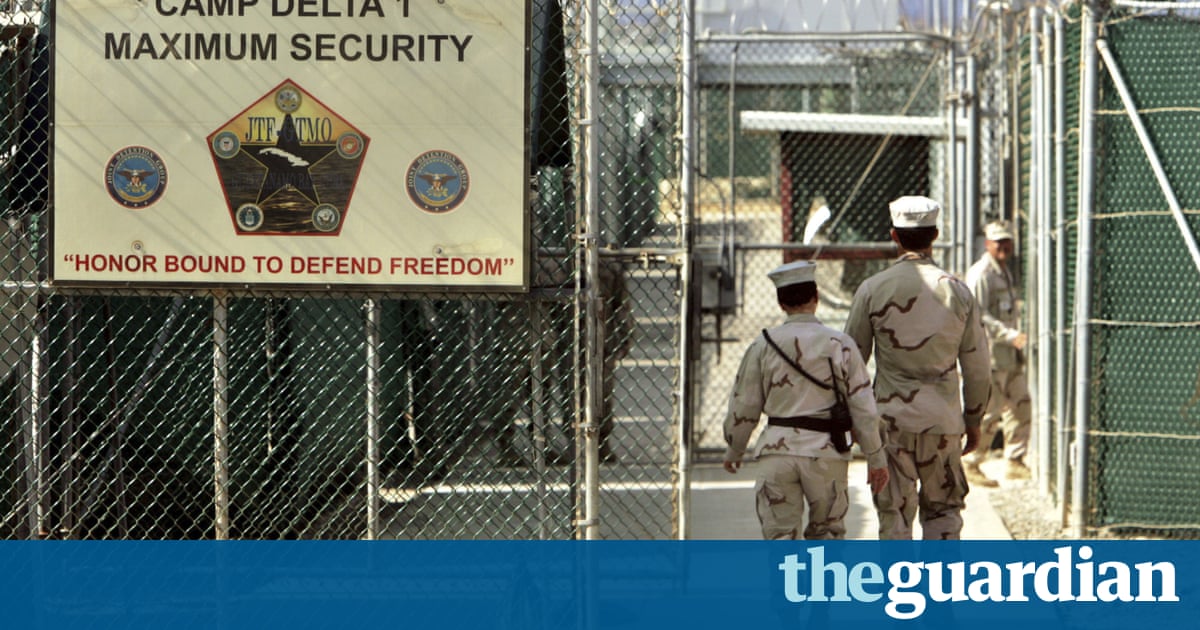 A detainee on hunger strike at Guantnamo Bay has accused officials of a sudden change in practice that could result in him starving to death.
Khalid Qasim, held at the prison for 15 years without charge or trial, told his lawyer that doctors stopped force-feeding him and another inmate three weeks ago, and are no longer monitoring their medical condition.
They have decided to leave us to waste away and die instead, Qasim, 40, told his lawyer by phone for an article published by the Guardian. I am in so much pain every minute that I know it cant go on much longer. Now as each night comes, I wonder if I will wake up in the morning. When will my organs fail? When will my heart stop? I am slowly slipping away and no one notices.
Barack Obama tried and failed to close the prison at Guantnamo, a US naval station on the south-east corner of Cuba. Donald Trump has vowed to keep it open and load it up with some bad dudes. Of the 41 men still held there, 26 are dubbed forever prisoners never to be released. At least four have been on hunger strike since 2013, claiming it as the sole peaceful protest open to them.
Shelby Sullivan-Bennis, a lawyer at the human rights group Reprieve, which represents eight detainees, said: Its the only control they have over their own lives. Khalid has used the word dignity to reference to why he hunger strikes.
Strikers who suffer chronic weight loss are typically force-fed twice a day by being strapped into a restraint chair and having a supplement poured through their noses via a very thin tube. Qasim and another inmate, Ahmed Rabbani, have gone without food since 20 September, according to Reprieve and other sources.
Sullivan-Bennis said: In calls with three or four of our clients, we learned the new senior medical officer said this policy would no longer continue and any harm to inmates was their own choice.
The Pentagon insists that an 11-year-old military policy allowing the involuntary feeding of detainees remains in place, although a spokesman did confirm some shift in approach, indicating a change in the medical conditions that require force-feeding.
Major Ben Sakrisson, a spokesman, said: There has not been a change in policy. Existing policy is just being reinforced with our personnel.
In some instances in the past, attempts to provide detainees who claimed that they were on hunger strike with a measure of dignity through voluntary enteral feedings unintentionally created a situation that potentially encouraged future hunger strikes. As a result, the pre-existing standard of medical necessity will be enforced in the future.
According to Reprieve, Qasim, from a small town in Yemen, travelled to Afghanistan in search of work in 2000. He was detained by Afghan police and handed over to US forces in a case of mistaken identity.
He has spent most of his adult life in Guantnamo, finding consolation in painting and poetry that often reflect on his predicament. He mixed glue with gravel from the yard where detainees play football to create a three dimensional piece. He turned cloth from his shirt and pillow into a canvas on which he painted a cracked vase later adding the date of Trumps inauguration.
Sullivan-Bennis said: Someone I spoke to said that, before this, he was the happiest he had been in the past three years. The art gives him an ability to express himself and have a sense of pride.
But when Sullivan-Bennis talked to Qasim by phone on 5 October, he sounded despondent. We usually start with banter like How are you?, How are the family? and something about his artwork. We didnt talk about his artwork for the first time I remember. When I asked, How are you?, his first words were, Very bad.
Qasim reported that in recent weeks he had not been weighed and not had his blood pressure taken. On one occasion he passed out but did not receive treatment. These days have been the most terrifying of my 15 years in this place, he told the lawyer. We are used to torture here but this is so slow and so cruel.
Sullivan-Bennis is worried that he will suffer organ damage but doubts that the US military would risk a fatality. She added: Were at a crossroads. It seems quite obvious to us there has been a significant change and it does seem to be a new regime of medical neglect as punishment to quash the strike. Frankly it seems obvious they are breaching their own standard operating procedure.
Clive Stafford Smith, founder of Reprieve, wrote on its website that Rabbani now reportedly weighs just 6.7 stone (95lb) and has long suffered internal bleeding.
He quoted Rabbani as saying: I dont want to die, but after four years of peaceful protest I am hardly going to stop because they tell me to. I will definitely stop when President Trump frees the prisoners who have been cleared, and allows everyone else a fair trial.
Human rights lawyers have long condemned force-feeding as a form of torture but they also oppose the way it is being suspended while their clients remain in legal limbo.
Jeremy Varon, an organiser with the campaign group Witness Against Torture, said: For years the military has been trying to find ways of discouraging people from participating in hunger strikes. Of course this is condemnable. They shouldnt be there in the first place. Everything that follows is on the side of morally reprehensible.
Read more here: http://www.theguardian.com/us