Great Britain won a dramatic 4x100m relay at the world championships in London but Usain Bolts career ended in tragic fashion when he pulled up injured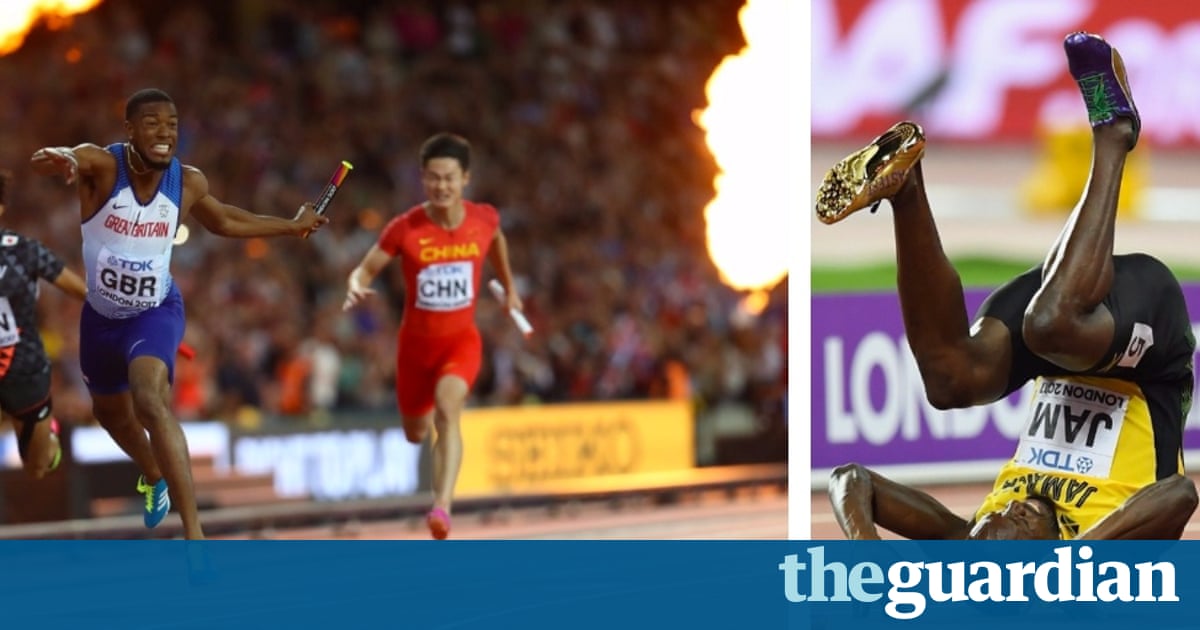 The cheers have surely not been louder all world championships. But, dramatically and unexpectedly, this time they were not for Usain Bolt, who ended the final race of his career face down on the track and with his hamstring blown. Instead they rang loud and true for the young British athlete Nethaneel Mitchell-Blake, who held off the American Christian Coleman to take the home nations second gold medal of the championships in a dramatic mens 4x100m relay final.
It was a sensational performance that was reflected on the clock. The British teams time was 37.47 a national record and the fastest time in the world this year. The United States were second in 37.52, with Japan third in 38.04. Britain has not had the greatest of world championships but suddenly the crowd were off their feet, jumping and hugging and applauding.
But, inevitably, there was sorrow for Bolt too. The Jamaican team were in third place when the greatest sprinter and showman the sport has ever known took the baton. He is older, slower, and greyer now but he is still a man who can turn the ignition key to his own legs quicker than any other sprinter on the planet.
Understandably he was desperate to win yet another world title in his last race especially following the tragic death of his close friend Germaine Mason, the Olympic silver medal winning high jumper, in a road accident in April. But as he opened his stride and began to accelerate he suddenly began to hop before collapsing on the track in agony.
This has been a world championships where many of the sports biggest stars have been knocked off their perch. Bolt. Mo Farah. Kendra Harrison. Wayde van Niekerk. All have felt the jolting sting of a rare defeat. Yet no one expected this. The Jamaican mens 4x100m relay team knew they were one of sports great bankers, having not lost a global relay on the track since Osaka in 2007. Not this time.
Afterwards CJ Ujah, who made a sensational start and put Britain ahead out of the blocks said: I just wanted to run a good race and a night like this is fantastic.
Adam Gemili, who proved his fitness beyond doubt after being controversially left out of the 200m, called it the best feeling in the world.
Meanwhile Danny Talbot admitted a hidden truth: This is what we wanted to do. Everyone knew we wanted to win a medal but deep down we wanted gold.
Bolt, meanwhile, hobbled to the line, helped by his team-mates. This is not how he would have wanted it to end. It is over 15 years since athletics insiders started speaking in hushed awe about a young lank Jamaican who had won the 2002 world junior championships in 20.61sec. That time alone, set as a 15-year-old, would have beaten two of athletes in Thursdays 200m final.
Read more here: http://www.theguardian.com/us