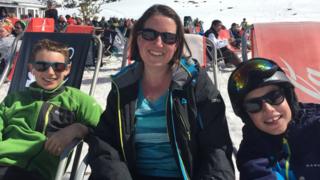 A mum-of-two is calling for boys to receive a vaccine currently only paid attention to girls to protect against cancer.
The Human Papilloma Virus( HPV) jab is offered to teenage girls in the UK to protect against cervical cancer.
A health committee will meet afterwards to review whether boys should also be given the jab, which can protect against throat and penile cancers.
GP Kirsty Bonney paid privately for sons Zak, 13 and Finn, 11 to be immunised.
The doctor from Devon said she made the decision after working on a chemotherapy unit where she seemed after two young men with HPV-related throat cancers.