Ford Motor Co. will cut $14 billion in costs and drop some car models from its lineup under Chief Executive Officer Jim Hackett, who's focusing the company's future on sport utility vehicles, trucks and electrification.
The automaker will target reducing materials costs by $10 billion and engineering outlays by $4 billion over the next five years. Ford plans to shift spending toward products like the resurrected Bronco SUV while axing passenger cars, without naming specific models.
"I get up every day feeling like time can be wasted here if we don't get moving," Hackett told investors Tuesday at a briefing in New York. "I feel a real sense of urgency."
Hackett, 62, is on a mission to win over Wall Street and convince wary investors that he has a plan to reverse a three-year stock slide. With profits and market share falling, Ford is being outmaneuvered by competitors such as General Motors Co. and Tesla Inc. when it comes to getting electric vehicles and autonomous technology on the road. The former football player is trying to rewrite this reality by focusing on the company's "fitness" and opening up to more partners and potential acquisitions.
Ford shares rose 0.5 percent to $12.40 as of 6:44 p.m. in New York, after the close of regular trading. The stock is up 1.7 percent this year, trailing Ford's U.S. peers and the benchmark Standard & Poor's 500 Index.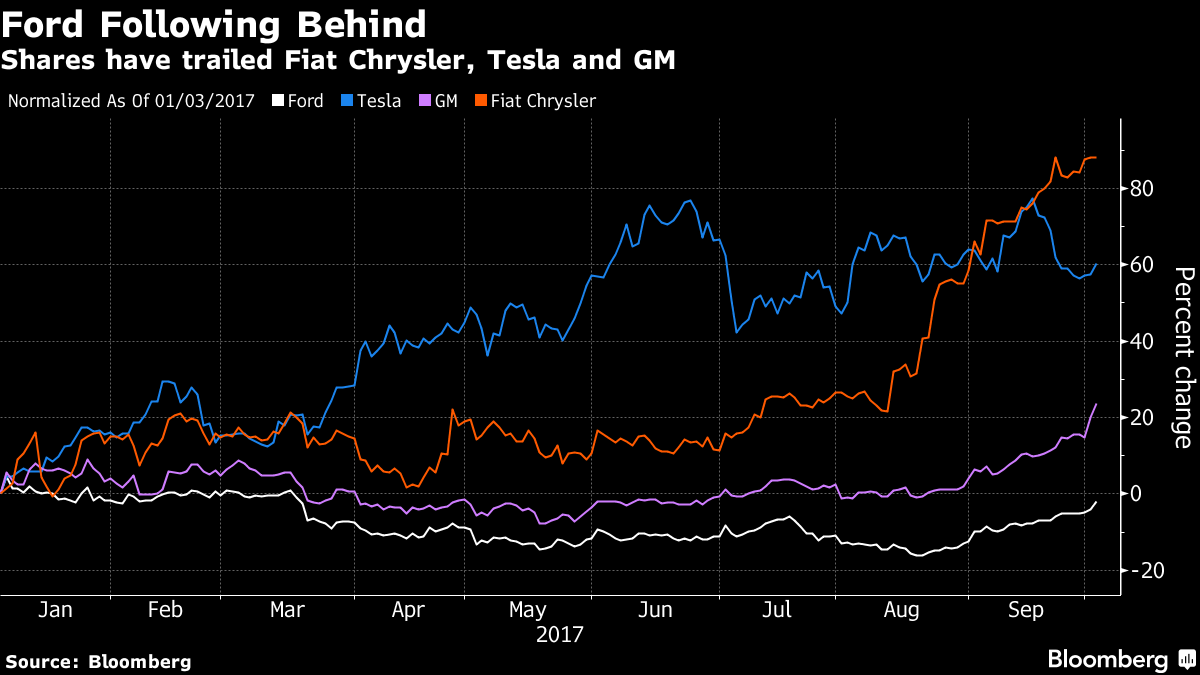 Ford plans to reallocate $7 billion that had been earmarked for cars to spend instead on SUVs and trucks. The company also will scrap its mostly go-it-alone strategy under former CEO Mark Fields and be more active pursuing M&A and joint ventures. Since Hackett took over in May, he's partnered with companies on electric vehicles in China and India and teamed up with Lyft Inc. on self-driving cars.
"The world's impression of Ford is that they are behind on a lot of these technologies," Emmanuel Rosner, an analyst with Guggenheim Partners, said in an interview.
That notion was reinforced Monday when Ford's crosstown rival GM — which already sells the long-range electric Chevy Bolt — announced plans to have 20 battery-powered cars on the road by 2023. The same day, Ford announced it had formed an independent unit dubbed Team Edison to create a business case for EVs. Ford will debut its first long-range model in 2020.
Profitability Goal
"Ford is not behind on the technology," Sherif Marakby, the head of the company's electric vehicle program, said in an interview Monday. "What's important is that this team makes sure to create a viable and profitable business. Our absolute goal is profitability."
Hackett established deep ties in Silicon Valley when he reinterpreted the workplace in leading a turnaround of office furniture maker Steelcase Inc. He befriended Steve Jobs and convinced him to outfit Apple Inc. in Steelcase furniture.
"He has a very comfortable relationship with Silicon Valley," said Jeffrey Sonnenfeld, associate dean of the Yale School of Management, who studied Hackett's work at Steelcase. "There's no arrogance, vanity or even self-awareness about him. Jim is not concerned with managing his personal brand."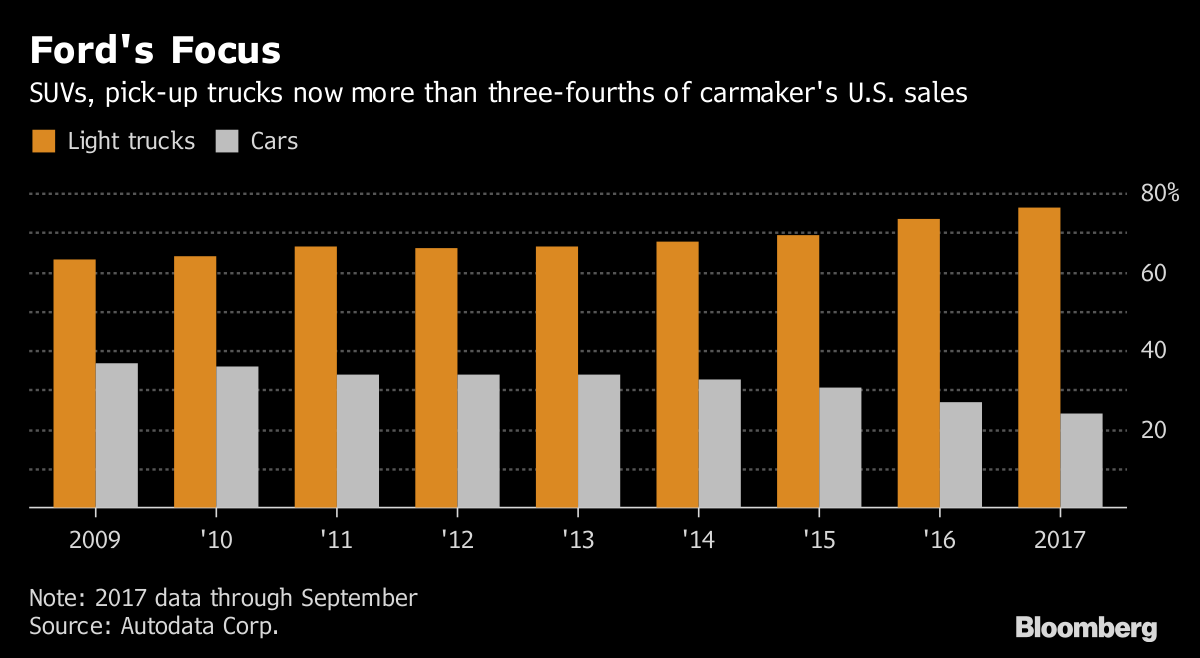 In a presentation to investors, Ford copped to having fallen short of a goal to earn an 8 percent profit margin with its automotive operations and reinforced that this remains its long-term goal. Costs have risen 29 percent since 2010, nearly as fast as revenue, which increased 30 percent during that period. Capital spending has grown even faster.
"Over the past seven years, we've averaged a 6.1 percent margin and that's simply not good enough," Hackett said. "That performance gap of two points is worth billions in value."
Ford is no longer forecasting whether profit will jump in 2018 and will share its forecast for next year in January. Hackett set a new goal to cut automotive cost growth by 50 percent over the next five years by slashing engineering and material expenses.
The CEO also has set a target to get new models to market faster by reducing development time by 20 percent and cutting the time it takes preparing factories to build those vehicles by 25 percent.
Ford will get rid of five of the 17 different engines it builds by 2022 and reduce capital spending on powertrains to $1.2 billion by then, from $1.7 billion last year.
Read More: A QuickTake Q&A on Electric Cars' Bright Future, Paltry Present
"The mandate here is that Ford must compete," Hackett told investors. "Companies never choose to die and yet many by not evolving are enabling that kind of fate. It's clear that as a company we must then raise our gaze just high enough to ensure we're not disrupted as the world changes."
Read more here: http://www.bloomberg.com/