Trump denies he gave author access and hits out at Sloppy Steve, as spokeswoman dismisses claims about his stability and fitness to serve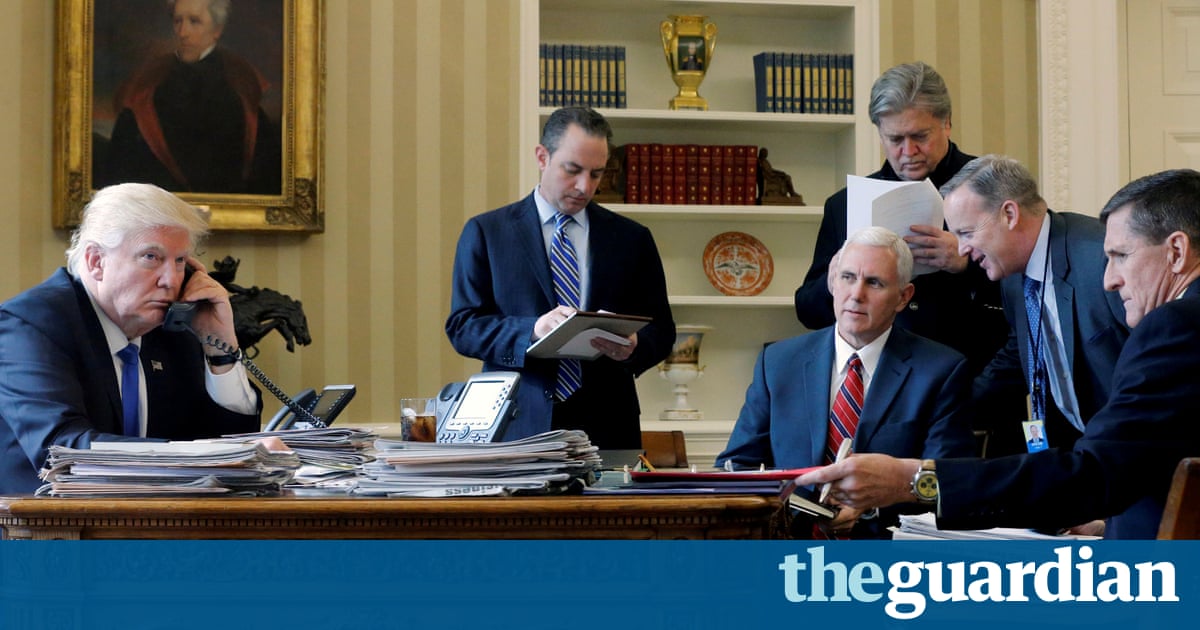 The US publisher of an explosive new book exposing chaos behind the scenes at the White House has brought publication forward to Friday in defiance of an attempt by Donald Trumps lawyers to try to shut it down.
The books author, Michael Wolff, tweeted: Here we go. You can buy it (and read it) tomorrow. Thank you, Mr President.
Fire and Fury: Inside the Trump White House was due to be released on Tuesday. But after extracts were made public by the Guardian, the White House was thrown into a frenzy.
Claims in the book about Trumps mental stability and fitness to serve were dismissed on Thursday as disgraceful and laughable by the White House spokeswoman Sarah Sanders.
Trump tweeted that he had never granted Wolff access to the White House and had turned down his requests many times. Describing the book as phony, Trump said Fire and Fury was: full of lies, misrepresentations and sources that dont exist. He said he had never spoken to Wolff: Look at this guys past and watch what happens to him and Sloppy Steve!
The presidents Twitter outburst followed a remarkable personal statement denouncing Steve Bannon, his one-time confidant, whom he castigated as self-aggrandizing and not a critical figure.
Steve Bannon has nothing to do with me or my presidency, Trump said. When he was fired, he not only lost his job, he lost his mind.
Sanders said the president was furious and disgusted at Bannons attacks on his family, which included the claim that Donald Trump Jrs Trump Tower meeting with a group of Russians who promised dirt on Hillary Clinton was treasonous and unpatriotic.
Then on Thursday, as the White House struggled to contain the fallout from the book, a lawyer for the president sent a letter demanding Wolff and his publisher, Henry Holt & Co, immediately cease and desist from any further publication, release or dissemination, or excerpts and summaries of its contents. The legal notice, sent by the Beverly Hills-based attorney Charles Harder, also demanded a copy of the book.
Harder sent a similar letter to Bannon on Wednesday night, accusing the former chief strategist of violating an employee agreement and defaming the president.
The Guardian published details from the book on Wednesday after obtaining a copy from a bookseller in New England. New York magazine then rushed to publish a lengthy extract and more details began to emerge as major US publications including the New York Times and the Wall Street Journal received copies free from embargo.
About 250,000 copies of the book had already been shipped, supposedly to be held until Tuesday.On Thursday afternoon, a spokeswoman for Holt & Co told the Guardian publication in all formats was being brought forward to Friday due to unprecedented demand.
A statement from the publisher added: Henry Holt confirms that we received a cease and desist letter from an attorney for President Trump. We see Fire and Fury as an extraordinary contribution to our national discourse, and are proceeding with the publication of the book.
Wolff is due on NBCs Today show on Friday morning for his first on-the-record interview.
Ben Wizner, director of the American Civil Liberties Unions speech, privacy and technology project, said earlier Trumps lawsuit had no chance of success.
Even Donalds Trumps lawyers arent crazy enough to present this to a court, he said. It would be extraordinary and unprecedented for a court to respond to these claims by blocking publication. That is not going to happen.
I think there is an audience of one for these legal threats and thats Donald Trump.
In a column for the Hollywood Reporter titled My Year Inside Trumps Insane White House, Wolff gave more insight into what he discovered as he sat day after day on a West Wing couch for a year. Administration officials, he suggested, do not believe Trump is capable of fulfilling his role as president.
Everybody was painfully aware of the increasing pace of his repetitions, Wolff wrote. It used to be inside of 30 minutes hed repeat, word-for-word and expression-for-expression, the same three stories now it was within 10 minutes. Indeed, many of his tweets were the product of his repetitions he just couldnt stop saying something.
He added: Hoping for the best, with their personal futures as well as the countrys future depending on it, my indelible impression of talking to them and observing them through much of the first year of his presidency, is that they all 100% came to believe he was incapable of functioning in his job.
In a final anecdote, Wolff wrote: At Mar-a-Lago, just before the new year, a heavily made-up Trump failed to recognize a succession of old friends.
Much of Thursdays White House press briefing centered on the book. Sanders said any claims about Trumps stability were disgraceful and laughable.
If he was unfit, he probably wouldnt be sitting there, she said.
Trump appeared before the media earlier in the Roosevelt Room, where he was meeting Republican senators about immigration. There were shouted questions from reporters, including: Did Steve Bannon betray you, Mr President? Any words about Steve Bannon?
Trump replied: I dont know, he called me a great man last night, so, you know, he obviously changed his tune pretty quick.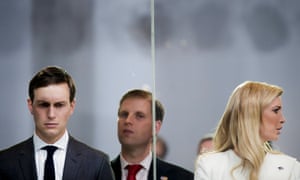 Read more here: http://www.theguardian.com/us