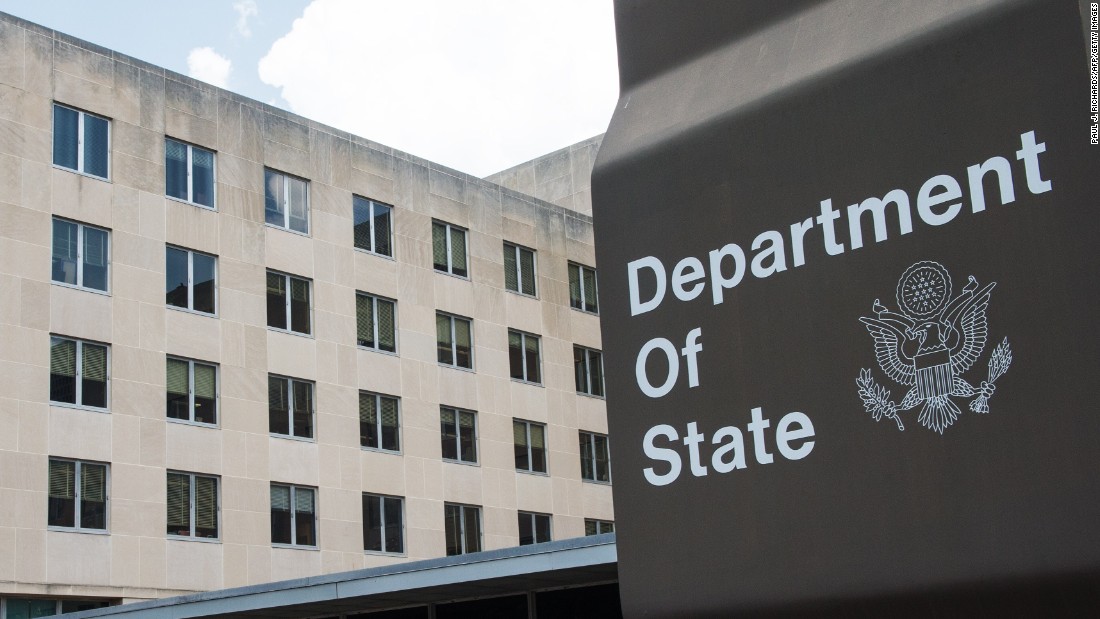 Washington (CNN)A growing number of State Department employees are charging they are being put in career purgatory because of their previous work on policy priorities associated with President Barack Obama and in offices the Trump administration is interested in closing.
The situation has got so serious that several officials tell CNN they have retained attorneys after repeatedly trying unsuccessfully to raise concerns about being assigned to low-level jobs in Foggy Bottom such as answering Freedom of Information Act requests.
The issue has also come to the attention of senior Democrats on Capitol Hill.
Secretary of State Rex Tillerson has made clearing a backlog of FOIA requests a priority and reassigned staff to what State Department spokesperson Heather Nauert has called "an all-hands on deck" effort to clear the backlog. Significant progress has been made, and the number of outstanding requests — which stood at 22,000 in January 2017 — has been reduced to about 13,000, Tillerson said in November, adding that he hopes the backlog will be cleared by the end of 2018.
The backlog grew over the last several years in part due to numerous requests from journalists and conservative groups, including Judicial Watch and Citizens United, for records relating to Hillary Clinton's emails.
"Those helping with FOIA requests have a range of skills and backgrounds, from interns to deputy assistant secretaries," Nauert told CNN. "The assignments are temporary — some staffing the office are simply between assignments as they determine their next step."
But many of those assigned to the "FOIA Surge" effort resemble a band of misfit toys, including several ambassadors returning from overseas and senior career and civil service members who were detailed to other agencies. Others worked in offices created by Obama as policy priorities, which the Trump administration has announced it intends to close.
Ian Moss, a former Marine, joined the State Department during the Obama administration with a law degree as a part of the prestigious Presidential Management Fellows program. Moss worked for five years in the office of the Special Envoy for Guantanamo Closure, where he led inter-agency delegations to negotiate transfers of dozens of Guantanamo detainees, before his boss seconded him to what was supposed to be a career-enhancing temporary assignment in the National Security Council in May 2016 where he worked as Director of Human Rights and National Security Issues. When President Trump took office, Moss remained in the post working for national security adviser H.R. McMaster.
McMaster sent Moss a letter last May, when his detail ended, praising his candid, thoughtful and high-quality advice.
"Your intellectual curiosity and leadership made a difference," McMaster wrote.
Moss's most recent evaluation from his boss at the NSC, obtained by CNN, called him "a SUPERSTAR!" who helped produce "the "highest quality advance and analysis to two Presidents, three national security advisers and numerous other senior US government officials."
"Ian's devotion to duty provided the critical continuity and expertise on a range of issues, helping to allow the incoming Administration to hit the ground running on the issues that he managed," wrote Garry Hall, a retired Rear Admiral currently serving as Special Assistant to the President. He gave Moss his "unequivocal highest recommendation" for immediate promotion to the senior ranks of the civil service.
When Moss returned for duty at the State Department in October, he expected to return to his old office dealing with Guantanamo detainees or be given similar work. Instead he was assigned under threat of disciplinary action to the FOIA task force his attorney tells CNN. While several of the 10 "FOIA surge teams" involve substantive matters that could benefit from his expertise, such as handling classified material and working with foreign governments named in the documents, Moss was assigned with data entry and research alongside interns and civil service employees more than 10 levels below his rank of GS-14.
Unable to resolve the matter internally, he sought assistance from NSC leadership to correct the problem with the State Department but was met with what his attorney Mark Zaid called "a non-productive response that failed to address the substance or the merits of the NSC's concerns."
"To date, no explanation or rationale has been provided as to how this reassignment is an effective allocation of Department resources, particularly given Mr. Moss' specific expertise and skill sets," Zaid wrote in a December 21 letter to Tillerson that he gave to CNN.
"Ian is a rising star and dedicated civil servant who should be leading diplomacy and national security policy formulation for decades to come, in both Democratic and Republican administrations," says Lee Wolosky, the US special envoy for Guantanamo Closure under Obama and Moss' most recent boss at the State Department. "What has happened to him since his return to State is disgraceful."
Addressing the FOIA backlog
Moss is not alone. While several of his colleagues in the Guantanamo office have since left the State Department, those remaining officials, with similar rank and experience, have been assigned to do FOIA work while the envoy's office sits empty. Obama made closing Guantanamo a priority and moved nearly 200 detainees out of the facility, but President Donald Trump has said he wants to keep the facility open and "load it up with some bad dudes."
Three other State Department officials who worked in the offices of special envoys created by Obama tell CNN they have retained attorneys after being assigned clerical duties related to FOIA requests which are not commensurate with their rank and believe they are being politically targeted.
Having inherited more than 70 envoys and special representative offices when he took offices, some of which he claimed had outlived their purpose, Tillerson eliminated some special envoy positions. Several others were folded into regional bureaus or their functions were absorbed by the State Department's Policy Planning office.
Tillerson said the move was necessary to reduce inefficiencies in the State Department, where he was asked to make a 30% budget cut. While some staff in those offices remained fulfilling the same duties, many others were left in limbo.
Nauert said that employees are being asked to serve in the FOIA office due to need, "without regard to politics."
"There is a job that needs to be done," Nauert said. "It may not be a glamorous job, but it's an important one."
Lawrence Bartlett, the head of refugee admissions in the State Department's bureau of Population Refugees and Migration was recently benched and assigned as a "senior adviser" to the FOIA office. His case was
first reported
by Reuters.
The State Department said Bartlett's assignment was temporary but has not said whether he would return to the post or whether someone would cover his position in his absence.
Several current and former officials fear the decision to reassign Bartlett, a leading advocate for refugees in the State Department, is part of the Trump administration's wider effort to limit refugee resettlement in the US.
CNN attempted to reach Bartlett for comment but he did not respond.
"They wanted him away from what he was doing," one US ambassador said.
The ambassador requested anonymity to discuss a widespread sense of frustration among the civil and foreign service that centers around Tillerson's redesign of the State Department.
"They are not finding posts for people in between assignments," the ambassador said. "Instead they are getting sent to the Sibera that is the FOIA office. Why? That is the question of the day."
This ambassador, and several other State Department officials said they don't think the problem is not only the result of the political whims of the White House but is also due to a combination of a poorly-managed redesign and distrust of the career employees by the State Department's leadership — all of which has contributed to a morale problem that continues unabated.
Low morale
Multiple sources have told CNN morale inside the State Department is at the lowest level in years, largely because of the perceived talent flight and an insular and distrustful approach from Tillerson and his team that's being interpreted by longtime employees as evidence their input is not valued.
In an open letter in November from the president of the American Foreign Service Association (AFSA), a union for US foreign service personnel,
excoriated the State Department's leadership
, warning the top ranks of the foreign service are leaving "at a dizzying speed." The State Department disputes that assertion and says the number of senior foreign service members serving is comparable to the start of the Obama administration.
The issue of senior officers being reassigned has drawn the attention of influential Democrats on Capitol Hill. Elijah Cummings, ranking member of the House Committee on Oversight and Government Reform, told CNN he is "deeply concerned by reports that the Trump administration has pulled many senior career State Department employees from their critical duties relating to national security and foreign policy and ordered them instead to perform FOIA tasks outside of their areas of expertise-apparently with little or no effort to transfer their core responsibilities to other qualified officials."
"This administration has already done serious harm to American diplomacy by forcing seasoned officials out and ignoring the expertise of career State Department professionals," Rep. Eliot Engel, the top Democrat on the House Foreign Affairs Committee, told CNN: "If the allegations are true that the administration is punishing public servants as a form of political retribution, those responsible must face consequences. I intend to get answers about this."
CORRECTION: This story has been updated to more accurately reflect Cummings' description of the Trump administration's involvement with the reassigning of State Department employees.
Read more here: http://edition.cnn.com/