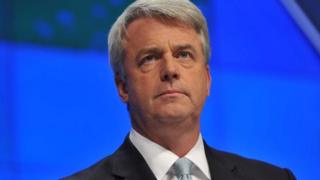 The former Conservative health secretary, Lord Lansley, has revealed he is being treated for bowel cancer.
Writing in the Daily Telegraph, he said he was having chemotherapy after being diagnosed nine months ago but had "every reason to hope" he will recover.
Lord Lansley called for improvements to bowel cancer screening after he introduced a scheme in 2010.
He said funding cuts and staff shortages meant it was only available to 50% of the population.
Lord Lansley told the paper he was "lucky" to have been diagnosed early and that the stage 3 tumours had not spread to his liver.
He said he went to his GP after "much nagging" from his wife with spreading back pain.
The 61-year-old also revealed he had had a seven-hour operation on his bowel.
As health secretary between 2010 and 2012, he put forward a bowelscope screening to test for cancer from the age of 55 which he meant to roll out nationally in England by the end of 2016.
He said: "A lack of endoscopists and difficulties with IT have frustrated delivery."
Lord Lansley said he would have been been called up automatically if the scheme had been fully implemented.
He added: "I want to know that for others like me in future, with better knowledge about symptoms, with earlier improved screening in place, and with a new focus on personalised preventative medicine, it really isn't about luck."
His comments come after BBC presenter George Alagiah, who is receiving treatment for bowel cancer for the second time, said his disease may have been spotted sooner if he had been screened.
The Department of Health said it was working to make the screening programme more effective with plans for a new test, called Fit, to be rolled out this year.

What are the symptoms of bowel cancer?
Bleeding from the bottom
A change in your bowel habits lasting more than three weeks
Abdominal pain, especially if severe
A lump in your tummy

Weight loss

and tiredness
SOURCE: Beating Bowel Cancer
Read more here: http://www.bbc.com/news/uk