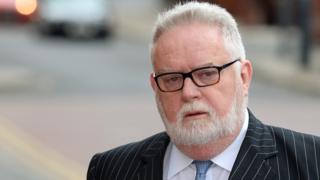 The former chairman of the Co-operative Bank, Paul Flowers, has been banned from the financial services industry by the Financial Conduct Authority (FCA).
Mr Flowers was chairman of the bank at the time of its near collapse in 2013 when it revealed a £1.5bn black hole in its accounts.
The FCA found he had used his work email for sexually explicit messages, and to discuss illegal drugs.
He left amid concerns about expenses and in 2014 admitted drug possession.
Using the email provided by the Co-op for such communication was in breach of its workplace guidelines and Mr Flowers continued such usage despite having been warned not to previously.
He also used his Co-op mobile phone to call premium rate chat lines.
'Trust and influence'
The FCA said he had "demonstrated a lack of fitness and propriety required to work in financial services" and consumers would lose faith in the industry if he was allowed to continue in it.
Mark Steward, executive director of enforcement and market oversight at the FCA, said: "The role of chair occupies a unique place of trust and influence. The chair is pivotal in setting expectations of a company's culture, values and behaviours.
"Mr Flowers failed in his duty to lead by example and to meet the high standards of integrity and probity demanded by the role. These high standards are what the financial services industry and the wider community rightly expect of its senior individuals."
The FCA said its investigation had taken so long partly because of its need to be thorough, but also because, in this case, it had to wait until other investigations into the collapse of the bank itself and the conduct of other executives were well under way.
In 2016, the Bank of England's Prudential Regulation Authority banned two former Co-operative Bank executives from holding senior banking positions. It also fined them.
Dramatic change
The Treasury has now also announced it has launched a new independent review into the way the Co-op Bank was supervised between 2008 and 2013.
It said its investigation had had to wait until the FCA's one had ended.
Its independent review will look at the "actions, policies and approach" of the former City watchdog, the Financial Services Authority, and the current one, the Prudential Regulation Authority.
In the period under review, the bank changed dramatically.
It merged with the Britannia building society in 2009. That deal was later held responsible for the near collapse of the bank. In 2013, it tried and failed to buy 632 branches from Lloyds.
Read more here: http://www.bbc.com/news/uk