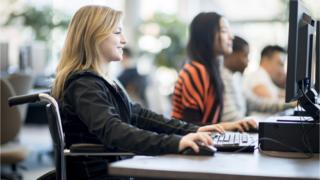 Plans to get one million more disabled people in work over the next 10 years have been set out by the government.
Ministers say the new strategy will help those with disabilities keep their jobs and progress in their careers.
The new measures include widening the number of people who can issue fitness-to-work notices and additional training for mental health professionals.
Labour's Debbie Abrahams said benefit cuts had already pushed more disabled people towards poverty.
'Tackling injustices'
The pledge comes after ONS figures from June 2017 suggested that disabled people were twice as likely to be unemployed as non-disabled people.
About 80% of non-disabled people are in work compared with just under 50% of disabled people.
Prime Minister Theresa May said a person's life and career "should not be dictated by their disability or health condition".
"Everyone deserves the chance to find a job that's right for them," she added.
"I am committed to tackling the injustices facing disabled people who want to work, so that everyone can go as far as their talents will take them."
The government says in the past four years 600,000 disabled people have found work. However, the disability charity Scope says progress is too slow.
The new strategy includes:
Measures to provide access to personalised support for those with mental health issue
Extending "fit note" certification – which details how a condition affects someone's ability to work – beyond GPs to a wider group of healthcare professionals, including physiotherapists, psychiatrists and senior nurses
Reform statutory sick pay
The 10-year plan builds on a green paper published last year which pledged to halve the so-called disability employment gap.
Employers' attitudes
The government hopes the changes to the fit note system will improve the identification of health conditions and treatments to help workers get back to work quickly.
But some disability activists say the problem lies in employers' attitudes. Mik Scarlet, an inclusion specialist, says he chose to be self-employed after some "disastrous attempts" at getting work.
"Employers have little idea of how beneficial disabled employees can be to a workforce," he said.
"They also don't understand that creating flexible inclusive work systems improves the working environment for all."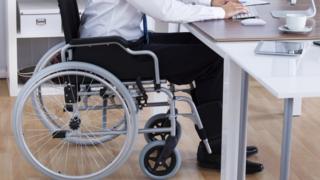 BBC disability correspondent Nikki Fox said it was not the first time the government had pledged to get more disabled people into work.
However, she said "the employment gap between disabled and non-disabled people has not significantly changed for some years".
Labour's shadow work and pensions secretary, Ms Abrahams, warned the government's plans "hinted at" further cuts.
"The Tories' cuts to social security support are pushing more and more disabled people into poverty," she said.
"The Tories have already hit disabled people who are not fit for work but who may be in the future in the work related activity group.
"I hope they are not going to now target the most disabled people in the support group, as their green paper hinted at."
Read more here: http://www.bbc.com/news/uk