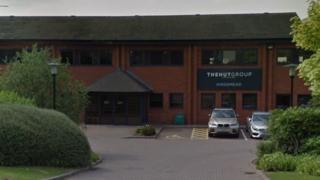 A man has admitted to lying about buying a pack of protein powder containing a dead mouse.
Adam Brenton tweeted criticism of Myprotein Impact Diet Whey seller The Hut.com Ltd and contacted local press with his claims.
The story was widely republished but "unequivocal" evidence proved the mouse was not present at delivery.
At the High Court, Brenton, of Manchester, apologised to The Hut.com Ltd and the manufacturer Cend Ltd.
Their advocate, Mathilde Groppo, told Mr Justice Nicklin that Brenton had been a regular satisfied customer since 2009.
He contacted The Hut.com Ltd in April last year to report he had found a mouse carcass in a packet of the Myprotein powder.
Brenton agreed to hand over the items for testing but criticised The Hut.com Ltd's "awful" and "inept" customer service on Twitter.
A newspaper article, which alleged his health had been put at risk, was picked up by the national press and republished in print and on the internet, Ms Groppo said.
'Beyond criticism'
CCTV from the time of production was reviewed but nothing out of the ordinary was found, she added.
Brenton said the bag was opened for three weeks before the mouse was discovered.
The animal was tested by Ecolab, a food safety expert endorsed by the University of Liverpool.
Ms Groppo said evidence was "categorical and unequivocal" that it could not have entered the product during production and was not present at delivery.
She said: "The suggestion that the complainants were at fault for allowing the mouse to enter the protein powder during the production process, thereby potentially causing harm to Mr Brenton and other customers' health, was false."
Brenton told the judge in London he agreed with the evidence and that The Hut.com Ltd's customer service was "beyond criticism".
He will also pay The Hut.com Ltd and Cend Ltd unspecified damages and legal costs.
Read more here: http://www.bbc.com/news/uk