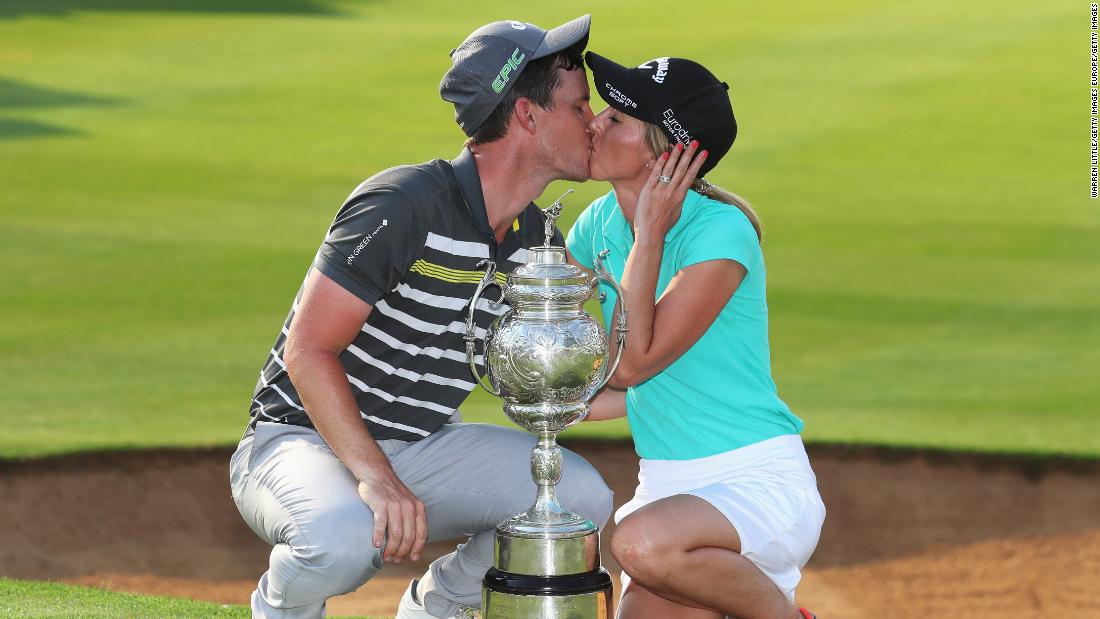 (CNN)Chris Paisley's maiden European Tour title was made all the more special thanks to the caddy he had by his side.
With the Englishman's regular bag carrier taking an extended holiday, his wife stepped in at the last minute to lend a helping hand.
Keri, who Paisley remarkably admitted "doesn't know that much about
golf
," was caddying for her husband for the first time, as he competed at the South African Open Championship.
With home favorite Branden Grace breathing down his neck — and briefly taking the lead — on the final day, Paisley praised his wife's calming influence as he produced a faultless fourth round performance.
"She doesn't know that much about golf, but she knows me really well and she knows when I'm going a little quicker than I usually do or getting a bit tight," Paisley told reporters.
"Coming up the last fairway with her next to me was just incredible. She never put a foot wrong. It's the first time she has ever caddied and I just can't thank her enough.
"My regular caddy is getting some stick but I just can't say enough about how good a job she has done this week and just in life in general."
Despite a partizan crowd cheering on world No. 30 Grace, the highest ranked player in the field, Paisley maintained his cool to roll in six birdies in a six-under final round of 66 to secure victory.
Going into the tournament as 286th in the world, the 31-year-old will now climb to a career-high ranking of 121st after scooping the $192,578 first-place prize.
Paisley's last tournament victory came back in 2012, when he claimed the English Challenge by a two-shot margin over countryman Francis McGuirk.
Starting the round one shot behind Paisley, Grace started with birdie-eagle to take an early lead, though a double bogey at the sixth and a bogey at the 12th meant the South African had left himself too much to do.
"I still can't believe it," Paisely said of his victory. "Going head-to-head against Branden, in his home country with pretty much everyone in the crowd on his side was tough, but I just played great.
"I played out of my skin. I didn't even think I was capable of playing that well to be honest, and to come out on top in such a wonderful place is amazing."
Read more here: http://edition.cnn.com/