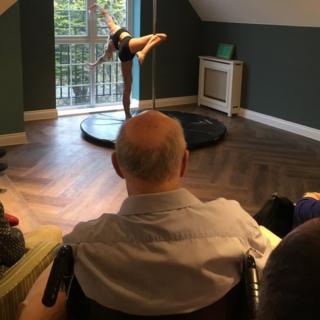 A care home for the elderly has said it will consider holding more pole dancing displays, despite criticism.
The "fitness activity" display by local pole dancing students was staged at Fairmile Grange in Christchurch, Dorset.
Some councillors described the display as "completely inappropriate", as reported in the Bournemouth Echo.
The home's Operator, Encore, said residents had asked for "more modern entertainment and activities".
Students from the Pole Crazy and Pole Dance Factory dance schools performed to music from the 1950s and 60s at the 80-bed home in the grounds of Christchurch Hospital.
Dorset county councillor Peter Hall told the Bournemouth Echo: "It's not really the sort of entertainment I would have thought that the residents wanted or would have encouraged."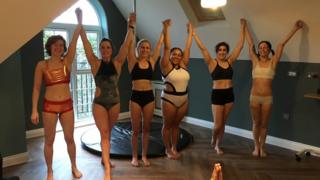 Izzy Nichols, operations manager of Encore, said the performers had worn gymnastic clothing and the residents were given the choice of whether to attend the display.
She said: "We put on a range of external and internal activities every week and this includes dancers, singers, pet therapy, visits from local community groups and schools.
"Our residents requested through our regular meetings with them that we include more modern entertainment and activities within the programme.
"Dementia residents and non-dementia residents all thoroughly enjoyed this artistic display of musicality and gymnastic ability – and the showcase received overwhelming positive feedback from relatives.
"We will certainly consider inviting them back to perform again."
A statement on the Pole Crazy Facebook page said the residents had a "wonderful time" watching the display by its students.
"Sadly, as always with our sport, there are some who want to tarnish that, to diminish our strength, ability and self-worth.
"If you want to take a wonderful thing and make it sordid, then get your mind out of the gutter and come to a class."
Read more here: http://www.bbc.com/news/uk