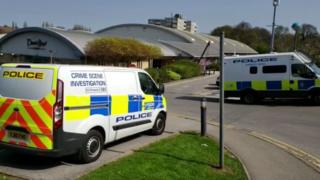 A three-year-old boy has died while swimming at a pool in Leeds.
Police were called to Tongue Lane at about 09:45 BST after reports of a child drowning in a pool at a David Lloyd fitness club in the Moortown area of the city.
The boy was taken by ambulance to Leeds General Infirmary accompanied by his mother but was later confirmed dead.
West Yorkshire Police said they believed his death was not suspicious and was a "tragic accident".
'Found unconscious'
In a statement, the club said it was "deeply shocked and saddened" and its thoughts were "very much with the boy's family at this very sad time".
"The child was swimming with his family in our indoor pool at the time of the incident," the statement continued.
"He was found unconscious just after 9.30am this morning, and was rescued from the water by one of our team.
"Our club teams are fully trained to deal with incidents of this nature, and they immediately administered CPR and the emergency services were called."
The club said it was closing for the rest of the day following the death and would be making no further comment.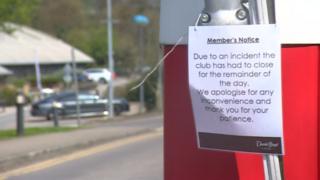 Det Insp James Entwistle said: "While there is nothing to suggest that the death was suspicious, we do have a duty to investigate the circumstances of what has happened.
"We understand there were a number of people in the pool at the time who have left the area prior to police arriving at the scene.
"We would ask these people to come forward to give their accounts of what they have seen and heard."
On its website, the club states it has a 25m (82ft) indoor pool, a 20m (66ft) outdoor pool, plus indoor and outdoor splash pools.
Pool 'seems safe'
One child, who went to use the club with a friend, said he could not get into the pool and saw "most of the people crying and upset".
"There were loads of workers all panicking… and they had red faces. People were just going in, out, in, out.
"We were just really scared so we just hid behind the bike sheds."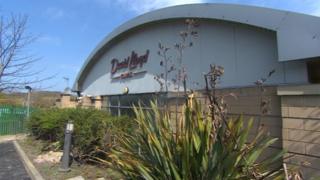 A woman, who did not give her name, turned up at the club with two children.
She said: "I've just been told not to go in because a small child has died there this morning.
"That's made me really really upset because David Lloyd is really good and I've seen lots of lifeguards everyday watching over the children, but I don't know what's happened and that's scaring me.
"I don't think I'll be able to swim again in that pool."
Another man, known on social media as Chris R, tweeted: "We often take our 2-year-old to this pool. Always at least two lifeguards, seems so safe.
"Absolutely tragic, can't imagine what the parents must be going through."
Read more here: http://www.bbc.com/news/uk