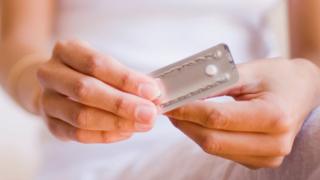 Boots has been accused of breaking its promise to offer a cheaper brand of morning-after pill in its stores.
The pharmacy was criticised in July after refusing to reduce the cost of emergency contraception – and later pledged to supply an inexpensive alternative in all of its branches.
But a letter from over 130 Labour MPs says they are "deeply concerned" only 69 of its 2,500 stores stock a version.
Boots says it is doing "all it can" to roll the service out nationally.
The morning after pill can be taken in the days after unprotected sex to prevent pregnancy.
The company faced outrage in July after telling the British Pregnancy Advisory Service (BPAS) – which had called on Boots to reduce the cost of emergency pill, Levonelle – that making it cheaper could incentivise inappropriate use.
At the time, the progestogen-based drug was priced at £28.25, while the non-branded equivalent was £26.75.
Following a backlash, Boots apologised and said it was committed to finding a cheaper alternative, and announced the roll-out of a generic pill costing £15.99.
It said it had been "working hard with the manufacturer to increase supply" in order to offer this alternative across every store in October.
'Ripped off'
But the MPs – led by shadow public health minister Sharon Hodgson – said it was "difficult to understand" why competitors had offered a cheaper alternative but Boots had not.
Ms Hodgson wrote: "We are deeply concerned that Boots are either unable or unwilling to deliver on your pledge.
"Over the Christmas period many women struggle to access contraceptive services and their usual family planning method.
"Clearly, pharmacy access to emergency contraception is of an even greater importance in December and January.
"Whilst Boots say they have started the process of rolling out this product in the stores, the progress they have made so far can only be described as a drop in the ocean with a long way to go before it is accessible in each of their 2,500 stores across the country."
She also urged the pharmacy to reduce the cost of the generic pill currently in stock.
Batch failure
But Boots says it is working with MPs to make emergency contraception free from pharmacies to all women in England to "end the current postcode lottery".
A Boots spokeswoman said: "It is currently available as a free NHS service in the majority of our stores, however we would like to see one nationally commissioned NHS service available for all women in England, as there is in Wales and Scotland.
She said the company remained committed to rolling out the service nationally and giving women access to emergency contraception.
"Unfortunately the manufacturer has experienced a batch failure due to quality issues which means that the stock we were expecting is not now available, and we are now waiting for a new batch to be produced.
"We thank our customers for their continued patience and reassure them that we are doing all we can to roll this service out to all our stores as soon as possible."
BPAS said it was "absolutely scandalous" that Boots had failed to deliver on its pledge, and there was "no excuse" for the slow progress.
"If Boots cannot 'source' a new version of emergency contraception to sell at a lower price, then they should do the right thing and cut the price of the version they currently have in stock.
"Regardless of 'supply chain delays', affordable emergency contraception is entirely within their gift to give right now.
"Every day they refuse to do so, more women are being ripped off, or risking an unplanned pregnancy because they cannot afford Boots's inflated price tag."
The costs elsewhere
In England, emergency contraceptives Levonelle and EllaOne are free from most sexual health clinics, most GP surgeries and most NHS walk-in centres or urgent care centres.
But they are free only to women in certain age groups from pharmacies in some parts of the country.
In Scotland and Wales, the emergency contraceptive pill is available free of charge on the NHS from pharmacies, GPs and sexual health clinics.
In Northern Ireland, some pharmacies allow it to be bought on the NHS, and it is available free of charge from sexual health clinics and GPs.
Read more here: http://www.bbc.com/news/uk