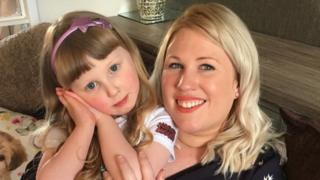 "The midwife completely ignored me, I may as well not have been there."
Alex Flowers, from Derbyshire, has told the BBC how she suffered physical and mental problems after "not being in control" during her daughter's birth.
The lowest point came 18 months later when Alex's best friend found her sitting on the kitchen floor saying she wanted to die.
In a Mumsnet survey, very few mothers felt they received "great medical care" for certain conditions after birth.
Only 6% of the 1,224 women surveyed by the parenting website whose pelvic floor or continence had been affected as a result of giving birth were "extremely happy" with the care they were given.
And 34% of women who suffered a tear while giving birth or had a Caesarean felt they did not have adequate care or advice in the first few weeks afterwards.
The women questioned had all experienced problems after giving birth between 2013 and 2016.
'The baby is going to die'
Alex explained how a change of shift during her long labour with her daughter in November 2013 had long-term effects on both her and her husband.
"I was making really good progress with the labour but unfortunately the midwife who had been dealing with me was taken off the end of her shift and replaced by another one, who, I felt, didn't really want to be there and had too many cases to deal with," she said.
After Alex had been in labour for 23 hours she started to feel something was wrong with the movements of her baby.
However, Alex says, the midwife "was saying to my husband, 'Don't worry, it's the throes of a woman in labour' and ignoring me".
"I thought, 'I've got no control here' and everything I was saying about there being something wrong with the baby, she was almost tutting, rolling her eyes and saying it was normal.
"Two hours after I started saying something was wrong, I grabbed my husband and said, 'If you don't listen to me, the baby is going to die.'
"They checked after that and the baby's heart had nearly stopped. Then it was a case of a mad rush, someone pressing the panic button and them all running in.
"As a result, I was told there was no time to give me any anaesthetic, but I had already given up and thought I was going to be walking out with no baby.
"In my head, she had already gone and it was too late to do anything and even just saying it again is heartbreaking.
"I had to have an episiotomy with no anaesthetic and then they used forceps to pull the baby out. She was fine but I was left with a lot of damage and blood loss and was sent home the very next day, even though I had been stitched up wrong and some of the placenta had been left in. It was a mess the whole way through."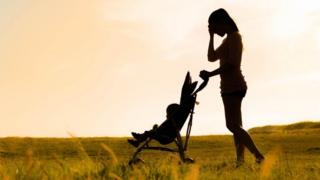 The effects of this traumatic episode on Alex and her husband were dramatic.
She had to return to hospital to have the stitches corrected and also suffered from severe post-natal depression, while her husband initially could not bond with his daughter, and would not pick her up for six weeks.
"I wasn't really coping and after 18 months, one of my best friends found me sitting on the kitchen floor saying I wanted to die and I was convinced my daughter was going to die or be taken away from me.
"I then started seeing a counsellor and he helped me understand that what happened wasn't my fault and I felt like that because I had a lack of control during the labour and had never had closure from that."

You may also be interested in:

Alex says the first step on her road to recovery came when she started taking an antidepressant, which she says she is going to have to take for the rest of her life.
"I was originally heartbroken but then thought if it means I can feel normal and look after my baby, then it's worth it."
The upset also led Alex and her husband to decide not to have any more children -but she became pregnant again and initially "panicked".
"My consultant agreed I could have a Caesarean and I felt so much better as I was in control of what was happening."
Alex advises women who find themselves in a similar position not to stay silent.
"You must speak out straight away and not get to the point where it turns into post-natal depression," she says.
"Your concerns are valid and what matters is having somebody there with you who is not afraid to speak out on your behalf.
"If a woman in labour is saying how she feels, she mustn't be ignored. We're not fine and and the damage that can be done – both physical and mental – can last for ever."
Read more here: http://www.bbc.com/news/uk