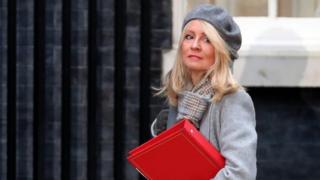 What are the key issues facing new Work and Pensions Secretary Esther McVey?
1. TRUST
Esther McVey's promotion to cabinet this week was Theresa May's most controversial move. The former TV presenter is loved by some in her party but has become something of a hate figure to some of her critics, with Labour describing her promotion as "alarming".
During her previous three-year tenure as a minister of state at the Department for Work and Pensions, she was a fiery defender of policy, often sent out by her equally combative boss, Iain Duncan Smith, to defend controversial benefit cuts, such as the so-called "bedroom tax".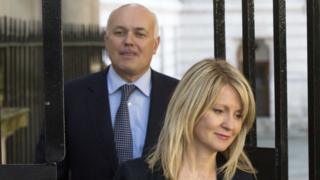 While she was often an effective media performer at a time of falling levels of unemployment, she appeared to struggle at times with details of the brief, including being reprimanded by the UK Statistics Authority for misquoting unemployment statistics.
Her defeat at the 2015 general election was a prized scalp for Labour, but she returned to Parliament last summer, winning the safe Tory seat of Tatton and has quickly made it to cabinet.
Her critics say she often gave the impression that she didn't understand the lives of benefit claimants – and her challenge may be to adapt her approach to get those Tory MPs who are squeamish about some of the government's welfare policies to trust and support her.
2. UNIVERSAL CREDIT
The government is currently in the middle of a climbdown over its overarching welfare changes.
An outcry in the autumn over the way that claimants were waiting typically six weeks without money, meaning some resorted to food banks or fell into rent arrears and other debts, convinced the chancellor in his November budget to spend £1.5bn in an effort to improve how the benefit is delivered, changes that are now being rolled out.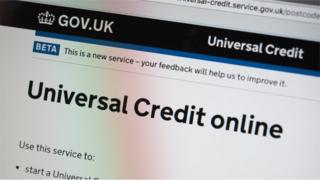 But other challenges remain. The underlying principle of universal credit (UC) is that work should always pay, that people are always better-off taking a job or extra hours than staying on benefits.
However, in 2015, cuts were made so that people will now lose more of each pound they earn than was originally intended, a marginal tax rate of 63%. For some, the current benefit system will be a greater incentive to work than UC. Many Conservatives – including Esther McVey's former boss, Mr Duncan Smith – want to see those cuts reversed.
David Finch from the Resolution Foundation argues that she needs to make UC more "female-friendly" by making it more appealing to second earners in a household and single parents.
3. PERSONAL INDEPENDENCE PAYMENTS
There is arguably no single group of benefit claimants who feel more aggrieved at continuing welfare changes than disabled people. At the heart of many of their complaints is Pip, the benefit introduced by the Conservative-led coalition in 2013.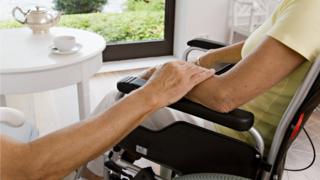 It's designed to help with the additional costs of living with a disability or long-term health condition, which are measured using a controversial assessment that claimants undergo to determine how much their condition affects what they can do.
An independent review of the benefit last year found that there was no public trust in the fairness and consistency of those decisions.
An ever-growing number of decisions are being appealed against successfully, and the review called for reforms of the benefits. Some campaigners want to scrap Pip entirely. That's probably not going to happen, but they say changes are needed.
4. WORKING POOR
For an increasing number of people, being in work is no longer an insurance policy against being poor. According to the Joseph Rowntree Foundation, more than half of the 13.5 million people living in poverty in 2016 were in working households, a figure that's increased by over 1 million since 2010-11.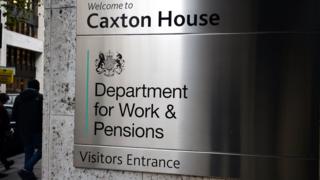 A key driver has been that private sector rents have risen faster than income, but little or no increases in benefit levels have also contributed. Millions of people in work rely on benefits, such as tax credits, housing benefit or increasingly universal credit, to help make ends meet.
How will a politician whose maxim could well be "work always pays" deal with the evidence of growing poverty in working households?
5. EMPLOYMENT AND SUPPORT ALLOWANCE
Critics say the main sickness benefit, the replacement for incapacity benefit, has so far failed to achieve the government's goals. Devised by the Labour government in 2006, and enthusiastically embraced by the coalition from 2010, campaigners say it is in desperate need of radical change.
The fitness-for-work test that claimants have to undergo has infuriated some benefit seekers, who see the system as being designed to catch them out, to prove they're not ill.
From the government's point of view, the predicted fall of 1 million fewer people claiming sickness benefits hasn't happened, which consequently means the billions of pounds they thought they'd save hasn't materialised either.
On top of that, mistakes in moving people on to the new benefit are likely to increase its cost by another £500m. How will Ms McVey grasp this nettle?

Regarding pensions Brian Milligan, the BBC's personal finance correspondent, writes:
One of the achievements of the coalition government was to persuade people to save more for their retirement.
Workers signed up for the auto-enrolment pensions programme in droves, and so far the opt-out rate has been low.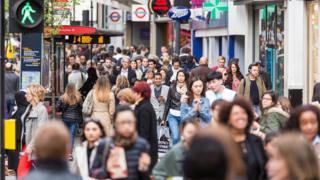 But what has been accomplished so far has been the easy bit.
Until now, contribution rates have been small: both staff and employers contribute a minimum of 1% of salaries to pension pots.
But from this April, workers will have to triple their contributions.
Esther McVey's biggest challenge will be to persuade people to make those larger contributions, at a time when incomes are squeezed.
As far as the state pension is concerned, one of the first questions she will face is whether she plans to help the so-called Waspi women – or Women Against State Pension Inequality.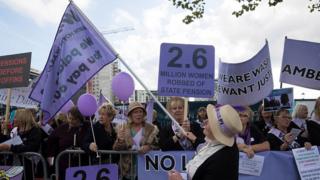 These are women born in the 1950s, who had been expecting to get a state pension at the age of 60. Some of them claim they didn't know about plans to delay their pensions until the age of 66.
Reality Check: The fight over women's state pensions
And then there's the question of funding the state pension. A report by the Government Actuarial Department said national insurance contributions will eventually have to rise by 5% – or £1,000 per worker.
But that's one she can put on the back burner for now.
Read more here: http://www.bbc.com/news/uk