Oliver Strmpfel managed to carry 29 vessels weighing more than 70kg for 40 metres to smash world record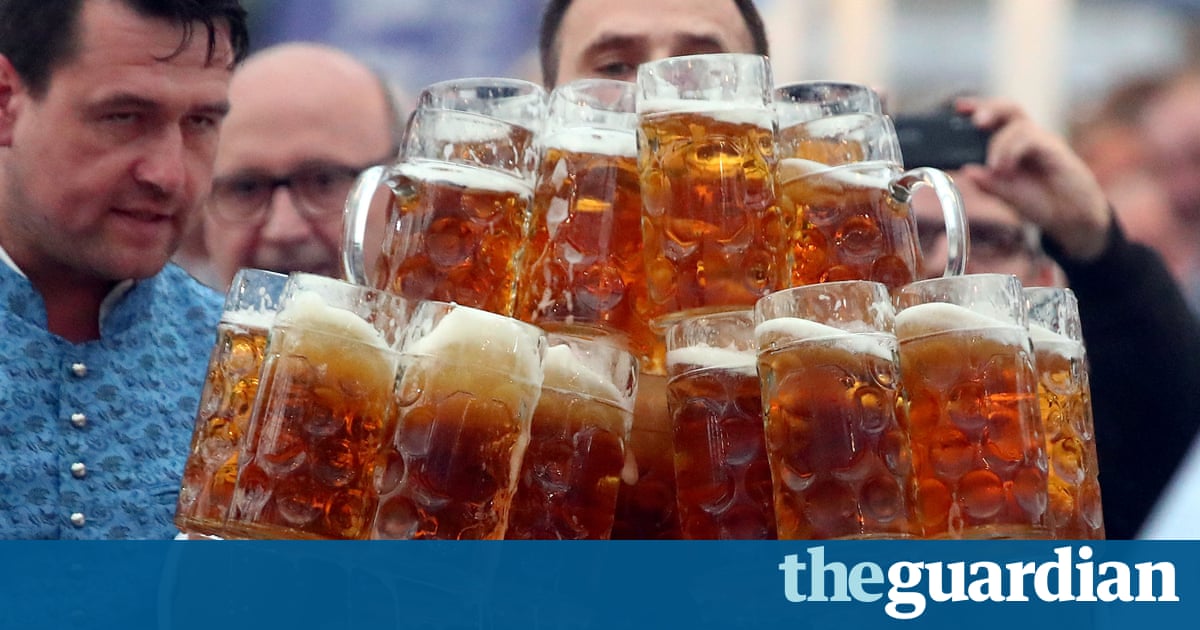 A Bavarian tax inspector has demonstrated he can hold his drink better than most, by breaking the world record for the number of beer tankards carried over 40 metres (130ft).
Oliver Strmpfel carried 29 litre vessels, weighing almost 70kg (154lbs) at a Bavarian beer festival on Sunday. He would have managed 31, had one glass not fallen at the last minute, and another not lost more than 10% of its contents, contravening the rules of Makrugtragen or beer tankard carrying.
The 45-year-old was cheered on by 1,500 spectators shouting Oli, oli, at the Gillamoos Fair in Abensberg, which evolved from a 14th-century pilgrimage and is one of Bavarias oldest beer fairs.
A competition judge from Germanys record institute and a notary were present to witness Strmpfels feat. The most difficult part of the operation was to avoiding excessive spillage before placing the beers on a table at the end of the 40-metre stretch.
Strmpfel has been working on his barman skills for almost 10 years, initially taking up the sport in order to oust an Australian who held the record as the Meister of Makrugtragen. He managed to beat him in 2010, when he carried 21 tankards. By 2014 he had upped the number to 25.
According to the rules no more than 10% of the beer is allowed to slosh out of the glasses. Even empty, a single glass weighs 1.3kg. During an initial round on Sunday he had managed 27 glasses, breaking his own record, but determined to better himself, he set off half an hour later with another load of 31, weighing a total of 71.3kg.
Preparation included several weekly visits to the fitness studio, where he concentrated on strengthening his back, arms and shoulders, as well as doing shifts as a waiter at beer festivals.
He said: Even during training I never managed to carry so many tankards. I knew I could do it, but not so soon as I did. He would go for 30 next year, he said, adding: I have not yet reached my limit.
Read more here: http://www.theguardian.com/us