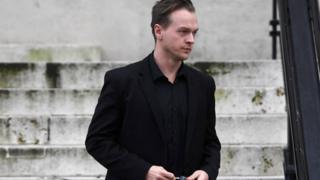 A father murdered his baby daughter just two weeks after formally adopting her with his husband, a court heard.
Matthew Scully-Hicks, 31, is accused of "violently shaking" 18-month-old Elsie, causing her "catastrophic head injuries" following months of abuse.
Cardiff Crown Court heard she died at University Hospital of Wales on May 29, four days after the defendant called 999 saying she was "floppy and limp".
Mr Scully-Hicks, from Delabole, Cornwall, denies murder.
Baby Elsie was placed in the care of Vale of Glamorgan Council just days after being born, the jury was told.
At the age of 10 months she was taken in by fitness instructor Matthew Scully-Hicks and his husband Craig in September 2015.
The couple relocated from Swindon, Wiltshire, to Cardiff six years ago and had been married for three years.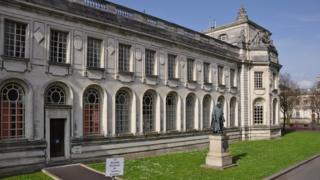 Matthew Scully-Hicks had given up full-time work to care for any children.
Eight months after their wedding the couple completed the adoption process. A fortnight later Elsie was dead.
"Within two weeks of Elsie's formal adoption by the couple, we allege that the defendant had inflicted fatal injuries upon her," prosecutor Paul Lewis QC said.
He told the jury that on 25 May 2016, the ambulance service received a 999 call from Matthew Scully-Hicks reporting that Elsie was unresponsive.
Mr Lewis told the court that paramedics attended the house and found Elsie was not breathing, with no signs of cardiac output.
"The injuries that caused her death were inflicted upon her by the defendant shortly before he called emergency services that day," said Mr Lewis.
Hospital treatments
"His attack upon her that day was not the first time he had employed violence towards Elsie, nor was it the first time he had caused her serious injury.
"His actions on the late afternoon of 25 May were the tragic culmination of a course of violent conduct on his part towards a defenceless child – an infant that he should have loved and protected, but whom he instead assaulted, abused, and ultimately murdered."
The court heard Elsie had suffered haemorrhages to her brain and behind her eyes, and doctors decided to switch her ventilator off.
Tests showed there were older bleeds to her brain and behind her eyes and a post-mortem examination revealed she had also suffered broken ribs, a fractured left femur and a fractured skull.
The court was told Matthew Scully-Hicks carried out the alleged attacks on Elsie while his husband worked full time as a company director.
Mr Lewis told the jury about a catalogue of injuries Elsie had suffered during her short life.
In November 2015, two months after she had been taken in by the couple, she had fractured her ankle while in the sole care of the defendant, who had given differing accounts of how she had suffered the injury.
A month later she sustained a bruise to her forehead which a health visitor advised needed treating. Matthew Scully-Hicks allegedly lied he had done so, the jury heard.
'Going through hell'
In January, Elsie suffered another bruise on her head and in March she was taken to hospital by ambulance after Matthew Scully-Hicks said she had fallen down the stairs.
She was discharged from hospital after four hours after her injuries were considered "consistent with a fall downstairs".
The jury were read a series of text messages the defendant allegedly sent to friends. One described the baby as a "psycho".
One read: "I'm going through hell with Elsie. Mealtimes and bedtimes are like my worst nightmare at the minute."
Another said: "She has just screamed non stop for 10 minutes. She had a full bottle and clean nappy. Literally not even half an hour and she is a psycho."
The trial continues.
Read more here: http://www.bbc.com/news/uk